What an invention! Standing desks allow one to work comfortably while on their feet. With a standing desk, you can read, write, or even draw quickly without crushing your neck or sitting in an awkward position for long periods.
Such desks, though, relieve you of chronic pains and cramps, giving you room to be more productive and healthier. These and other benefits have made standing desks a piece of popular work equipment.
However, with their growing popularity, many are left wondering if there are any health risks attached to standing desks—varicose veins being one such concern. Therefore, we need to check do standing desks cause varicose veins or not.
Standing desks in themselves do not cause varicose veins; it is their incorrect use that will do so. You can avoid worsening your vein health if you take breaks every once in a while from standing.
What is a Varicose Vein?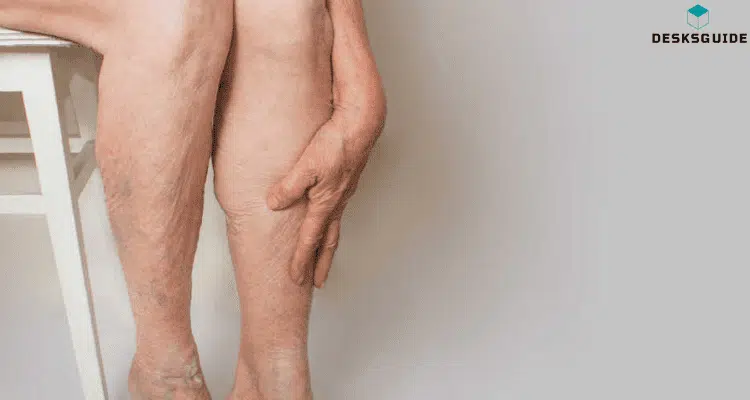 Varicose veins appear to be bulging, out of shape, more significant than usual, and discoloured oddities or groups of clustered veins usually found on your legs. These are often dark blue or purple and may feel lumpy to touch.
Varicose veins may be nothing more than a cosmetic concern for some people, while they may become a source of discomfort and pain for others. It may also lead to other serious health issues such as ulcers, blood clots, and bleeding.
Some common symptoms of varicose veins include:
Muscle cramps, often at nighttime
An ache in the legs and a general discomfort
Swollen feet and ankles
Dry and itchy skin over the problem area
A burning or throbbing sensation in your legs  
What Are the Causes of Varicose Veins?
An artery carries blood away from the heart, whereas a vein carries blood to it. Since the blood in our veins moves against the current, there's a chance of the blood flowing backward. Therefore, all veins in our bodies have tiny gates called valves that prevent that from happening.
When these valves become weakened or damaged, they fail to perform their function efficiently, impacting blood flow and causing it to accumulate in the veins. The veins then become enlarged and discoloured, subsequently called varicose veins.
One reason varicose veins are most common in the legs is that the blood in the veins must work against the current and gravity. The valves become weak and lose functionality as the blood pressure and gravity work against them.
Does sitting or standing make varicose veins worse?
Too much sitting or standing can interfere with blood circulation and weaken the valves in leg veins. It has been observed that sitting and standing for long periods can cause either varicose veins to develop or worsen the situation if one already suffers from them.
If your varicose veins have been caused by standing for too long, then sitting will help. But, if sitting is the reason for your varicose veins, then putting some weight on your legs goes a long way in preventing poor blood circulation.
Can Sitting For Long Periods Cause Varicose Veins?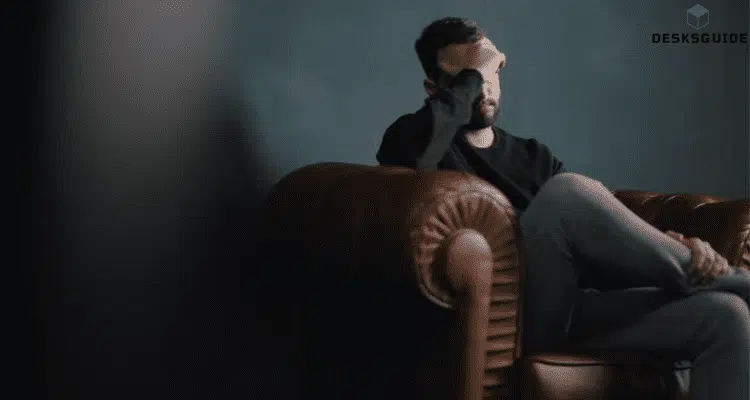 Yes, sitting too much can cause varicose veins. While sitting, the veins must put in more work to send the blood to the heart, putting them at additional risk of wearing down. In addition to varicose veins, sitting too much can create swelling in the ankles or cause blood clots to form. To avoid feet swelling, you can check out our detailed guide here.
For those who have jobs that involve a lot of sitting, here's what you can do to avoid varicose veins:
Do not sit in the same position for too long
Try to walk around, or at the very least, stand up every 45 minutes or so
Stretch every other hour to release tension from taut muscles
If you can, elevate your leg muscles
Can Standing For Long Periods Cause Varicose Veins?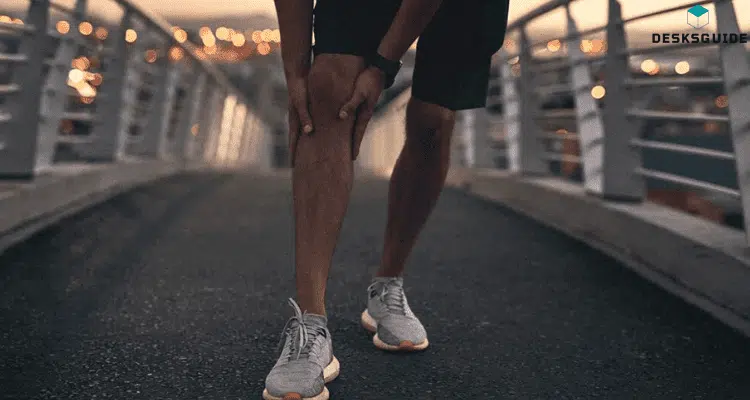 Long periods of standing without breaks in between may increase the risk of varicose veins. So if you work on standing desks for extended intervals without sitting down periodically, standing desks may lead to varicose veins.
If you are required to stand for long periods, here are some precautions that can prevent blood pooling and varicose veins:
Wear comfortable shoes, and avoid high heels
Sit down every once in a while
Do not put too much strain on your legs, and stand for only as long as you can handle
Common Risks and Factors causing Varicose Veins
Other than prolonged sitting or standing, other factors also determine if you might be at risk of getting varicose veins. Knowing these and understanding the causes of varicose veins can help you avoid them.
Age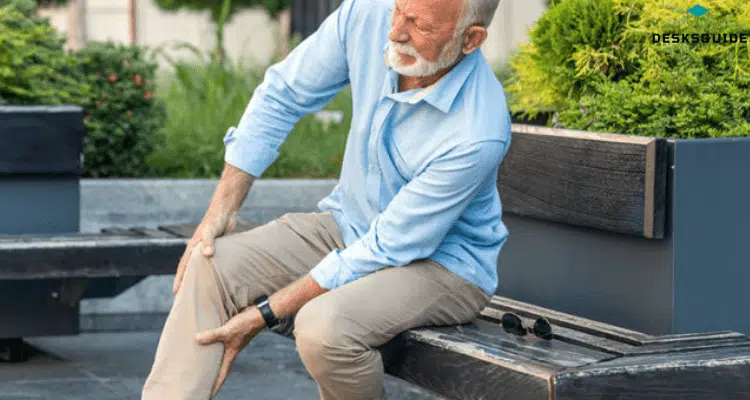 Getting older, the human body loses its vigour and energy. Muscle fibres tend to shrink and reduce in number. Similarly, the valves of our veins lose their elasticity and hence, functionality. They cannot stop the backward flow of blood, which is why varicose veins are common in older people.
Being overweight or obese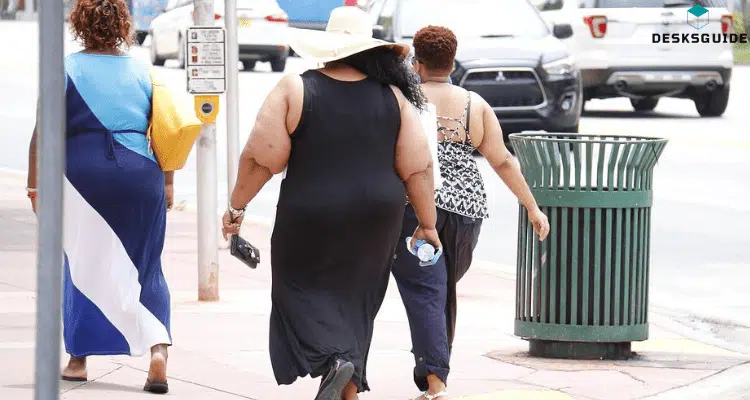 We discussed earlier that the primary reason behind varicose veins is the backward blood flow. Anything disrupting healthy circulation can put you at risk of vein disease. Being obese puts pressure on the veins, which makes it difficult for blood to flow to the heart, causing varicose veins.
Personal history of Deep Vein Thrombosis (DVT)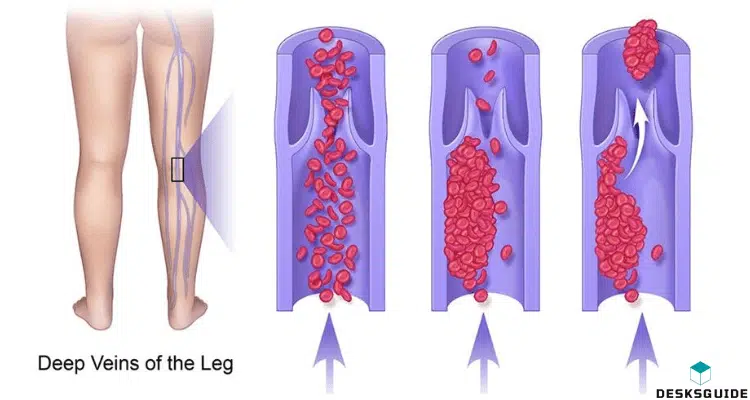 Deep vein thrombosis, or DVT, is a blood clot in a vein, most commonly found in the legs. Suppose you are prone to DVT, which puts you at a greater risk of developing varicose veins. This should not be taken lightly; it is advised to get medical help as soon as possible if you suspect you have DVT.
Family history of varicose veins
It is no news that genes decide a lot of things for us. Many diseases are also passed down from generation to generation via genes. Varicose veins are also something that you might inherit from your parents. If a close family member has varicose veins, there is an increased risk that you might also suffer from the disease.
Inactivity
An inactive body is more likely to have poor blood circulation. A sedentary lifestyle can lead to several health problems such as diabetes, obesity, cardiovascular diseases, and varicose veins. 
Pregnancy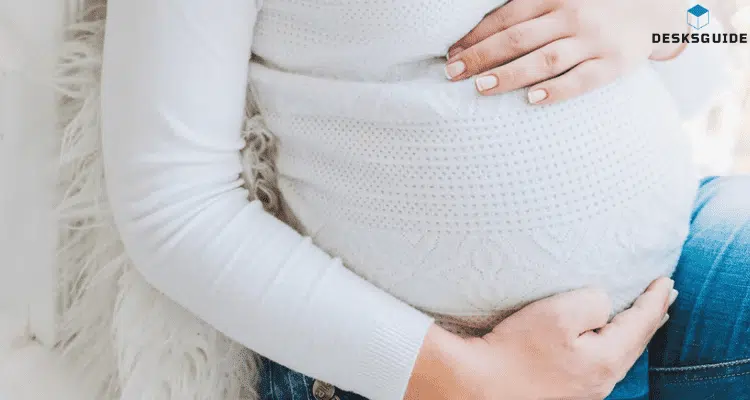 The bodies of pregnant women release a hormone called estrogen that affects the strength and agility of blood vessels and might make them leak. Moreover, during pregnancy, there is increased pressure on the blood vessels, which can be another reason why varicose veins are common in pregnant women.
Gender
Unfortunately, being a girl can make you more prone to varicose veins. This has to do with the female sex hormone, estrogen discussed above. The female body releases this hormone each month during ovulation, pregnancy, and menopause. The elasticity of veins is affected by estrogen, and that can become the reason for varicose veins in women.
Do Standing Desks cause Varicose Veins?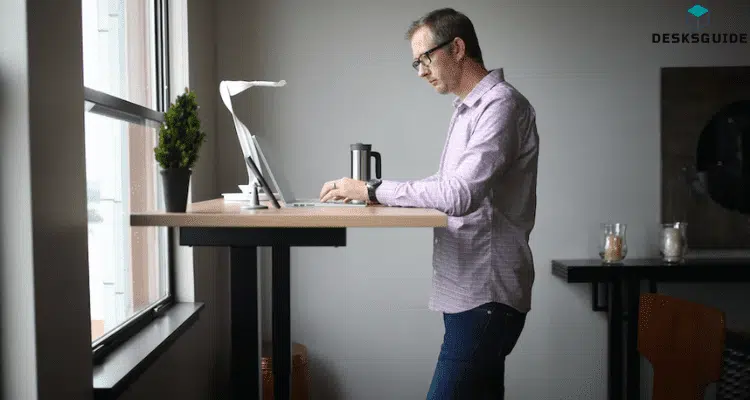 Standing desks do not cause varicose veins; however, prolonged periods of standing do. Most standing desks are adjustable, so you can alternate between sitting and standing. Giving each position its own due time can help you avoid spider veins.
If you only stand for ideal periods and give your legs a break every once in a while, standing desks shouldn't be bad for your health.
How to prevent varicose veins?
By adopting the following steps, we can reduce the symptoms of spider veins and prevent them from happening frequently.
Exercise daily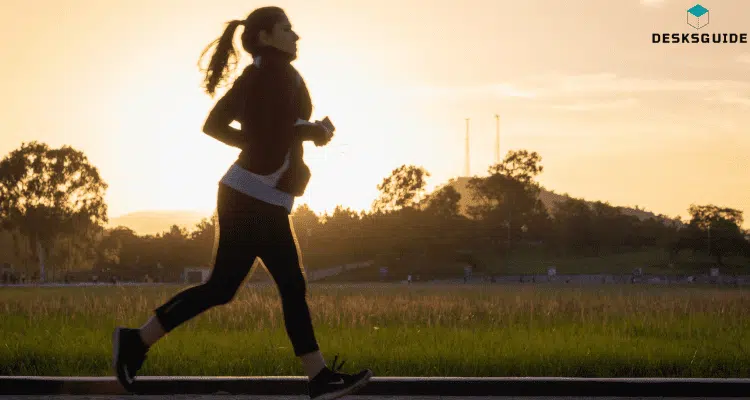 Exercising daily is good for the overall health of your body and efficient blood circulation. It has many benefits, plus getting your body in shape does good things for your self-esteem and makes you confident. Exercising enables all body parts to function correctly, including the valves in your veins—improving blood circulation.
Lose excess weight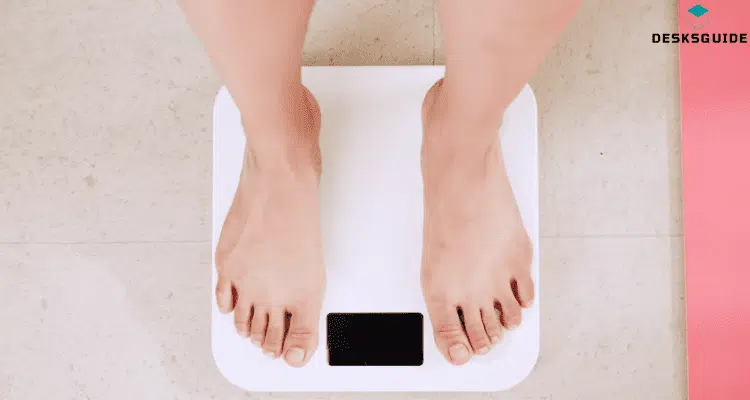 As mentioned before, excessive weight is one of the leading causes of varicose veins. Shedding off extra pounds will prove advantageous to you in many ways; improved agility, less risk of diseases, efficient blood flow, and prevention of varicose veins.
Elevate and uncross your legs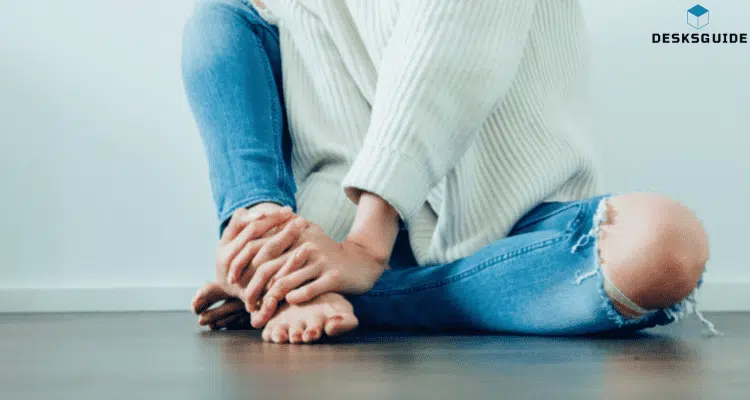 It is recommended to elevate your legs frequently to improve the flow of blood and prevent any disruptions. Sitting for long periods with your legs crossed or bent can hinder proper blood flow and result in varicose veins. Therefore it is advised not to cross your legs for adequate circulation.
Take frequent breaks to move around.
Regardless of whether you have been sitting or standing for prolonged periods, it is best to take breaks and move around. Stretching your legs and calf muscles can release pent-up tension and improve vein health.
Manage other health conditions
If you have any other health conditions, then they may cause varicose veins to develop. So it is best to keep any other health conditions in check.
Avoid Constrictive Clothing and High Heels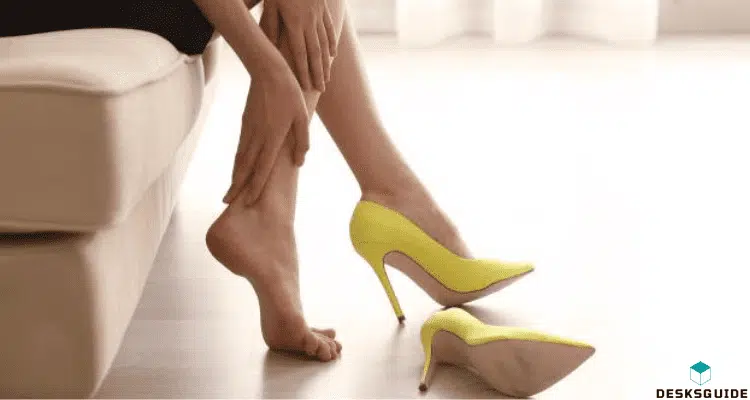 Clothes that are too tight can be a source of discomfort and constrict blood flow. Avoiding constrictive clothes and high heels is a good way of preventing varicose veins. Instead, wear loose garments that aren't tight and switch your heels for other, more comfortable footwear.
Alternate Between Sitting and Standing
As discussed throughout the article, it is important to alternate between sitting and standing and not to do one activity for extended periods.
Movement
If you have a sedentary lifestyle, it is vital to get some movement in. A morning or evening walk, exercise, cycling, getting into some sports, any physical activity or even dancing can be good for you!
Wear Compression Socks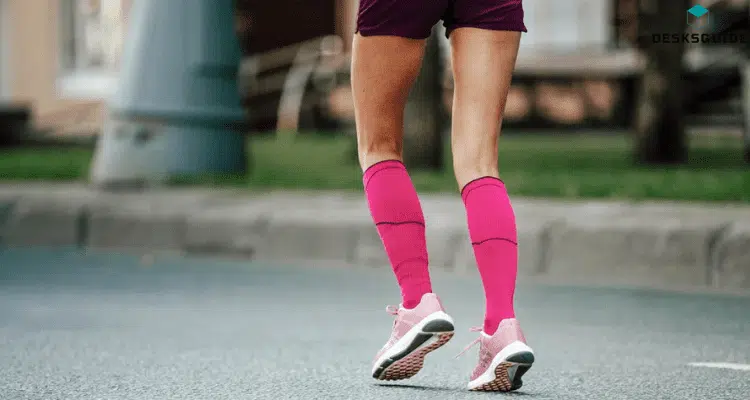 The most common treatment for varicose veins recommended by doctors is compression socks. These are specialized stocks explicitly made for those suffering from venous diseases such as thrombosis.
Compression socks fit snugly around your leg and are the tightest around your foot. These socks can take a little time to get used to and initially may be hard to put on. If you have any problems putting on the stockings or after putting them on, consult your doctor.
Ask Your Doctor to Help Treat Varicose Veins
If the problem persists, you should check with your doctor. For some people, varicose veins are nothing more than a visual nuisance, but they can cause severe problems for others. It is always a good idea to consult your doctor and get the proper treatment.
Is getting a standing desk a good option?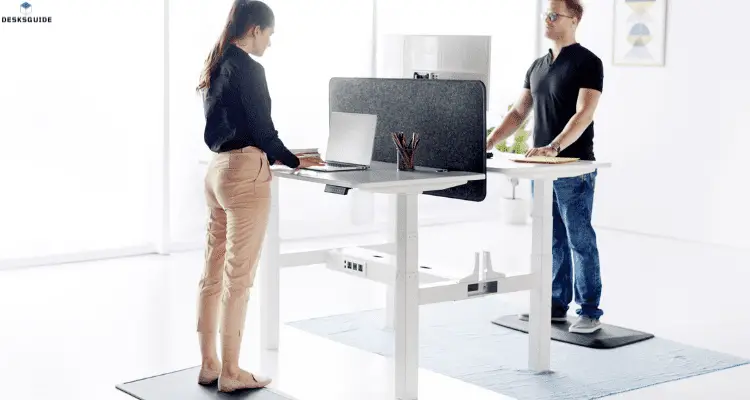 After assessing the whole situation, the answer is a definite yes!
Getting a standing desk is an excellent option. Standing desks come with a lot of benefits; some of these include:
They lower the risk of weight gain
Lower the risk of back pains that are bound to happen with regular desks
They are known to improve mood and energy levels
Standing desks have improved productivity in workspaces
These are just a few of the advantages which I have mentioned that standing desks offer. For a detailed guide on the benefits of standing desks, you can check this out. As for whether or not they cause varicose veins, we have already established that extended periods of standing cause varicose veins. To check out more health risks, you can check out this guide.
Video Recommendation
Final Verdict
We now know that standing desks do not cause varicose veins. Switching to standing desks can be exciting, but you will need to take proper care and the appropriate precautions while doing so.
Don't go overboard with standing; take breaks by sitting and moving around, have a good diet, stay hydrated, incorporate healthy movements into your routine, and you're good to use standing desks without any fear of developing varicose veins.
To ultimately reap the benefits of a standing desk, it is essential to understand the dangers of prolonged standing. Varicose veins are avoidable if you know what causes them and where to draw the line when using a sit-stand desk.