Introduction
Are you a gamer? If you are one, then you know that having the right gear is essential to your success. But wait, you have a doubt in your mind, I know that as I can clearly read your mind, you are asking yourself, do you really need a gaming desk? what about your current desk? Is it up to par for your needs? are gaming desks worth it?
Many people assume that any old desk will do for gaming. But, you've decided to take your gaming obsession to the next level and buy yourself a gaming desk. Congratulations! excellent decision, but do you really need one or are you just wasting your money? In this blog post, we'll take a look at whether or not do you really need this gaming equipment and some of the factors you should consider when making your decision. So if you're ready to take your gaming setup to the next level, keep reading!
Do You Really a Gaming Desk?
The answer to this question really depends on what kind of gamer you are. If you're the type who likes to sit back and relax while playing your favourite games, then a gaming desk might not be necessary. However, if you're the type who likes to be in the thick of the action, then a gaming desk can make all the difference. A gaming desk can provide you with a lot of benefits like a larger surface area to play on, as well as plenty of storage for all your gaming accessories while keeping your setup organized and tidy, which can make it easier to focus on your game playing.
Generally, there are certain norms for every activity or in other words, an overall environment, which needs to be adopted in order to get the maximum output generated out of it. The same goes for gaming as well, I admit that it can be done anywhere, in any pose and on any surface, but again, the environment matters a lot.
Ultimately, whether or not you require this gaming equipment is up to you. But if you're serious about gaming, it's definitely something to consider. Before that, It is important for you to understand the actual differences between a gaming desk and a standard office desk.
Difference between a gaming desk and regular office desks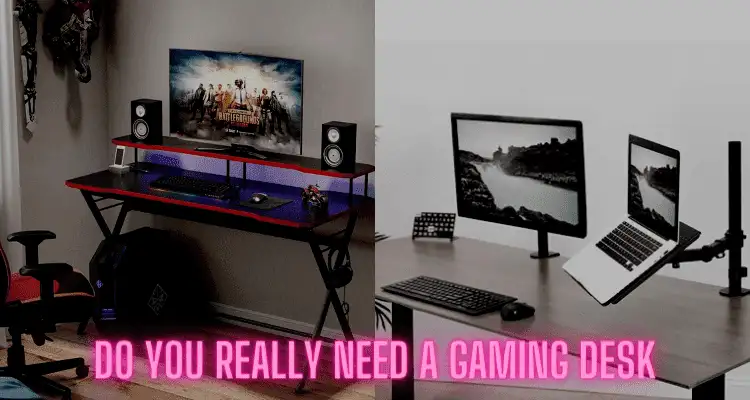 A gaming desk is designed specifically for gaming. It typically has a large surface area to accommodate multiple monitors, keyboards, and other gaming peripherals. It also often has special features such as cup holders, headphone hooks, and cable management systems, in short, it has way more features than a regular desk.
In contrast, a regular desk is not specifically designed for gaming and may not have all of the same features. However, regular office desks can still be used for gaming if it has enough surface area and the right type of gaming chairs. Ultimately, the best type for gaming depends on the individual's needs and preferences.
Before we dive into making a final decision, that do we require a gaming desk or not, I will reiterate a few important differences from my already covered detailed guide on Gaming Desk vs Regular Desk.
1. Enhanced Comfort of Gaming vs regular desk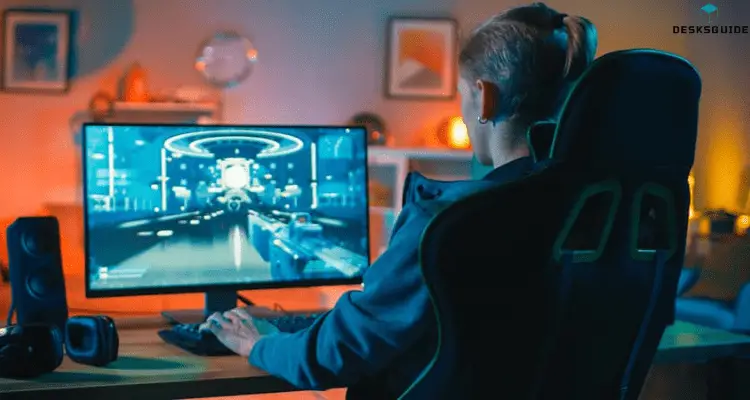 Gaming Desk is designed in a way to keep you comfortable for letting you do gaming for a longer period of time. Long sessions of continuous gaming become painful if the gaming desk is not comfortable, hence it degrades your performance.
2. Space of Gaming desk vs regular desk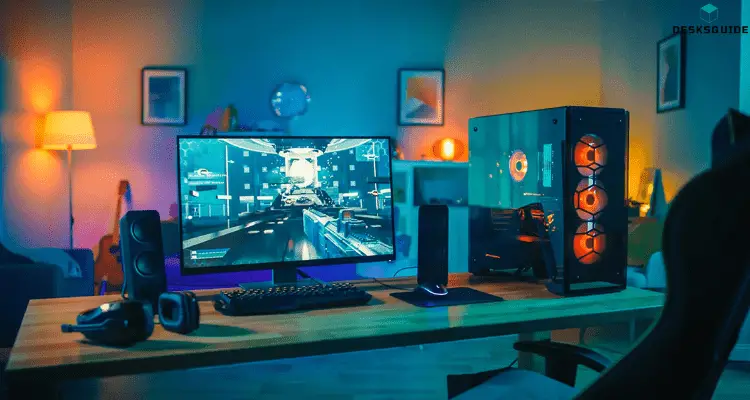 Gaming desk generally comes with way more amount of desk space as most gamers need multiple monitors which can only be accommodated on a large desk surface. Moreover, multiple essential accessories are also required to be positioned within arm's length reach of the gamer.
3. Shape of Gaming Desk vs Regular Desk
Gaming desk is designed in a very fancy shape design in order to distinguish between a normal desk or an office desk and to suit your overall theme of the gaming setup.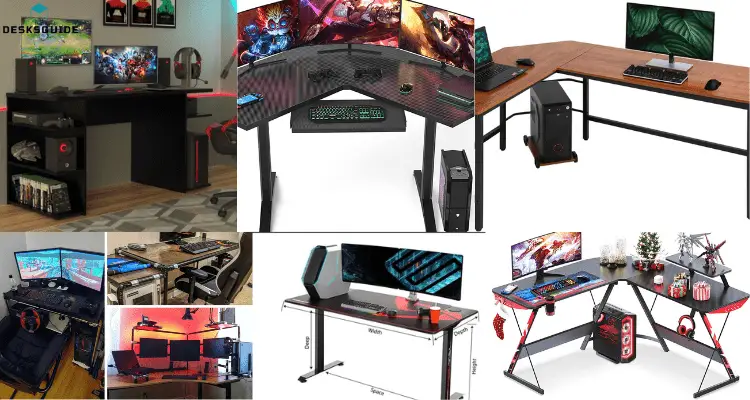 4. Cost Comparison of Gaming Desk and Regular desk
Integration of additional features makes the gaming desk more expensive than normal desks or standing desk. However, the benefits of these additional features are way worthier than the spent expenditure.
5. Storage Comparison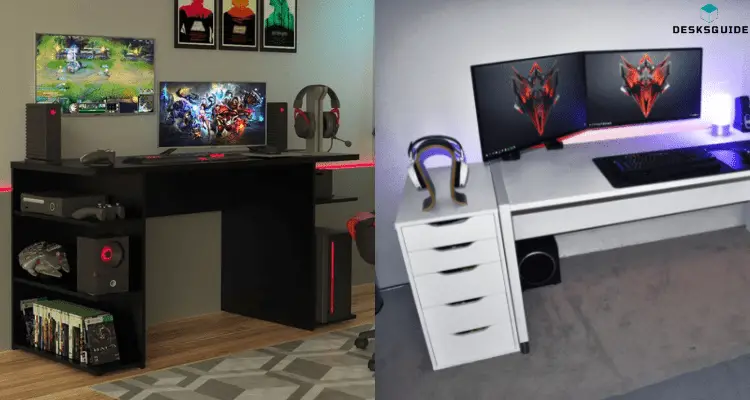 As a professional or even a casual gamer, you would require multiple important accessories, therefore having an ample amount of storage is quite essential. Hence, gaming desk is manufactured in a way to accommodate way more desktop space as compared to a normal regular desk.
6. Adjustability feature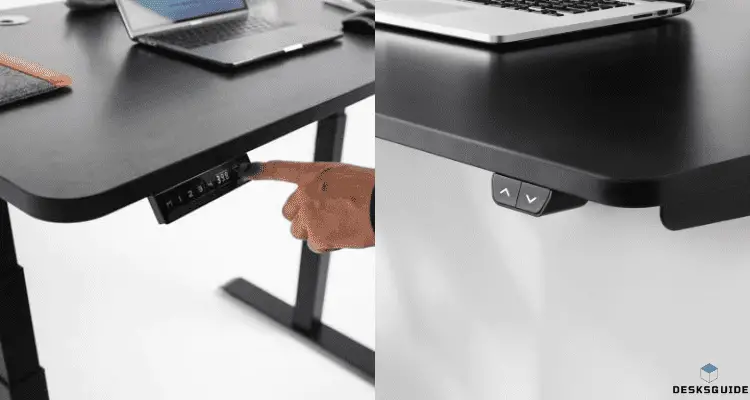 We say that gaming desk is comfortable because these days most of them are equipped with the automatic or manual height adjustability feature, which makes them adjustable for individuals of every height group.
7. Cable Management System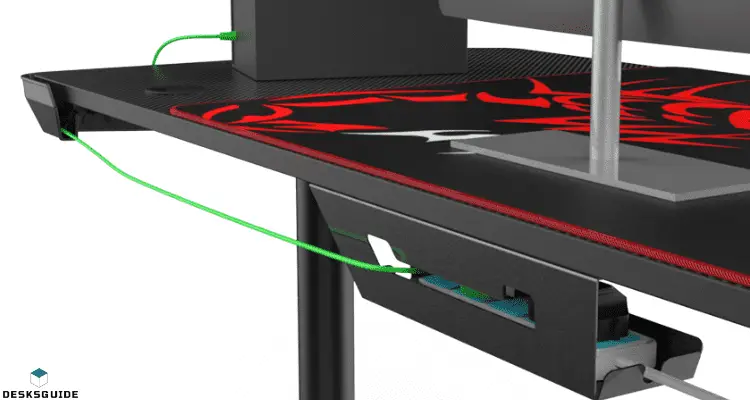 One of the biggest hassles, which is covered by the best gaming desks is the built-in computer's cable management system, keeping the overall setup neat, tidy and organizable. Hence, it becomes a big contributor to the enhanced gaming performance of an individual.
Benefits of having a Gaming Desk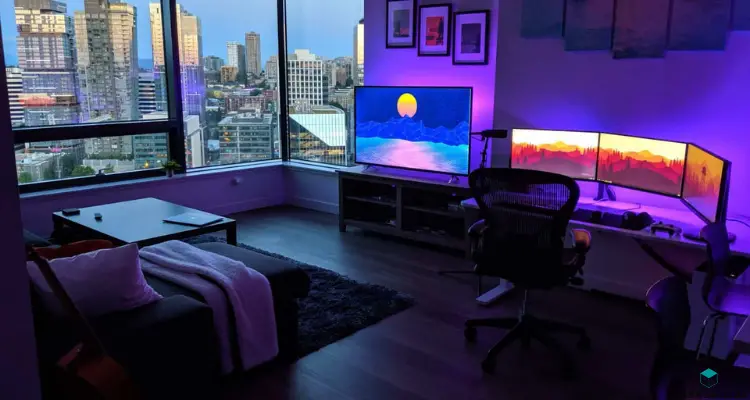 You must have understood the benefits of a gaming desk by now clearly, by going through the differences between a gaming desk from a regular computer desk or standing desk. These additional features make a lot of difference between the two types of desks, hence making it really beneficial for a gamer. In short, the most important benefit you will be getting is the gaming performance boost.
In order to understand this, we must know the fact that a comfortable and well-organized gaming setup is really important for an enhanced gaming experience. If you are not comfortable with your posture or if your accessories are not placed within an arm's length reach, it will definitely affect your gameplay.
Apart from this major benefit which we have discussed, there are some other additional benefits as well, which you will be getting by investing in a gaming desk. These include:
1. More storage space for accommodating multiple monitors and important accessories.
2. Better cable system for an organized and neat setup.
3. Automatic or manual height adjustability feature for comfortable gaming sessions.
4. A distinct and stylish look for your gaming setup.
So, if you are looking to get an enhanced gaming experience, then investing in a good quality gaming desk is definitely worth the expenditure. Not only will it boost your performance, but will also provide you with additional features and benefits which will make your gaming sessions more experienced. Surely providing a correct answer to your question that are gaming desks worth it or not?
Types of Gaming Desk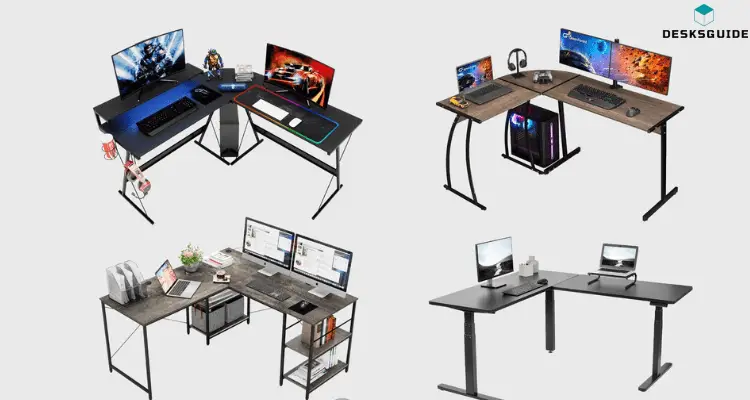 Now I am getting a hint that you are really impressed by the additional features which you will get if you opt for a gaming desk and you must be thinking are there any types of gaming desk. Therefore, I must tell you that types of gaming desk are based upon the availability of additional features like:-
Height Adjustability (Automatic or Manual)
Size
Price
Storage Capacity
Degree of freedom
Material
Accessibility
Weight Capacity
Pre-assembled
Hence, these are a few features on which the types of gaming desks are based, however, there are other criteria upon which the selection of gaming desks is also based, which is the shape of the gaming desk. Gaming desks are manufactured and designed in the following shapes:-
L-shaped straight corner gaming desks
L-shaped curved corner gaming desks
Curved rectangular gaming desks
Cubicle rectangle gaming desks
Foldable gaming desks
Standing gaming desks
Regardless of the types, the most important selection criteria for you must be suitability and comfortability as per your desire and physical requirements.
Top 03 Gaming Desks
After a detailed analysis of all the competitors, I have shortlisted a few of the best top 3 gaming desk to ease my readers and followers in the making a quick and best decision easily.
L Shaped Gaming Desk, Home Office Desk with Round Corner, Computer Desk with Large Monitor Stand Desk Workstation
Multiple Choices:We provide tables in different sizes and colors. You can choose the right size and color according to your space size and home decoration style. Please rest assured to choose, the quality and Warranty is guaranteed.

Plenty of Space:This desk is equipped with a monitor stand and a iron hook to extend the desktop space and give you more space to store items, leaving you more space for working, studying and gaming. Overall dimensions are 51(L) x 51(L) x 18(W) x 30.4(H).

Flexible to Use: The monitor shelf can be moved at will according to your needs. The iron hook can be installed either on the left or right according to your usage habits.

Easy to install: All tools needed are included. You can Assemble the desk within 30 mins. The desktop and frame are made of strong and durable material and you will use it without worries.

Customer Service: We provide 3-year warranty and our after-sale team will be at your service anytime you ne
Homall Gaming Desk 44 Inch Computer Desk Gaming Table Z Shaped Pc Gaming Workstation Home Office Desk with Carbon Fiber Surface Cup Holder and Headphone Hook (44 inch, Black)
Large Gaming Surface: Designed for gaming, the large gaming desktop can support up to any size monitor. In addition to the monitor, mouse and keyboard, theres plenty of space for other gaming devices, and there are also plenty of space for your hands.

Carbon Fiber Surface: Homall gaming desk designed for all game players. Carbon fiber textured desktop, smooth touch, textured appearance, scratch resistant, anti collision design, and it has better performance of waterproof and sweat proof, upgraded games and office experience.

Gamer Friendly: The desk is equipped with headphone hook and cup holder at side, which is easy to reach for drinking and listening. Also it has a cord collector under the desk, which is convenient to collect various wires and cords to make your room more commodious, there won't be tangled mess under the desk any more. It will provide you with a more convenient gaming and working environment.

Sturdy Z Shaped Base: Homall gaming table has a strong function in structural design and stability. High quality metal frame and triangular junction design make it have better stability, with strong load bearing capacity. Adjustable leg pads ensure that the table keeps stable even on uneven ground.

Extra Plastic Trim: This is optional. There is no hole on the desktop, you can use self tapping screw to fix the plastic trims on the desk. If you want to keep your desktop intact, dont install it. In addition, please feel free to contact us if you have any questions, we will do our best to help you solve your proble
Final Tips for Buying the Right Gaming Desk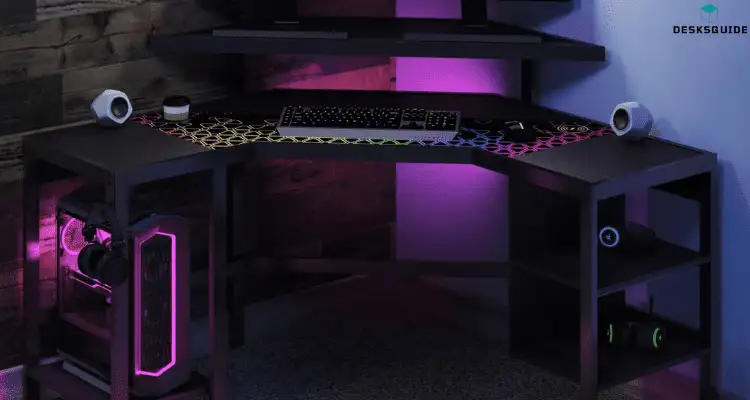 The final tips for buying the right desk are as follows:-
1. First of all, make sure to check the gaming desk's weight limit and its sturdiness as you don't want your gaming desk to wobble when you are gaming on it.
2. The gaming desk's height should be adjustable so that you can use it while sitting or standing.
3. Another important factor to consider is the gaming desk's size as you need to make sure that it will fit in your gaming room or area.
4. Make sure that the gaming table has a warranty so that you can replace it if it has any manufacturing defects.
5. Choose a good gaming desk with a cable organizing system to help you keep your gaming area organized and tidy.
With these final tips, I hope that you will be able to buy the best gaming desk for yourself according to your gaming needs and requirements.
FAQs
How Much Space Do You Need for a Gaming Desk?
This is a difficult question to answer as it depends on a number of factors, such as the size of your gaming setup, the type of you choose, and your personal preferences. However, as a general rule of thumb, you should allow for at least 2-3 feet of space around your gaming desk so that you have plenty of room to move and play. If you have a larger gaming setup, or if you plan on using multiple monitors, you may need even more space. Ultimately, it is up to you to decide how much space you need for your gaming desktop.
Why Gaming Desks are So Expensive?
Most gaming desks are expensive as compared to regular desks because they offer enhanced gaming performance and additional features that regular desks don't have. Many gaming desks are designed to provide a comfortable and well-organized gaming setup, which is important for an enhanced gaming experience.
Additionally, many gaming desks often come with more storage space, better cable management systems, and height adjustability features. In short, gaming desks worth is way more than regular desks.
When does your regular desk suffice?
A regular desk suffices when gaming experience is not a priority. When you have a smaller gaming setup, or you don't plan on using multiple monitors, you may not need a gaming desk. Ultimately, it is up to you to decide are gaming desks right for your gaming needs.
What is the difference between a gaming desk vs regular desk?
The main difference between gaming desks and regular desks is that gaming desks are designed to provide a comfortable and well-organized gaming setup, while regular desks are not. However, if you need a detailed guide specifically written for knowing the differences between the two, then check out this article.
Is there any detailed guide on how to choose a gaming desk?
One can easily choose a gaming desk by taking into consideration a few important factors such as desk size, gaming setup, additional features, and budget. When it comes to gaming desks, size definitely matters. You need to make sure that the gaming desk you choose is large enough to accommodate your gaming setup. However, if you need in-depth knowledge about how to choose a gaming desk, then check out our detailed guide.
What is the standard height of the desk?
The standard height of a desktop or desk mainly depends on the type of gaming desk. Different gaming desks have different sizes, and the most important selection criteria for you must be suitability and comfortability as per your desire and physical requirements. However, if you need to find the best suitable desk according to your height, then check out our detailed guide.
How to calculate the height of the desk?
Yes, I have devised a chart for calculating the best-suited desk according to your height. Check it out. Moreover, calculating the desk's height is really important for each individual according to their physique.
If you want to check out more details on the topic, then read this guide as well.
Video Guide
Conclusion
So, if you really need a gaming desk? The answer is YES. A normal desk may not provide you with the comfort and features that are necessary for an optimal gaming experience but gaming desks worth cannot be taken for granted. If you want to improve your gameplay, increase your productivity, and have more fun while gaming, then investing in a good quality gaming desk is essential.
A gaming desk offers many benefits over a normal desk, and there are different types of gaming desk to choose from. We've provided the top 03 gaming desks for you to consider, as well as some final tips for buying the right one. Make sure to ask yourself some important questions before making your purchase so you end up with the best gaming desk for your needs. I hope this article has helped make your decision easier – let me know in the comments below which Gaming Desk you chose!