Have you ever noticed that you feel low energy levels, are not focused at work, or have pain in your spine or neck? If yes, then did you ever ponder the issue or problem causing all this pain? Most of us never thought about it and kept working in the same condition, thus rendering us less productive, demotivated, and losing the overall focus on our work. 
The answer lies in a thought about what is the standard height of a desktop which must be ensured while adjusting the computer desk. This will not only relieve back pain but also result in more productivity and energy throughout the day.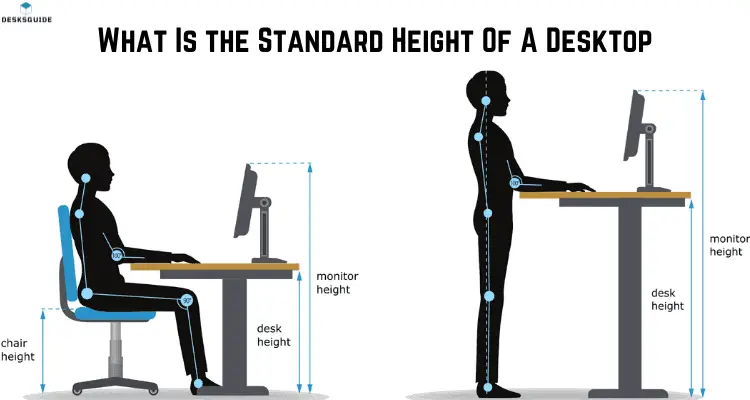 But is it due to the lack of knowledge regarding the proper desk height? You would have reached this question way earlier if you had ever thought about it before.
So, today in this blog post, I will educate you in-depth regarding the vital role of the best ergonomic desk height in your daily life and its impact on your overall health.
What Is the Standard Height Of A Desktop?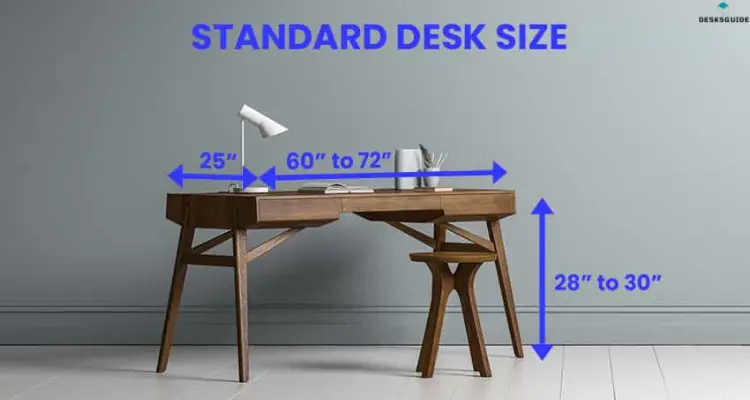 The answer to this question depends upon various factors; however, if we address a large audience, we need to keep it to a generic solution to the problem. 
The standard height of a desktop must be around 28 to 31 inches from the ground for people with an average height of 5'8″ to 5'10", whereas the typical height for a generic table is also kept within 28 to 31 inches range from ground.
Importance of Correct Desk Height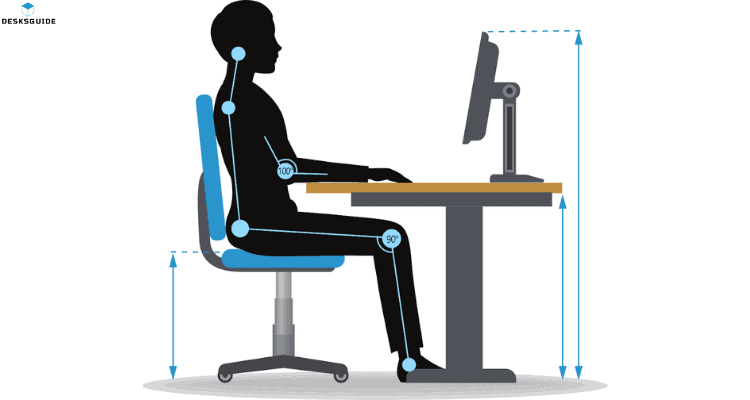 It is essential to know that if the height of your office desk or standing desk is not kept according to your Height appropriately, then you can be exposed to low energy levels, less focus on work, and worst of all, spine and neck pain throughout the day. 
Inappropriate office desk height eventually causes a person to stay in a bad posture during the complete work time. Most of us don't know about the hazards of keeping our bodies in a bad posture for a prolonged time. 
Exposure and keeping your body in a bad posture for a long time can induce various health issues like back pain, eye strain, neck pain, and dislocation of spinal cord segments. It is recommended that you make sure that the Height of your desk is not too high or too low so that your health can be preserved in the best possible way. 
The rate of productivity is directly proportional to the overall office work environment. An uncomfortable and lousy work environment will result in compromised productivity and efficiency, whereas organizations famous for their productivity, performance, and efficiency always keep the overall office work environment as their topmost priority. 
These profitable organizations provide a comfortable and appropriate workspace, keeping in view the overall ergonomics. Every aspect of comfort is calculated to enhance overall productivity. 
Every office is composed of various desks in large numbers for its employees. Hence, the desk makes up most of the part of any office. Keeping the same in view, it is critically important to keep the height of the standard or computer desk appropriate. 
Hence, proper desk height is essential for improving the overall comfort level of the office enhancing energy levels, improving focus, and keeping the employees motivated and happy.
How to Determine Correct Computer Desk Height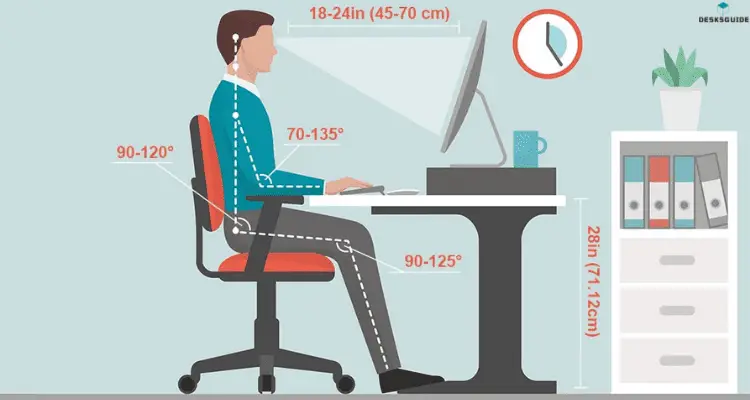 We have already discussed the importance of proper standing desk height and the drawbacks of bad posture maintained for a long duration due to inappropriate desk height. The question arises, how to determine the exact and standard computer desk height or standing desk height that suits you?
The most important thing to consider is comfort and ease of use. The best ergonomic desk height allows you to sit comfortably in your chair without having to adjust your position throughout the day. You'll also want to make sure that the Height is adjustable and that your monitor can be moved up and down to accommodate the size of your screen.
When you sit down on the desk, your feet should be able to rest flat, and your arms should be parallel to the floor. This is called the correct sitting position, and it helps you prevent strain on your eyes, neck, arms, or back. 
Desk height for each individual varies according to the Height of the individual; it differs a few inches or cm from person to person. But to have a general idea of what ergonomic desk height will suit you according to your Height, I have compiled the data in the table below. You have to check out the perfect height of a desktop, suitable for you.
Your Height
Desk Height
(Sitting Position)
Desk Height
(Standing Position)
5' 0"
23"
39"
5" 1"
23"
39"
5" 2"
24"
40"
5" 3"
24"
40"
5" 4"
25"
41"
5" 5"
25"
42"
5" 6"
26"
43"
5" 7"
26"
43"
5" 8"
26"
44"
5" 9"
27"
45"
5" 10"
27"
45"
5" 11"
28"
46"
6" 0"
28"
47"
6" 1"
29"
47"
6" 2"
29"
48"
6" 3"
29"
49"
Desk Height Chart
I must tell you one thing: the above table comprises generic values with rough estimates to give you an idea of the best-suited desk. However, to calculate the exact Height as per your body dimensions, you must check out this standard desk height calculator tool.
Standard Desk Heights for a Tall Individual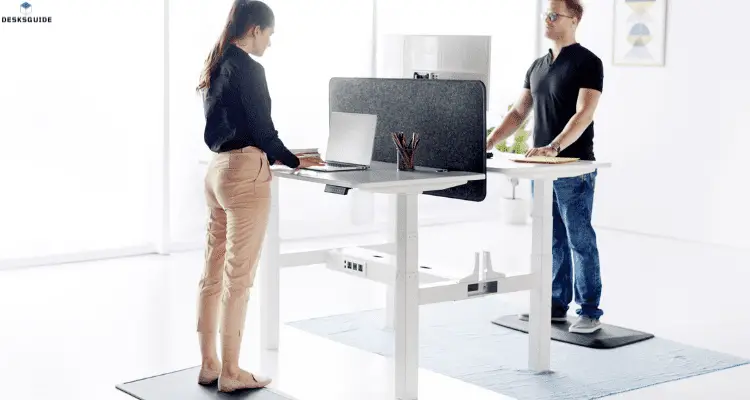 By tall individuals, we generally mean to say somebody at least 6 feet tall or above. Standard desk height as per the table for a 6 ft tall individual is 28 inches from the ground, whereas, for a standing desk, an average height of 47 to 49 inches from the floor is considered appropriate.
I must reiterate that the correct desk height is different for each individual. However, we can solve this issue once and for all if we purchase or opt for a suitable Desk.
Benefits of using Adjustable Height Desk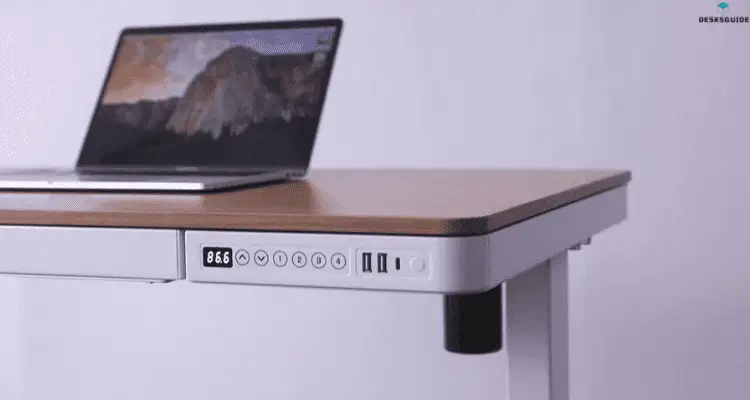 Advancement in technology has already solved many of our daily life problems; one of its examples is a height-adjustable desk, generally known as an adjustable standing desk or standing desk converter. It is a type of computer desk that is designed to benefit everyone with any measurement of Height.
This standing desk is electric motor driven, which automatically lowers and raises the table height to the desired measurement.
They serve as a dual-purpose desk, letting users sit or stand depending upon their desire. That means you can work in any desired position per your requirement and according to office ergonomics.
Hence, it reduces the strain being put on the joints and muscles due to being positioned in a bad posture for long hours. This proves that standing desks are an excellent choice to serve ergonomic benefits.
Office furniture with proper ergonomics, including adjustable desks, proves to be a great asset to an organization's productivity by providing perfect height of a desktop.
We have a complete detailed guide with all the benefits of standing desks, comprehensively elaborated.
Top 04 Recommended Height Adjustable Desks
1. FLEXISPOT EC1 Essential Electric White Standing Desk
Pros
Highly Durable
Large Surface Area
Elaborate Assembly Instructions
Cons
No Cable Management System
Slightly Slow Up Down Mechanism
2. Furmax Electric Height Adjustable Standing Desk
Pros
Easy to Assemble
Nice Side Hook
Sturdy
Spacious
Cons
Thin Table Top
No Cable Management System
3. FEZIBO Height Adjustable Electric Standing Desk
Pros
Solid Built
Easy to Assemble
Highly Stable even on Carpets
Silent Lift Motor
Cons
Two Piece Top
Lack Drawers
No Cable Management System
4. VIVO Electric Height Adjustable Stand Up Desk
Pros
Beautiful Desktop
Sturdy Metal Legs Best Seller
Spacious Top
Smooth Up Down Function
Cons
Table Top in Three Parts
Slightly Wobbly at Full Height
Slightly Difficult to Assemble
Selection of a Good Ergonomic Chair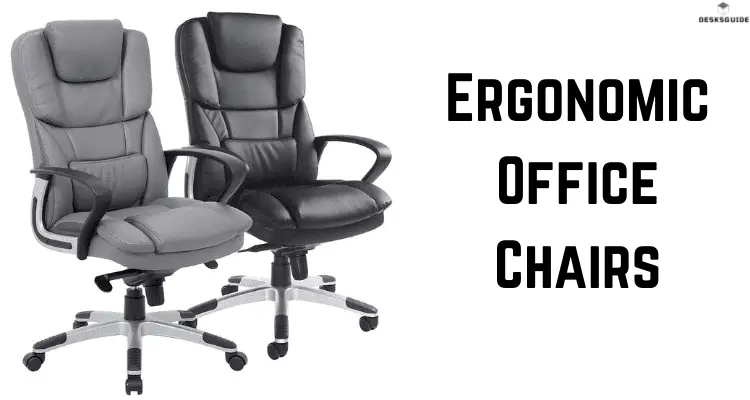 Keeping in view our main topic, the chair also plays an essential role in maintaining the individual's overall posture; if the chair is not comfy or it is without a chair height adjustment option, then the same strains would be faced by the individual.
A perfect chair is one that has the correct chair height with the feet of the individual on the ground; your knees and hips are maintaining an angle of 90 degrees, hence, significantly less stress on joints and assist in maintaining a perfect sitting posture.
In short, when you sit in your office chair, you must feel comfortable for a long time. If you are not satisfied even after technically maintaining the best sitting posture, you need to change the chair. The chair must make you feel comfortable to work for a long without any strain or pain.
If you are having trouble finding the perfect standard desk height, consider purchasing a chair with adjustable chair Height so that you can adjust according to your comfort. Ergonomic chairs are proven to be best for maintaining a healthy posture.
Top 03 Recommended Office Chairs
You can also check out our 25 cool desk accessories to be used with your desk.
What is the Average Desk Height for Gaming Purpose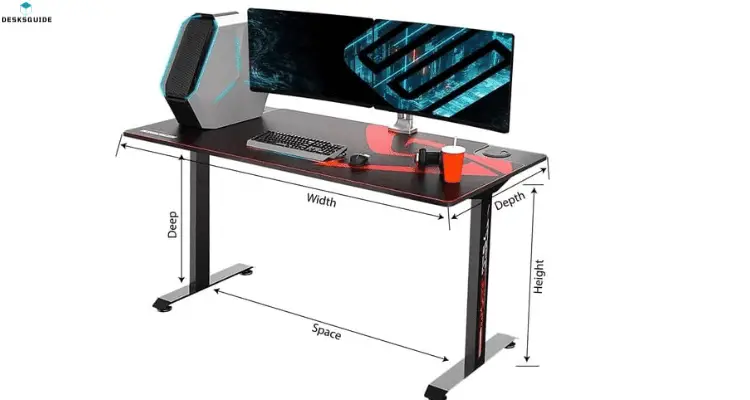 The standard gaming desk height is about 28 to 30 inches from the ground. This typical desk height is for a gamer whose Height is from 5'8 feet to 5'10 feet.
Hence, the same principle applies everywhere, irrespective of the purpose for which the desk is being used. It must be comfortable for the users to maintain a perfect height of a desktop and healthy posture for a prolonged period while at work or gaming. 
Quick Fix to Maintain a Perfect Posture 
Now, I am going to describe a quick fix or steps to maintain a perfect posture while at work:-
Step 1: Determine the correct desk height using the desk height calculator tool
Step 2: Choose a perfectly comfortable chair for your desk
Step 3: Make sure the desk and chair are Height adjustable
Step 4: Study this short correct sitting posture guide on the desk
Step 5: Make sure your desk is not wobbling.
Check out my detailed guide on How to fix a wobbly desk.
Video Tutorial
FAQs
how do I know if my desk is too high?
You will feel discomfort or pain in your hands, elbows, shoulder, wrists and neck area. It may even cause a long term injury
What is the best height for a computer?
The best height for a computer mainly depends upon your body proportions. However, in general, your computer screen should be positioned at or slightly below eye level, your keyboard and mouse must be at a 90-degree angle with your elbows. This can help to reduce pains, fatigue and eye strain. Adjustments are made depending upon your comfort level, coupled with frequent breaks to avoid all sorts of pains
Is it better to sit lower or higher at a desk?
Sitting too low causes strain in your legs, lower back and hips, whereas, sitting too high causes pain in your shoulders and neck.
Ideally, height should be adjusted so that your feet are flat on the floor along with your knees making a 90-degree angle. Your desk height must be adjusted, thus allowing your elbows to make a 90-degree angle when typing or using a mouse. This drastically reduces the risk of discomfort, pain, and injury during prolong working at a desk.
Conclusion
As you can see, there are a lot of factors to consider when selecting a desk height, but the most important one is the user's Height. In brief, the best typical desk height makes the user feel comfortable for a prolonged period.
Standing desks are becoming a popular choice for those who want to work in a more ergonomic position. The benefits include a healthier body, less stress, and less back pain. The best part is that you don't have to sacrifice comfort and convenience by offering your budget.
The most important aspect is that each individual has to ascertain the green zone or the optimum comfort level to work for a prolonged time.
User comfort must be the topmost priority for any individual or organization if it desires to enhance productivity. 
I hope you have a clear understanding of what should be the Height of your computer or office desk, and you can easily now calculate the perfect desk height for anybody using the detailed desk height calculator tool.
For more detailed guides, check out Desksguide.com