Yes, I know one thing that is you are confused right now or various people have made you bewildered about what is the actual difference between a gaming desk vs regular desk. But you have to get a desk for your office or for your gaming setup.
As we know a desk is a major component of your gaming room or setup and office or study room, so a little bit of research before buying the desk is worthwhile. 
Ladies and gentlemen, if you feel as if you are feeling the same then you are at the right place as I have clearly demarcated the major differences, which make the gaming desk differ from the regular desk. 
Quick Difference between Gaming Desk and Regular Desk
before describing the detailed differences, I will quickly go over a brief difference between a gaming desk and a regular desk:
Gaming Desks have a specialized design with additional features to enhance the overall gaming experience of the user, thus making it comfortable and suitable for long-duration hardcore gaming. Whereas, Regular desks are designed for routine office or homework with a plain desktop, thus providing space for work and accessories.
Differences between Gaming Desk vs Regular Desk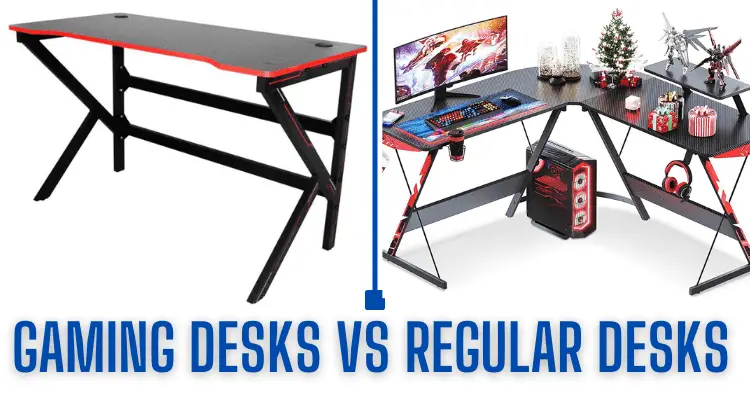 Gaming Desk is not just ergonomically different but also equipped with other gaming accessories which are essentially required for long gaming sessions.
Most people think that gaming can be done on standard office desks or on a normal desk, however, we need to understand that long-duration gaming is a physically demanding activity, therefore, gaming a comfortable environment is necessary for a serious gamer.
Moreover, in order to understand the in-depth differences between a gaming desk vs regular desk, I have jotted down a few important areas, which will clarify the confusion in your mind that why gaming cannot be done on regular desks.
1. Comfortability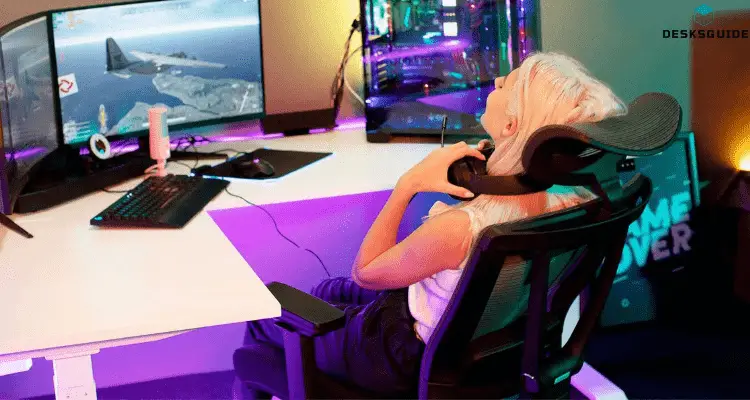 one thing, we all admit that gaming being done for extended periods demands elevated or enhanced comfort levels, otherwise, one's performance can surely get affected.
If you are a gamer then you must have experienced that long gaming sessions can sometimes become painful if the gaming desks are not comfortable. We need to continuously change our postures and the same position cannot be maintained for extended periods.
In contrast to that, regular office desks mainly aim for providing ample space to office workers, thus promoting the overall office environment. However, it doesn't mean that the office desk is not comfortable or we can compromise on the overall comfort level.
Regular office desks are built keeping in view the working posture of the individual and gaming needs are not catered for while designing the regular desks. Therefore, we need a video gaming table.
In short, gaming requires improved focus for performance enhancement which can only be achieved by providing enhanced comfort levels.
2. Space
Regular desks or office desks are generally designed to provide an ample amount of space for office work, which means it has an overall less space as compared to a gaming desk.
Regular desks can accommodate a few files/folders, books, and one PC only for office or regular work. It won't be possible to place or fit two monitor stand on a regular desk for gaming purposes.
Regular desks generally come in a rectangular shape as compared to multi-shaped gaming desks, thus providing less space to the user.
Now if we look at a gaming desk, it acts like a charm and provides a lot of space for fitting dual/multiple screens along with heavy-duty gaming rigs. Moreover, you must have seen gamers always keep a number of accessories along with them at hands reach distance, thus requiring enough space.
Hence, in short gaming desks offer a lot more options for space as compared to regular desks.
3. Shape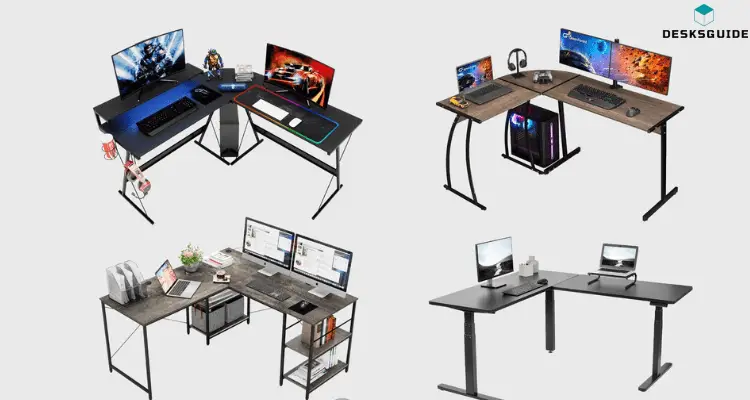 By shape, it suddenly comes to our mind that a gaming desk is fancier than a regular office desk. Gaming desks come in various shapes L-shaped or desks with double corner shapes and many more.
Whereas, generally office desk is a regular traditional desk with a normal rectangular shape, which suits the office environment. Moreover, generally, the office desk is smaller in size too as a lot of desks are required in an office.
This difference can be considered a major difference between a standard office desk and a gaming desk, which can easily distinguish a gaming desk from an average office desk.
4. Cost
You will always find gaming desks more expensive than the regular desk. You will always wonder, why is that so, but it is quite obvious that gaming desks are built with additional advanced features to make them specialised for gaming.
It's not that you cannot perform gaming on a regular desk as it is cheaper and if your budget is tight, then you can opt for it. But you will always find gaming desk more expensive than regular desks.
So, it's up to you whether you go for a gaming desk or a regular desk.
5. Design & Durability
If we place a gaming desk and a regular desk side by side, then even a child can identify gaming desks by their aesthetics as both desks are quite different aesthetically.
Gaming desks are built keeping in view the overall look demanded by the user matching the overall ambience of the gaming room.
Whereas, if we look at the average office desk, these are regular rectangular or minimalist designs built just to meet the requirements of ordinary chores.
Both desks also have differences in the built design, quality and higher quality materials. As gaming desks are more stylish and elegant in look as compared to the most regular office desks.
Gaming desks are much durable to withstand the wear and tear of regular gaming. Gaming desks are typically made of sturdy materials such as steel or aluminum frames, which provide stability and support for heavy gaming equipment.
Its surface is made up of high-density particle board or MDF which is quite strong to bear the load of multiple monitors and rest of the heavy gaming accessories.
Most gaming desks also have a powder coating finish that makes them resistant to scratches, dings, and other types of damage.
In short, gaming desks are very durable and long-lasting, thus able to withstand the demands of regular gaming use.
6. Storage
You must have seen gaming desks fully equipped with a gaming setup, with a lot of crazy beautiful and cool accessories placed in the extremely ergonomically designed shelves or storage space of the gaming desks.
Guys it is just due to the fact that gaming desks have way more storage space than a regular desk as gaming desks have more desk storage.
It is pertinent to mention here that regular desks also come with storage space, however, most gaming desks have more storage space and different compartments along with built-in shelves as well.
These shelves are meant to place multiple decorative cool accessories which include figurines and many other gaming accessories. If you want to check out our 25 cool gaming desk accessories, click here.
7. Adjustability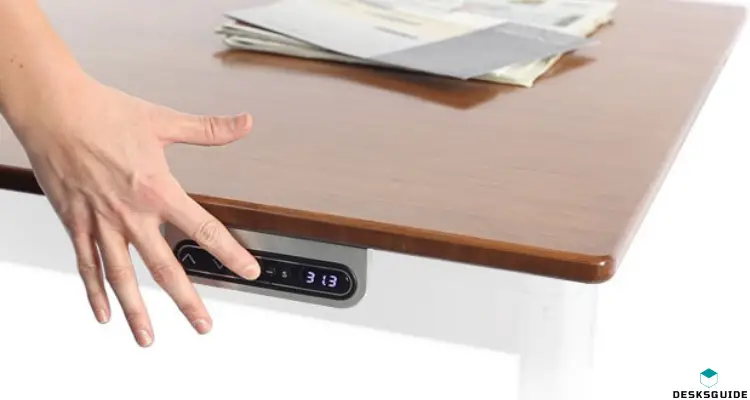 You might have experienced a common issue, gaming desks come with a fixed standard height which can suit only a few individuals. But we need to first look into the reason why we actually need gaming desks with adjustability features. 
We actually need a desk with an adjustability feature because of getting rid of all sorts of body pains caused due to prolonged gaming or office sessions.
These long sessions can actually make a person tired and subsequently cause back pain, neck pain and pain in other areas as well. Moreover, in addition to that, there is another reason for it too, which is the adaptability of a desk with individuals of all heights. 
As it becomes an issue when there are different users of a common desk. In the case of a fixed standard height desk, one individual matching the desk height would feel comfortable while the other would have to go through the pain.
Hence, adjustable desks are becoming the talk of the town these days and keeping in view our time durations of desk utilization, we should also opt for adjustable desks. These desks are also considered healthy as well because most of them can be converted into standing desks mode.
Standing desk mode lets an individual stand while working as well. Thus preventing all the health issues caused by prolonged sitting sessions. 
This feature cannot be found in the regular desks, and today most gaming desks come with this feature, in order to sustain long duration gaming. 
8. Cable Management System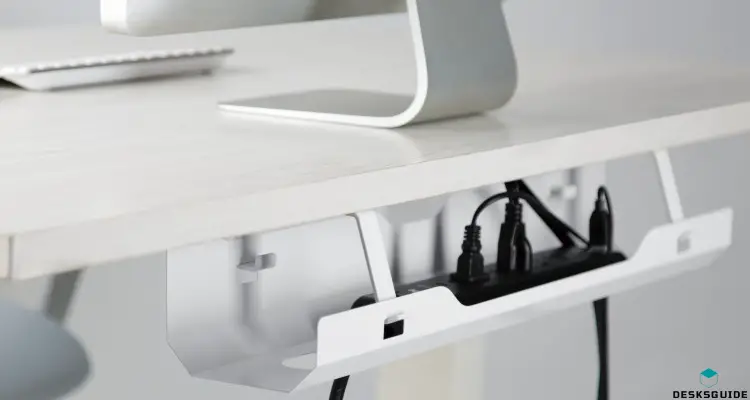 We all at one time in our lives had become fed up with the cluttered cables of your PC under your desk. But with the invention of the cable management system, our lives had become way easier. 
Similarly, owing to the extensive PC cables spread while setting up the gaming setups, therefore, the cable management system has been made a permanent part of gaming desks and most of the gaming desks these days are coming with the pre-installed cable management system. 
Whereas, regular desks, do not come with the pre-installed cable management system. If in case, we have to utilize a regular desk for operating the computer then we need to install the cable management kit on the regular desks. Various cable management aids and tools are utilized for solving cable management issues.
9. Additional Features
A professional gamer needs a lot of accessories to be positioned at his arm's reach in order to experience a flawless smooth gaming environment. 
This problem of ours has already been resolved by the specialized gaming desks, as gaming desks come with already built-in additional features as compared to a regular desk.
The addition of features also enhances the cost of the desk, thus making gaming desks costly as compared to regular desks. These features enhance the overall productivity of an individual, therefore, the cost is enhanced.
You can also check out a few more differences in this guide here
FAQs
What is the difference between a gaming desk and a regular desk?
Gaming Desks have a specialized design in order to enhance the overall gaming experience of the user. Whereas, Regular desks are designed with a plain desktop, thus providing space for work and accessories required for routine work.
Is it worthy enough to buy a gaming desk?
It depends on the individual and the quantum of gaming, if an individual is just doing gaming as a hobby in leisure time then I must suggest buying a regular desk, whereas if an individual is an enthusiast professional gamer, then a gaming desk is a must required in order to perform long-duration gaming without getting tired. 
How to choose a gaming desk?
We have a detailed guide on how to select a gaming desk and what important factors are to be considered. Click here to check out.
Why office or Regular desk cannot be used for gaming?
Regular desks can be used for gaming but for a short duration of time as it causes tiredness and it is not made especially for this purpose.
Can I use a Normal Desk for gaming?
Yes, it is possible to use a normal desk for gaming, however, a gaming desk is specifically designed to improve the gaming experience with features such as larger surface area, cable management systems, adjustable height, and sturdy construction for gaming equipment.
Conclusion
It is quite evident from all the above-stated facts that, gaming desks and regular desks are quite different to each other. Each type of desk has a separate audience and group of interested users. Hence as a thumb rule, gaming desks are specially designed for a specific purpose of gaming, thus assisting it in all possible ways to support long-duration gaming, whereas, regular desks are for ordinary routine work. Therefore, do analyse your usage and utilization before making a decision.