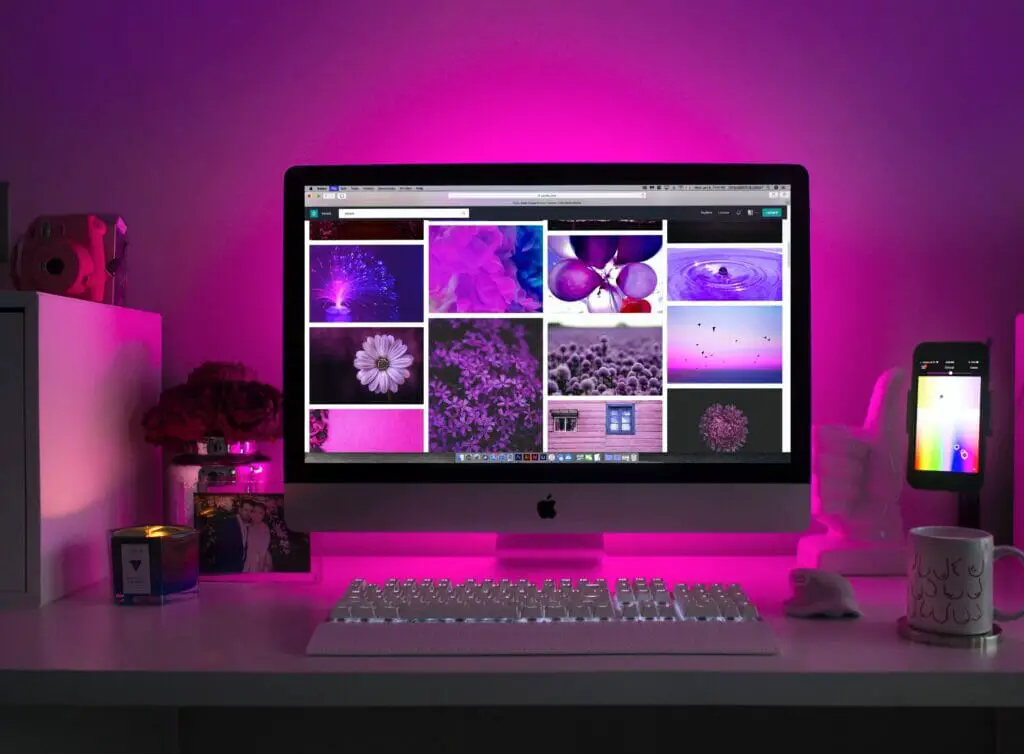 Living in a small apartment or working in a small office can be challenging, especially if you have a lot of stuff or an abundance of office supplies to handle or work upon. The best desks that fit within the area are minimalist and usually without drawers. Therefore, it becomes essential to know How to Organize a Desk Without Drawers.
Organizing your desk and making it clutter-free is significantly more challenging when you don't have drawers; we have to optimize the available desk space. There are only a few places left to store all the small necessities you need every once in a while.
In such a case, we have to look into how you can organize a desk without drawers and make the most out of available space. As I have said before, you don't have to buy the perfect desk to become productive; you just need to learn how to organize a desk without drawers.
If you are a student, working in an office, or simply looking for ways to make your desk more organized, you may want to check out this post. Using these simple hacks, you will learn how to organize a desk without drawers.
How to Organize a Desk Without Drawers
The most recommended method to organize a desk without drawers is to first identify the most important items which are essentially required to be placed on the desk. Afterward, mark the exact locations of each item on the desk. Then begin placing the items accordingly. Finally, make the changes to identify the suitable arrangement after a few iterations. This is how to organize a desk without drawers and staying disciplined would keep the desk maintained for a longer period of time.
Here are all the hacks you can use to make your office desk hold all your essential office supplies in one place without having the required storage space or separate storage cabinet.
Stationery Holder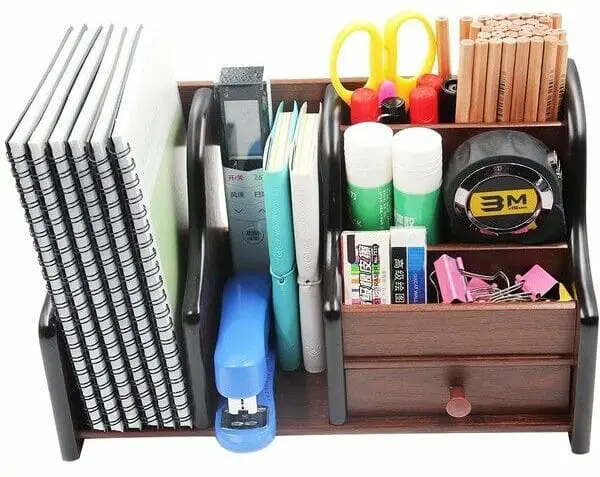 If you are a student or your work involves using stationery items, a standard holder can keep all your pencils, pens, and other supplies in one place, thus keeping your desk organized. 
These are compact and don't require a lot of storage space. Having these at the corner of your desk will help keep all necessary items in arms' reach.
Getting one with compartments can help maximize space on your organized desk even further. You can store any other small essentials in the holder as well. USB sticks are one such commodity we always tend to misplace.
It is a standard desk organizer which can give you extra storage space on your desk eventually helping you in knowing How to Organize a Desk Without Drawers.
Use a Desk Organizer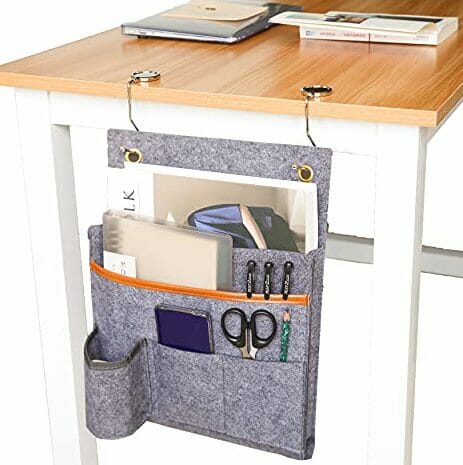 A desk organizer can be an essential organization tool for your desk. A drawerless desk is a desk that does not have drawers. It is essentially trays, usually organized in compartments.
The storage unit occupies a small area in your desk to store small items like a marker pencil or pen clip. Usually, all the things are put in specific compartments for easy identification. This accessory is a major plus for knowing How to Organize a Desk Without Drawers. For some more ideas you can have a look at desk top organizers for home.
Monitor Stand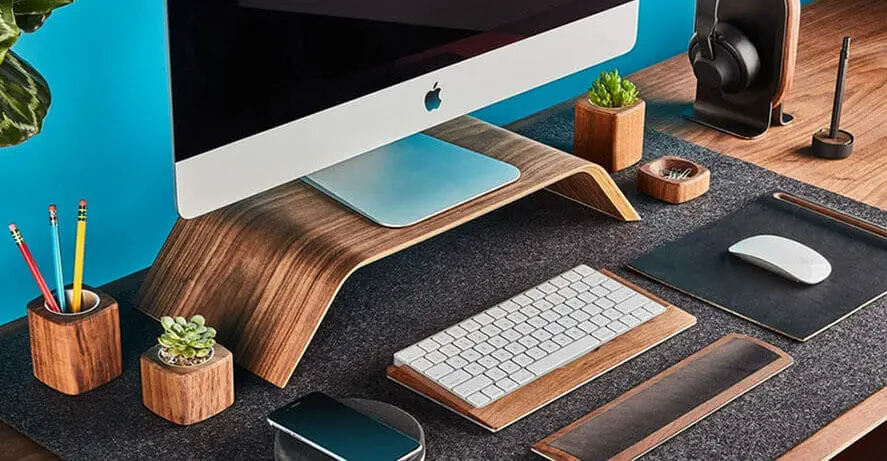 If you have a desktop computer or a monitor, you can save space by using a monitor stand. These stands are hollow in the middle and rise slightly above the desk to make a platform for the monitor to sit on. 
These stands can be observed often in most minimalist ergonomically organized office or computer desks.
This stand generally takes small space than a monitor take, perfect for people with minimal office space available. You can use the space under the monitor to store the mouse and keyboard when not in use.
You can also place books under the monitor stand, thus saving the space required to store them.
However, it would be best to choose a suitable stand that isn't too high. Something ergonomic will help you stay clear of back or neck pains. Ensure the stand isn't too high and you have a straight view of the screen to avoid straining your muscles. Are you still confused about monitor stands, then do check out my article on How To Fit Two Monitors On A Small Desk (10 Easy Hacks).
Make Most of Your Wall-Space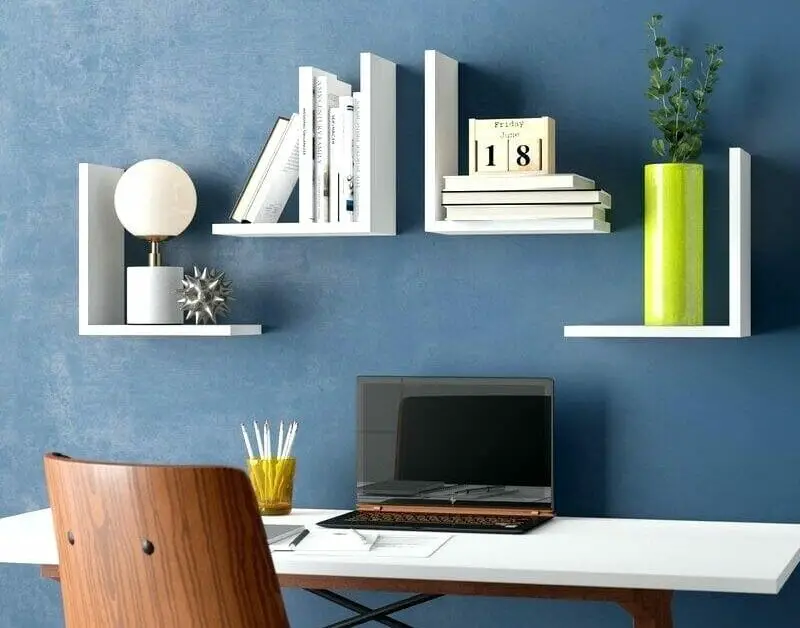 The third method isn't a single organizer but a range of options, and you are free to choose between them. If your desk is in a small space, chances are it is set up against a wall. You can add several accessories to keep the desk organized and free from clutter.
Installing shelves can help you keep any documents, files, or books you regularly use within your reach.
Hooks are another great and inexpensive option. Mounting them to the wall is hassle-free, and they hold everyday items you need. Cards with straps can be hooked, so you have easy accessibility and don't lose them. 
Furthermore, wall mountable storage cabinets can help keep away items you less frequently use but need on your desk. For example, extra chargers, extension cords, or anything else you need to get off your office desk.
I must say that most people utilize this vertical space to organize a desk without drawers.
Desk Tray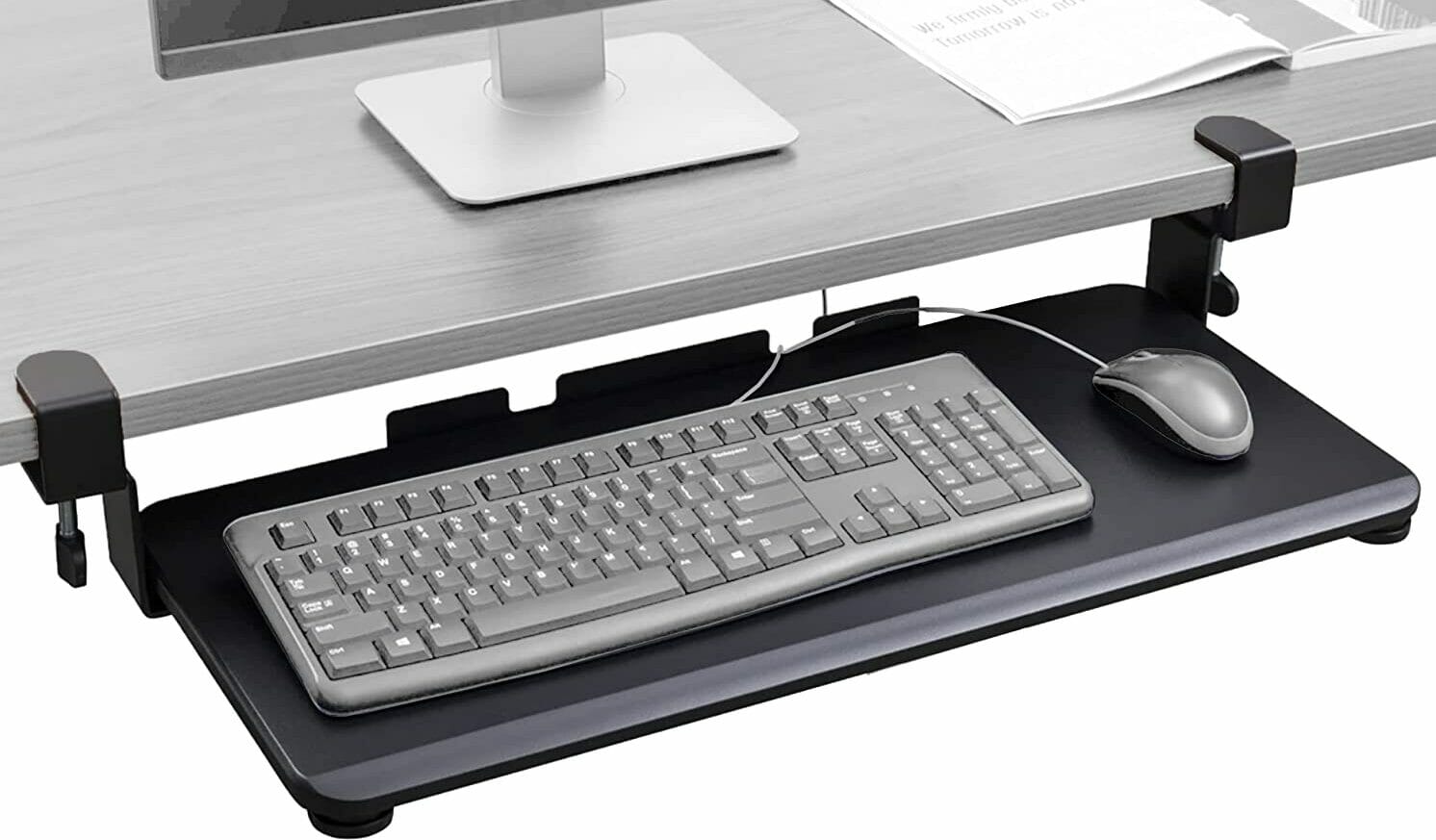 A desk tray is an attachable accessory that slides directly under the desk itself, thus providing extra space or storage capacity. Such a keyboard tray is used to hold your keyboard and mouse so you can free the table for other office supplies.
When you aren't using the computer, it slides away out of sight, and you are free to use the desk to take notes or carry out other tasks. It also helps if your keyboard or mouse isn't wireless. 
If you even connect your laptop to the monitor, it can also be stored away in this tray with a clear route for ports to the monitor. 
Clamps are used to attach the keyboard tray to fit on tables of almost all thicknesses. You won't have to worry about damaging the table by drilling holes.
Cable Management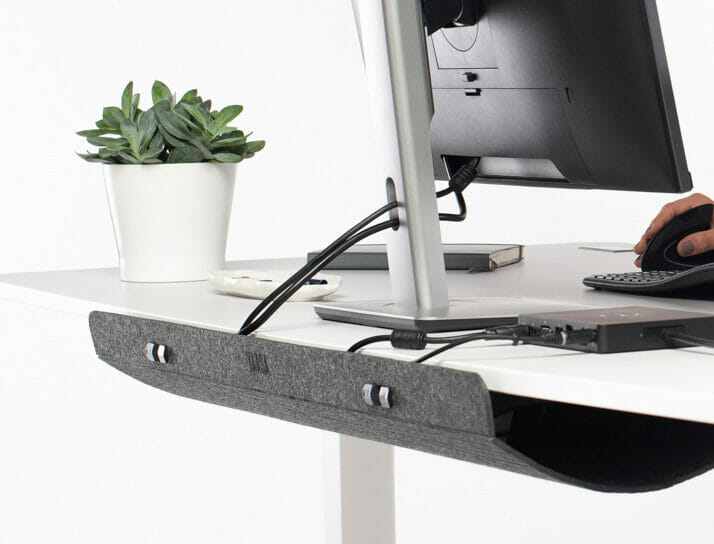 Generally, there are a lot of wires leading to and from the computer are many. You need to ensure these wires aren't tangled or hanging below the desk. To avoid it, you can use several cable management tools to make these leads organized.
Zip Ties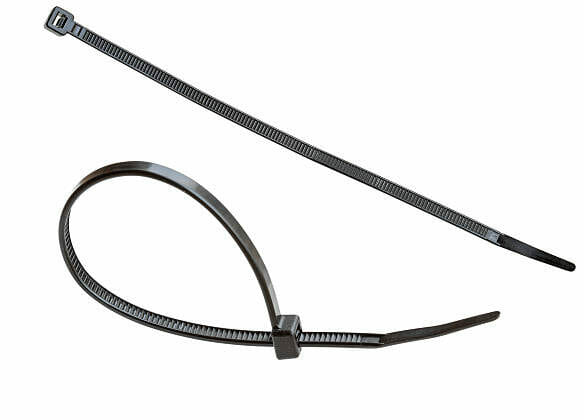 Zip Ties are the cheapest and the go-to option for most desktop setups. You can tie all the wires together and secure them on any spot underneath the desk. This allows you to keep them away and ensure a decluttered environment.
Cable Raceway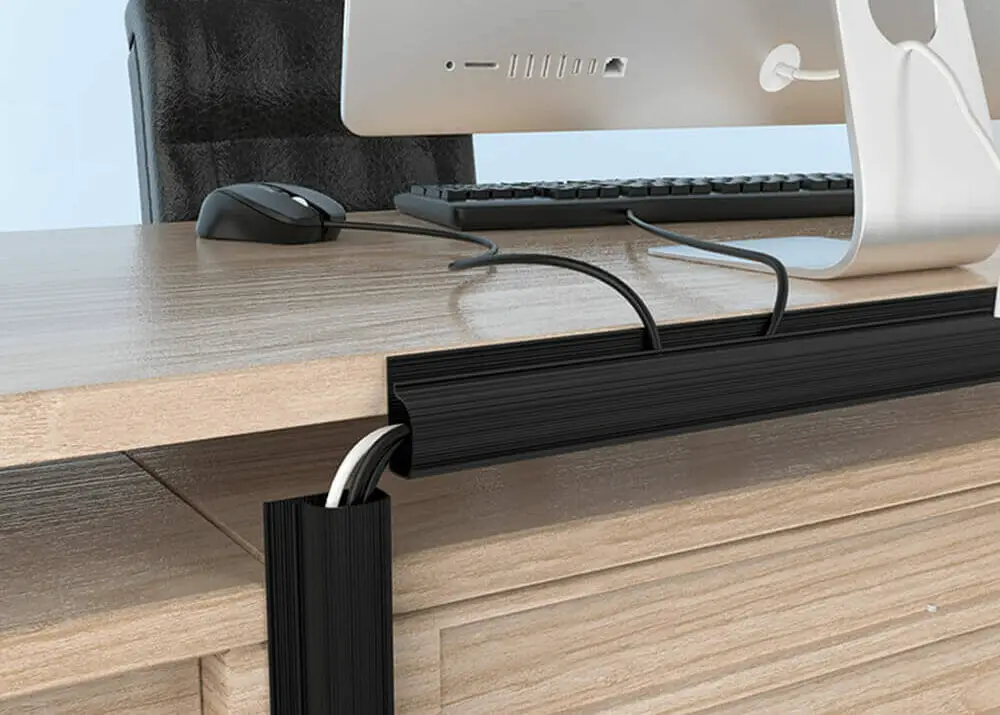 Cable Raceway is a tool dedicated to helping you manage wires and keeping them out of sight. It has a lengthy tape you can use to attach the cables underneath the desk. All wires run from this to their dedicated ports and give your work environment a cleaner look.
Unlike zip ties, you won't have to dismantle your entire setup to remove one or two wires, and you can pull them out from the raceway.
Cable Management Tray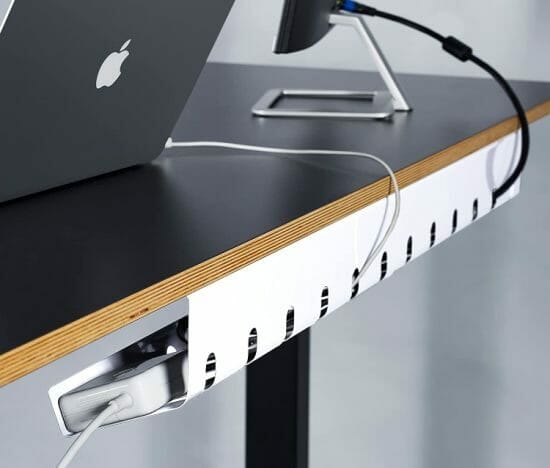 A cable management tray is a substitute for the raceway if you have extension cords or any other bulky items that go with the wires. This tray is way more secure and can hold heavy laptops or computer wires. If you don't know about this hack then you really need to learn this for exactly knowing How to Organize a Desk Without Drawers.
Monitor Wall Mount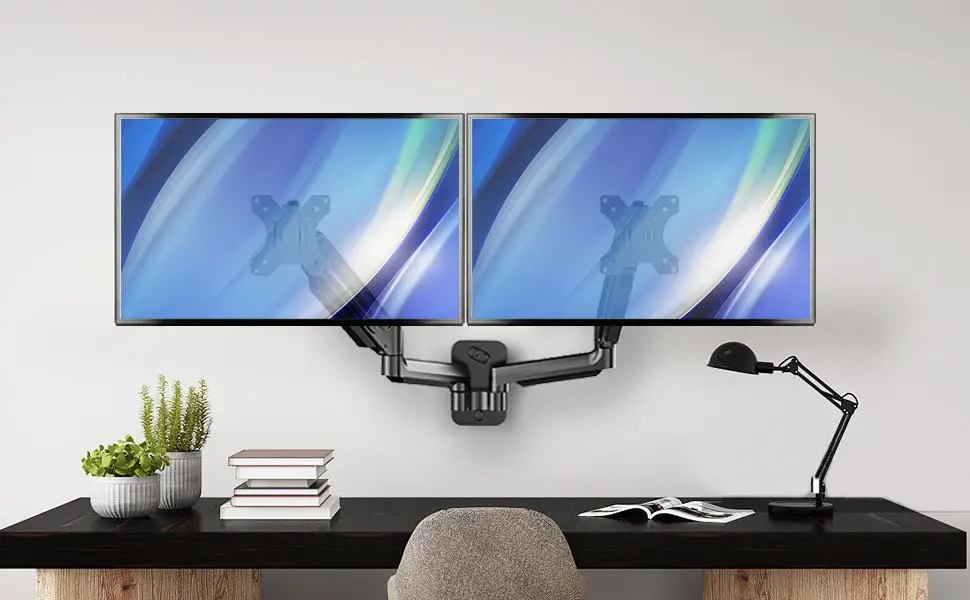 You can get rid of your monitor entirely by using Monitor Wall Mounts. These mounts allow you to attach your monitor directly to the wall, so it isn't on the desk at all, thus letting me utilize vertical space. You are left with the most room when using these.
A convenient quality of the wall mount is its ability to move forwards, backward, or vertically up and down.
You can have the monitor in the most comfortable position without compromising space on the table and avoid cluttering.
You can also use the computer while standing if your desk can be raised and keep your posture correct regardless of how many hours you use the computer.
They aren't too expensive either, and the investment is worthwhile if your desk lacks drawers and needs extra space.
The only downside is that the mount needs to be drilled within the wall to utilize the wall space, which may not be possible for people renting their apartments.
Avoid multitasking
Multitasking is a great work ethic that causes chaos at your desk. Doing several things simultaneously will make a pile of paper.
Make the desk more organized by working one job per day. Once the task is completed, remove any paperwork accompanying it to enhance desk space.
Still, you wanna check out more hacks then visit 5 Tips To Organize An Office Desk Without Drawers.
Video Tutorial on How To Organize a Desk Without Drawers
Bottom Line
If you have a desk without drawers, keeping it organized may seem like a challenging task. However, a few add-ons can help you deal with clutter and maximize space on the table,
Making the most out of the available space you have can be a whole lot easier with stationery holders, monitor stands, and cable raceway to keep your wires organized and out of sight. 
Wall cabinets and shelves are also great pieces of furniture to keep any documents, books, or other articles within reach but off the desk.
In short, instead of finding expensive ways or desks to solve your cluttered desk issue, you should work upon organizing your small desk as it is the cheapest way to get more space out of a small desk. It is cost-effective too as it cuts down the extra cost of buying a new expensive desk. I hope you are now clear about How to Organize a Desk Without Drawers. But still, if you wanna check out more articles on optimizing your desk, then check out my comprehensive guide on Desksguide.com