What is a perfect workspace? It's the place where you feel comfortable and can be the most creative and productive. A desk plays a significant role in reaching that goal. Your choice of desk material not only affects the aesthetics of your workspace but also plays a crucial role in its functionality and durability.
From classic solid wood desks to modern high-pressure laminate options and everything in between, there's a multitude of desk materials to consider. In this comprehensive guide, we'll explore the world of desk materials, helping you make an informed decision about opting for the best desk material for your needs.
Metal desks
These desks feature robust steel or aluminum frames, making them ideal as office desks and shared workspaces.
Their minimalist design with clean lines and a metallic finish complements various interior styles, making them lovely home office desks, too.
Metal desks are widely versatile: from office desks to treadmill desks, from L-shape to traditional ones. They are low-maintenance, resistant to stains, and easy to clean. They provide a sturdy and reliable desk surface for work.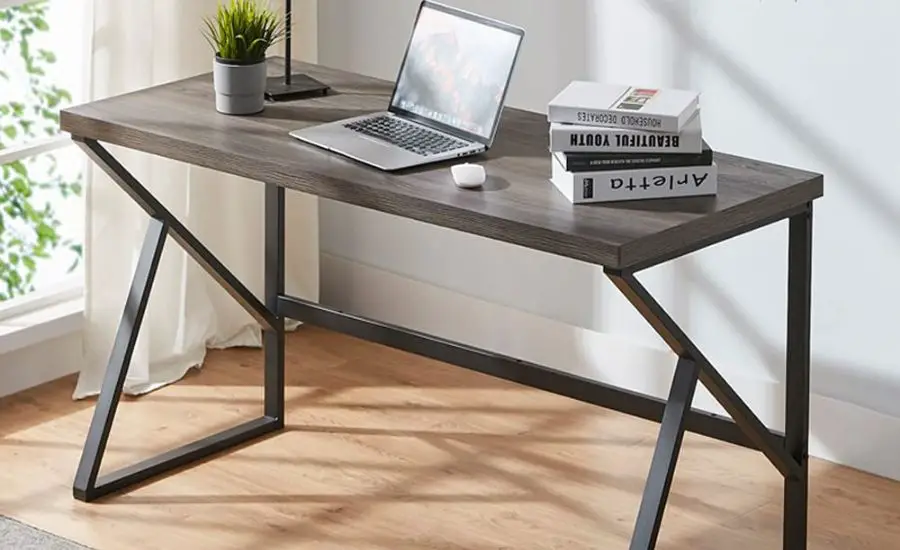 FLEXISPOT Electric Standing Desk 55 x 28 Inches
This electric standing desk allows you to switch between sitting and standing positions effortlessly.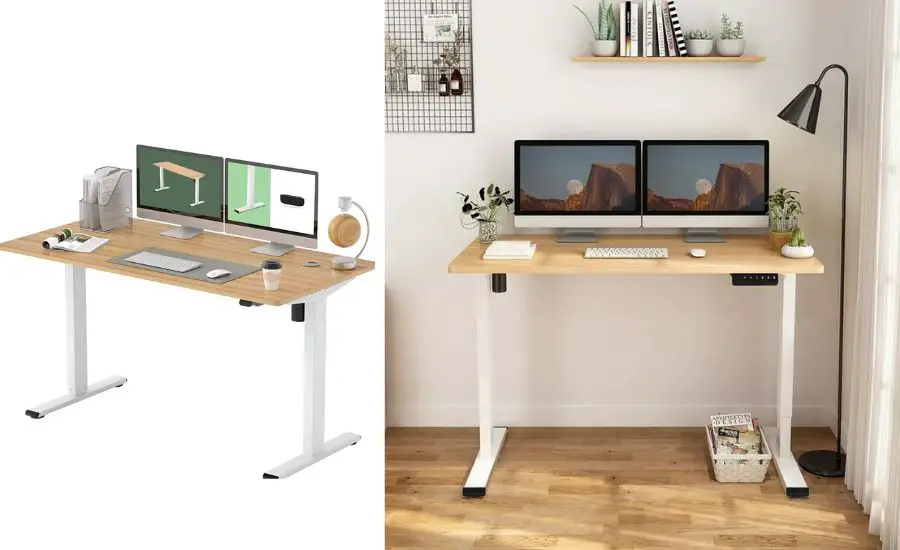 With a generous surface area, it provides ample workspace. The electric motor ensures smooth and easy height adjustments.
Pros
Ergonomic flexibility
Decent office desk
Smooth adjustments
Durability
Cons
Price point
Assembly required
Space requirement
Bestier Small L Shaped Desk with Shelves 47 Inch
This L-shaped desk optimizes space with integrated shelves for storage.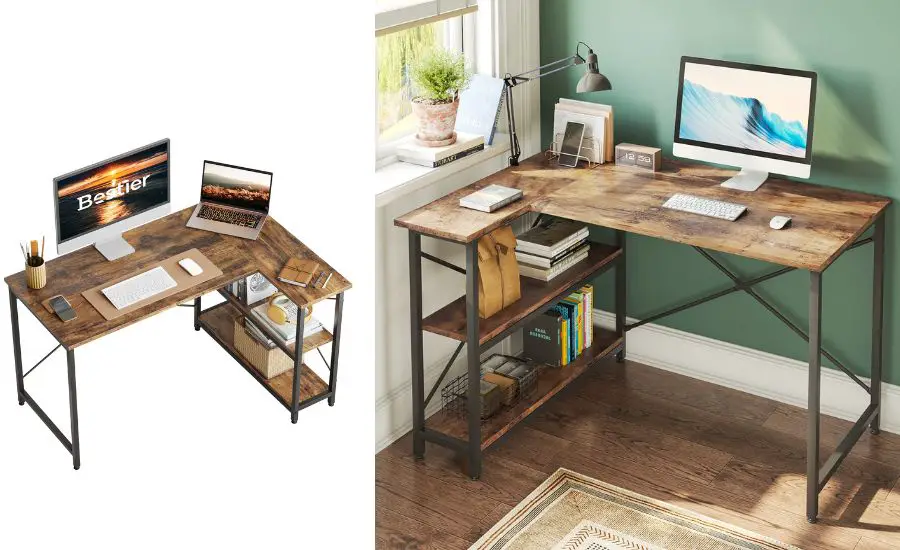 With a sleek and versatile desk top surface, it complements various decor styles. It is easy to assemble and the hardware is included.
Pros
Space-saver
Built-in storage
Sturdy steel frame
Versatile
Affordable
Cons
Limited size
Minimal customization
Laminated desks
These desks feature a layer of high-pressure laminate (or multiple layers) over medium-density fiberboard (MDF planks) or particle board. Laminates come in various finishes, from wood grain (like oak wood or walnut wood) to solid colors.
The laminate surface is resistant to scratches (multiple layers), stains, and spills, making it undoubtedly one of the best desk materials.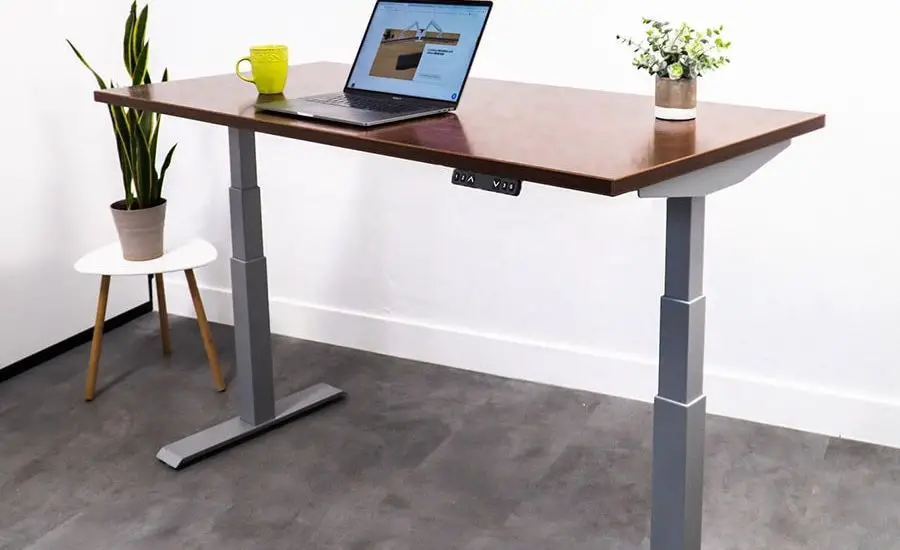 Tribesigns Computer Desk
This desk features a modern and minimalist design. With a generous desktop size, it accommodates multiple monitors and accessories.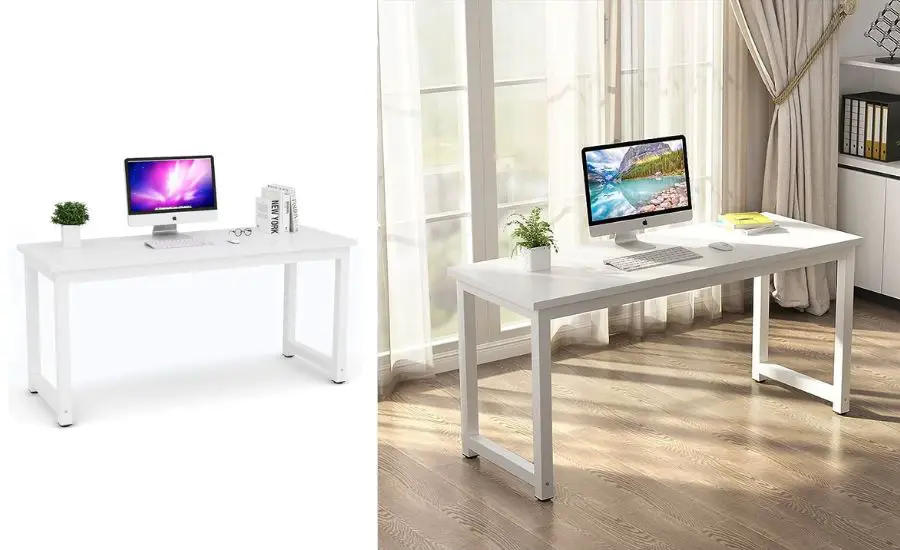 It also ensures stability being constructed with a steel frame, durable tabletop materials, and particle board.
Pros
Practical office desk
Sturdy construction
Variety of styles
Cons
KOUPA Adjustable Height Standing Desks
The desk offers the flexibility to switch between sitting and standing positions, promoting ergonomic comfort. It accommodates multiple monitors, documents, and accessories.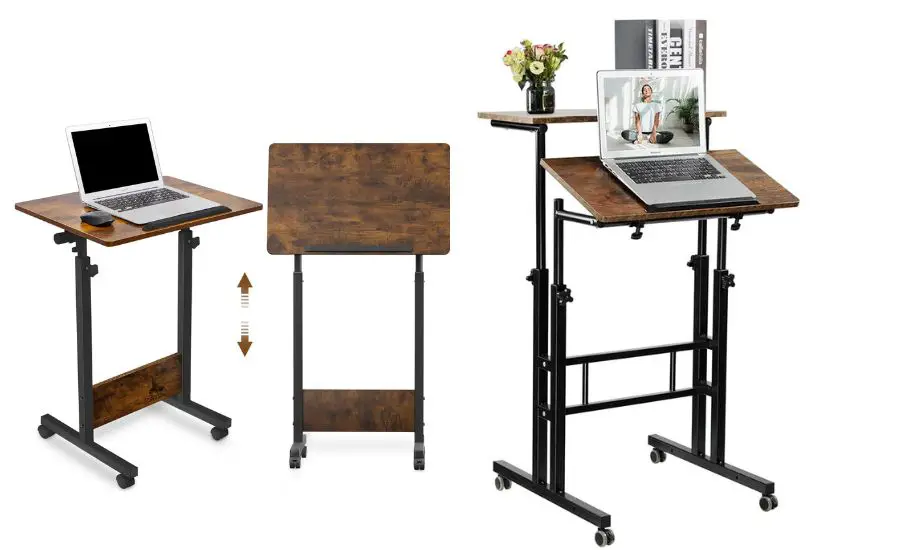 The desk allows for smooth and effortless height adjustments due to the built-in electric motor.
Pros
Ergonomic comfort
Spacious office desk
Effortless adjustments
Stability
Cons
Price
Assembly time
Space requirement
Acrylic and glass desks
These desk materials are the choice of those who value style over practicality.
However, glass and acrylic desks are also temperature-resilient and lightweight, and acrylic desks are also shock resistant.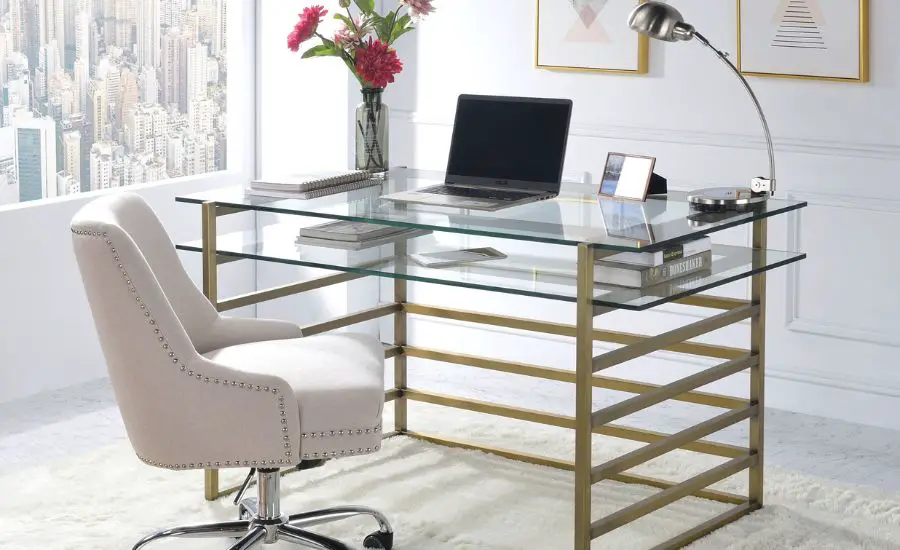 Convenience Concepts SoHo Glass Desk with Charging Station
The desk features a sleek and modern design. It provides convenient power access for your devices as it's equipped with a built-in charging station.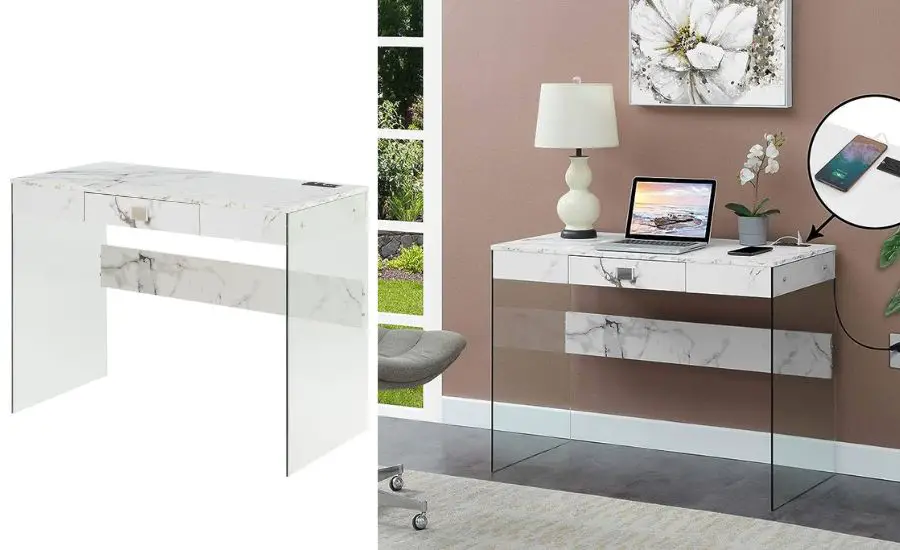 Constructed with tempered glass and metal components, it offers stability and longevity.
Pros
Spacious desktop
Tech convenience
Sturdy construction
User-friendly assembly
Cons
Glass fragility
Price
Minimal storage
Desks with powder-coated MDF
Such desks offer a sleek and contemporary look and are usually available in a range of finishes and colors. Their huge advantage is their price. While being durable and easy to maintain, desks with powder-coated MDF are very budget-friendly. At the same time, they provide a stylish and polished look (e.g. walnut wood or oak wood) for your space.
CENSI Concrete Writing Computer Desk
This desk features an industrial-inspired design. Its size is quite generous, so it can easily accommodate your computer, writing materials, and more.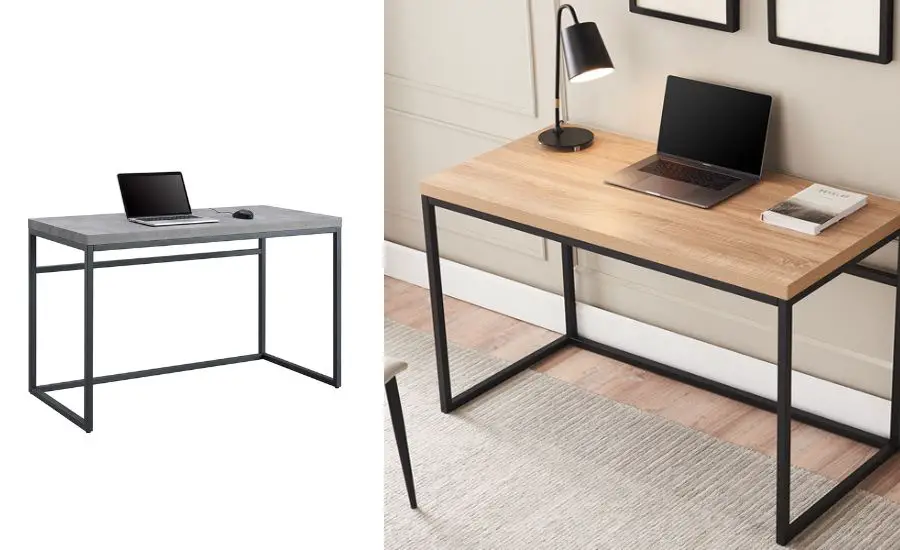 The concrete-like finish adds a unique texture and style to the desk's surface. Crafted with durable materials, it ensures stability and longevity.
Pros
Sufficient room
Durability
Multi-functional
Cons
Wooden desks
Solid natural wood desks offer a classic and timeless aesthetic.
A solid wood desk is the epitome of long-lasting durability and flexibility in terms of the customized wood shape. The types of natural wood desk materials widely used for building desks include oak, walnut, cherry, and many more.
Unfortunately, the desks are generally in the higher-than-average price range. Also, natural wood desk materials may have environmental considerations. Reclaimed wood could be a sustainable substitution.
Bestier Small L Shaped Desk with Charging Port & LED Strip
This engineered wood desk optimizes corner space, offering a functional and space-efficient design. The desk is equipped with a charging port and provides convenient device charging within arm's reach.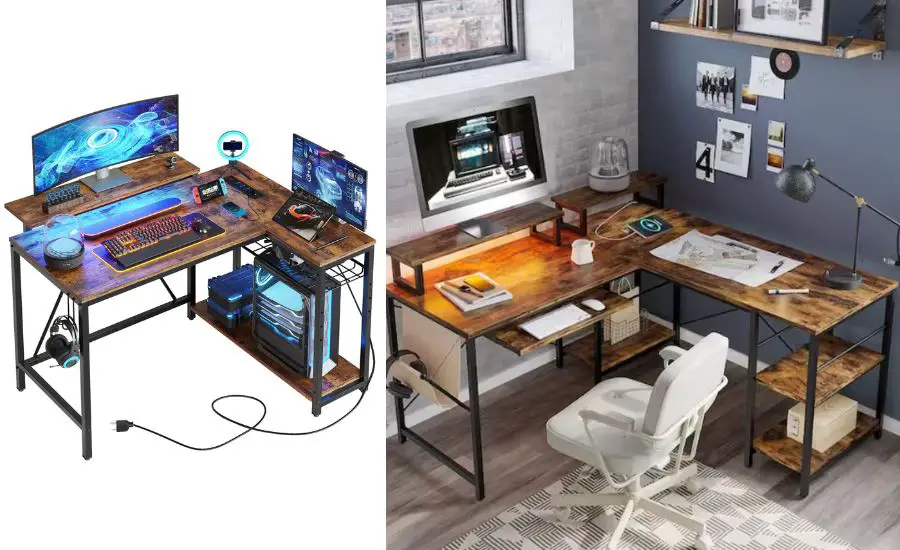 Its LED strip enhances visibility and adds ambiance to your workspace. The materials the desk is made of ensure its durability and a long life.
This natural wood desk is available in multiple finishes to match your decor style and can be made from reclaimed wood, too.
Pros
Space efficiency
Charging convenience
LED ambiance
Durability
Natural wood aesthetics
Cons
Assembly time
Size limitation
Rustic desks
Rustic desks bring vintage charm and natural beauty to your workspace.
They often feature natural wood finishes (or sustainable reclaimed wood options) that enhance the warmth of your workspace.
They can come in a wide range of styles from farmhouse to industrial, so all rustic furniture enthusiasts will find a desk for their liking.
Being among the best desk materials, However, solid wood rustic desks can be heavier and more expensive (unlike reclaimed wood models).
Furologee Computer Desk with Drawer and Power Outlets
The desk combines practicality and tech convenience with a built-in drawer and power outlets. The outlets simplify device charging and cable management, and the drawer offers convenient storage for office essentials, keeping your workspace organized.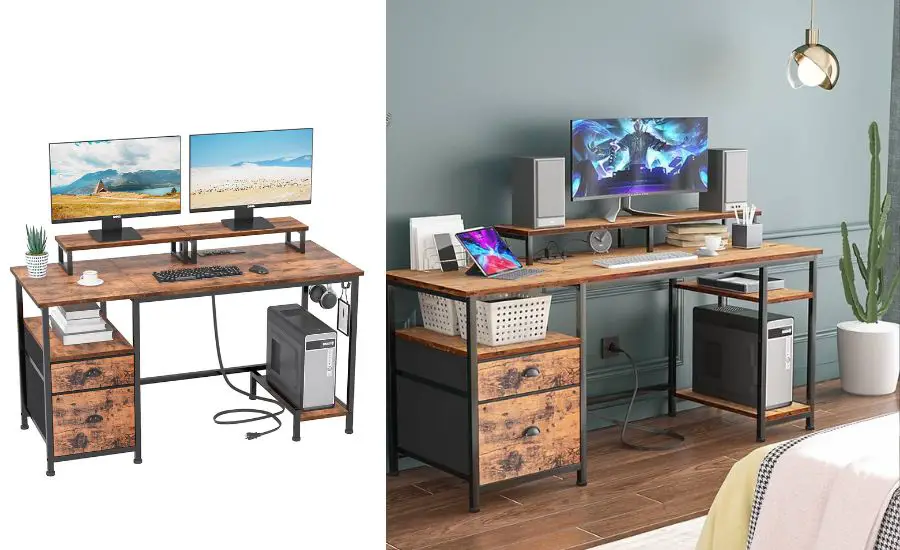 The desk provides a spacious surface for your computer, paperwork, and more.
Pros
Ample work area
Drawer convenience
Tech-friendly
Very durable material
Cons
Assembly time
Size limitation
Bamboo Desks
Bamboo is a renewable and sustainable resource, making bamboo desks an environmentally friendly option. A bamboo desk material features a unique natural grain and warmth that adds character and natural aesthetics to your workspace.
This type of wooden desk is renowned for its strength and resilience, providing a durable work surface. It's versatile and can be crafted into various shapes and finishes, allowing for customization.
FLEXISPOT EN1 Bamboo Standing Desk
The bamboo desk allows you to switch between sitting and standing positions for improved ergonomics. With ample desk space, it accommodates multiple monitors and workspace essentials. It features a smooth and easy-to-use height adjustment mechanism.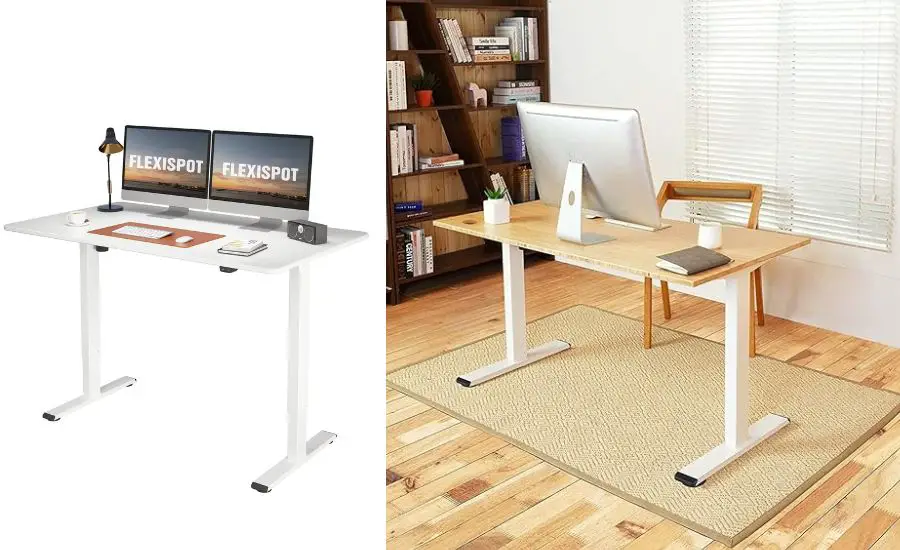 A sustainable bamboo desk offers an eco-friendly and aesthetically pleasing work surface.
Pros
Eco-friendly choice
Ergonomic flexibility
Sufficient room
Smooth height adjustment
Durability
Cons
In conclusion
Choosing the perfect desk material is a crucial decision, as it greatly impacts your workspace's functionality and aesthetics.
Among the featured desks, the FLEXISPOT EN1 Bamboo Standing Desk stands out as our top choice. This desk not only offers an environmentally friendly option with its sustainable bamboo construction but also provides ergonomic flexibility with its easy transition between sitting and standing positions.
FAQ
What is the best material to make a desk out of?
The best material for a desk depends on your specific needs and preferences. Wood is a popular choice for its durability and timeless appeal.
What is the most durable material for a desk?
Solid wood, particularly hardwoods like oak, walnut, or maple, is often considered the most durable.
What type of wood is best for desk?
Walnut, oak, and maple are popular choices for desks due to their durability and attractive grain patterns.