We can't deny that life has drastically changed post-COVID. A lot of us worked at home for countless hours. Although this proved beneficial for some, it reduced the number of breaks we could at work, especially with the new EEG mouse and other such attention sensory tools. As a result, people now wish to counter the disadvantages of prolonged sedentary sitting while observing their workplace rules.
If you are looking for an effective way to improve your back problems and muscle activation, stool chairs are a wonderful choice since they assist you to activate your spine and core muscles to sit upright. But before going ahead, we need to check, are stools better for your back? or not.
The elevated shape of the stool and its distinctive form assist in giving your lower back a better posture. A portion of your weight is transferred to the stronger thigh muscles as a result of the falling seat edge, which also aids in maintaining the lumbar spine's natural curve.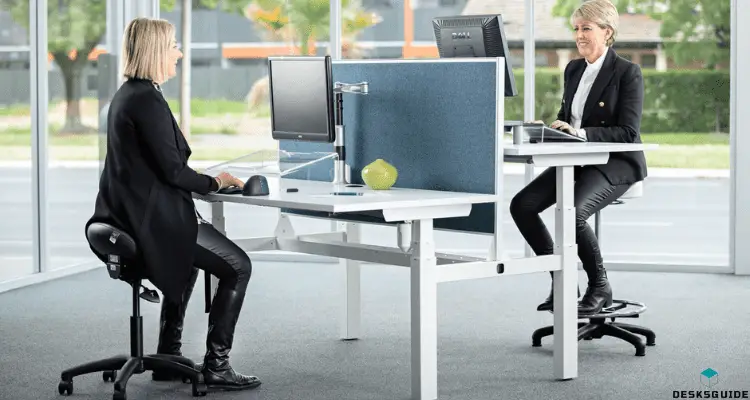 Pressure is distributed more evenly when the lower back is in this lordosis position. Moreover, the stool's design and shape also help with relaxing your hips. This promotes blood to flow towards the pelvis and thigh region. This broad joint angle lessens the strain on the knee and hip joints as well, preserving the integrity of your ligaments and cartilage.
Stools are really better for your back as it improves the overall sitting posture, as the spine adopts the natural curvature. Moreover, it also keeps one alert in active sitting mode along with easing out the discomfort and backpains of poor posture.
What are the benefits of using a stool for your back?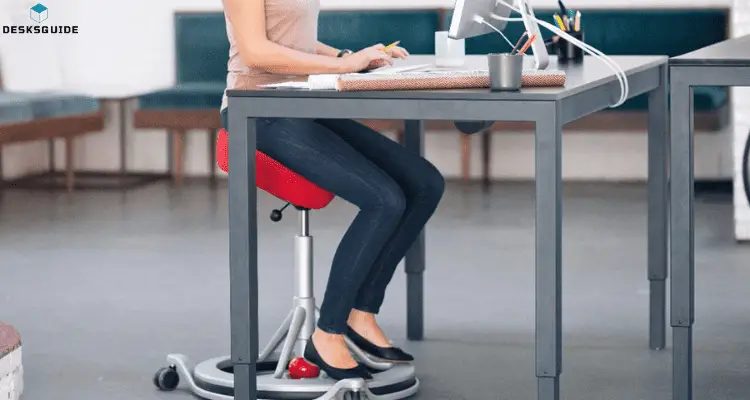 It keeps you alert and promotes productivity. Research from 2005 proves that stools boost productivity in workplaces by improving our upper limb functionality, thus promoting the concept of active sitting.
It eases discomfort, fatigue, and backaches. The continuous compression of the spine is one of the reasons why people develop back pain after spending a lot of time sitting down on office chairs. Using an ergonomic stool can help relieve fatigue and discomfort from standing all day.
Moreover, it lessens soreness and aches from poor posture. A study shows that stools aid in reducing backaches and soreness of muscles. This is due to the forward-leaning sitting shape which reduces the pressure on your lumbar.
Sitting on a stool can effectively improve and maintain your posture, also known as active sitting. Since the pelvis and your lower back are in a neutral posture thanks to the elevated seated position provided by a stool or saddle seat, the spine may adopt its natural curvature, thus posturing the whole body and encouraging active sitting mode.
According to a study conducted in 2018, it was deduced that ergonomic saddle stools reduced the damage caused by prolonged sitting in students. Stools engage our underutilized muscles which encouraged our lower back to maintain its natural neutral posture. it's way better than a traditional chair's sitting position.
What is the proper way to sit on a stool for a prolonged period?
Whether stools are better for your back or not depends entirely on how you use them. You could be using the best ergonomic stool on the market and still your back would hurt if you use it incorrectly. Here are a few ways you can ensure that you are correctly sitting on the stool, especially for a prolonged period in active sitting mode.
Sit at the correct height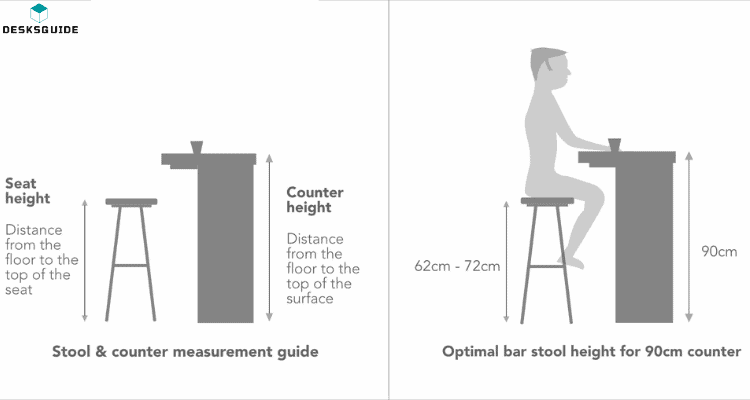 First of all, you need to make sure that the height of your stool is set according to the height of the table. One way to see if the stool height is correct, then you can easily place your elbows on your desk while sitting. If you need to check correct height of desk, then you can study our detailed guide here.
Keep your legs comfortable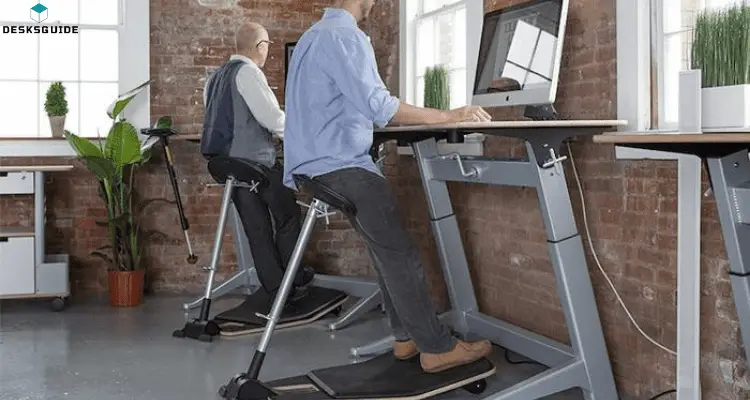 Make sure you lay your feet flat at a footrest while maintaining a gap between the edge of the stool and the back of your knee. Moreover, avoid positioning your ankles behind your knees.
Sit in a good posture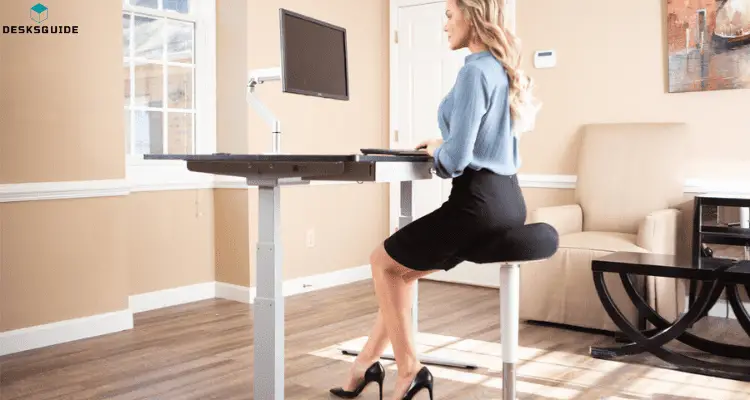 Keep your back and shoulders relaxed without slouching. Make sure that your knees and forearms are balanced at a parallel angle to the floor. It will take some practice and constant prompting but, try to maintain an L-shape with your knees and elbows, thus ensuring good posture in a neutral position.
Top 10 Stools That Are Better For Your Back
Finding a good stool takes some research but, don't worry because we have got you covered. To curate a list of the top 10 stools that will prove better for your back as compared to the office chairs, we took into account the following characteristics:
height variation
backrest vs. backless
Maneuverability
Cushioning
Ergonomic sitting and design
Overall sturdiness.
1. Seville Classics Airlift 360 Sit-Stand Ergonomic Stool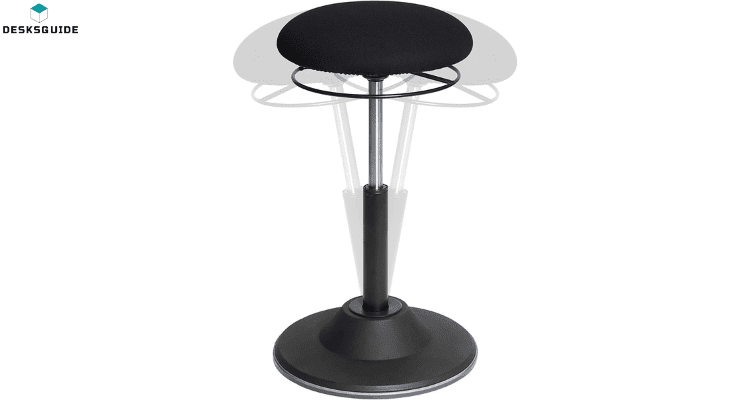 The Seville Classics Airlift comes with a minimal wobble and a wide range of height adjustments. Its features make it an excellent ergonomic active sitting stool with a good natural sitting position. The best part is that it is very simple to assemble and does not require any special tools.
You can adjust its height from 20 to 28 inches using a pneumatic gas lift, which makes it suitable for people of shorter heights. The stool's 360-degree rotation and solid, quasi-base are appreciable as it helps stabilize the stool exceptionally. The fact that this seat can accommodate up to 250 pounds, is of great advantage. This stool in comparison with office chairs provides a more natural sitting position with a natural curve, thus improving posture.
2. Zuri Furniture Bar Stool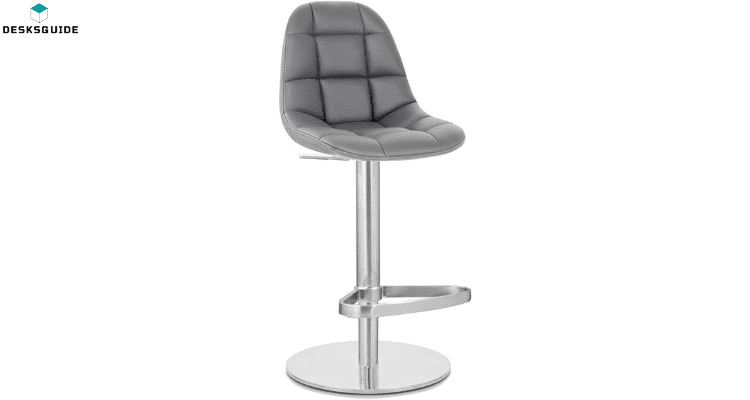 The Zuri stool comes in with generous cushioning, high-quality fabric, and a robust and solid footrest with a solid chair frame way better than traditional chairs. High-density foam that provides supportive cushioning and comfort helps to maintain good posture. This stool is designed for comfort and will give your workplace a more upscale appearance while protecting your back and muscles from the risks of prolonged sedentary sitting.
Customers adore the stainless steel base, which resists corrosion, and the thicker central iron tube compared to other "ergonomic" stools. To guarantee that every buyer receives a defect-free item, this bar stool is sent out in careful packaging. You can be certain that you are purchasing a high-quality item from Zuri Furniture which promotes a natural curve in a neutral position with better posture.
3. Gaiam Balance Ball Ergonomic Stool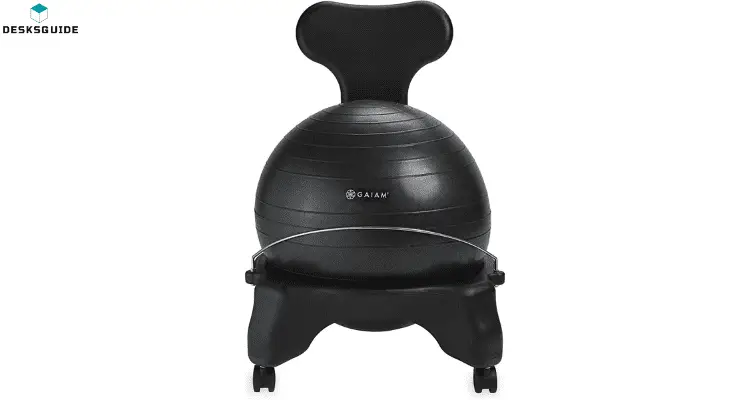 If you've ever used a balancing ball, you probably know that maintaining equilibrium may be a mini-workout. Thanks to this Balance Ball Ergonomic Stool by Gaiam, you can enjoy the benefits of a stool and balance ball with one product.
The Gaiam Balance Ball Stool is an unconventional office chair that functions as a stool for a standing desk. It's a fantastic substitute for standard office chairs. The product comes in two height ranges and a wide variety of colors. It's well known for providing good posture with a natural position, actively providing blood flow to the pelvis and lumbar regions.
4. KKTONER PU Leather Bar Stool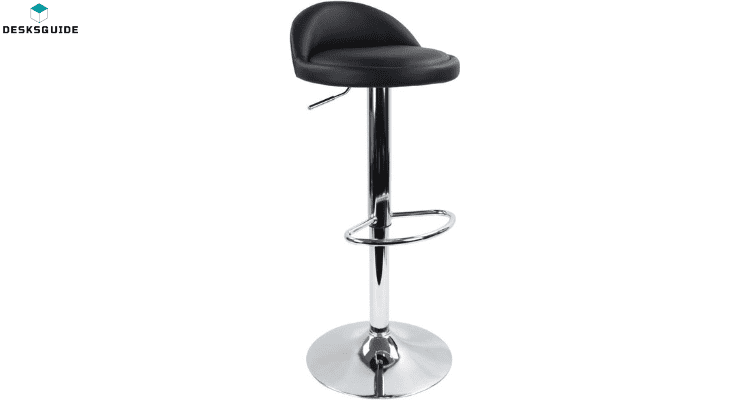 The KKTONER PU Leather Bar Stool is the ideal compromise between a backless and full-backrest stool if you can't decide between the two. While providing adequate support for comfort, the low back stool won't protrude over any surfaces.
It is an incredibly small stool with a seat diameter of 14.6 inches. However, the reviews show that people love its quick height adjustment and 360-degree swivel feature. Despite its small size, the stool has the capacity to comfortably support up to 300 pounds of body weight in a more neutral position as compared to a traditional chair.
5. Learniture Adjustable Height Active Learning Ergonomic Stool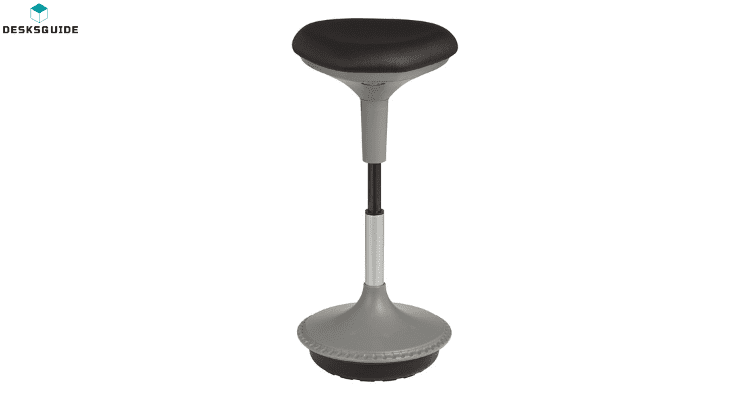 This office stool from Learniture is a good option if you like the notion of an active stool but want something that may work for a variety of folks. It is a wobbling stool and is appropriate for use by adults, office workers as well as younger kids. You will appreciate its height range which can be changed from 18.5 to 28 inches. Hence, making it suitable for both standing desks as well in an improved posture.
The best part is that despite its fancy appearance, it is rather easy to clean. Additionally, the 3.53-ounce weight is so light that it's a truly portable solution that can travel everywhere you need it to.
6. CoVibrant Lockable Ergonomic Stool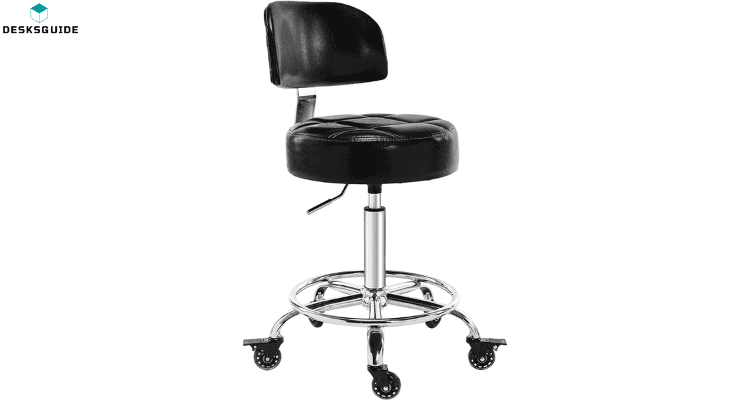 The CoVibrant Lockable Stool can comfortably handle up to 300 pounds, which is the highest weight limit we found throughout our research. It is one of the very few stools with a backrest. It also has a more upscale appearance with its quilted topstitching and waxed PU leather.
With the use of a gas cylinder, this stool's height may be changed from 20 to 27 inches. The fact that three of the five casters may be locked adds to your steadiness as you work for long periods, which is another wonderful feature.
7. Varier Move Tilting Saddle Stool (No 1 Stool)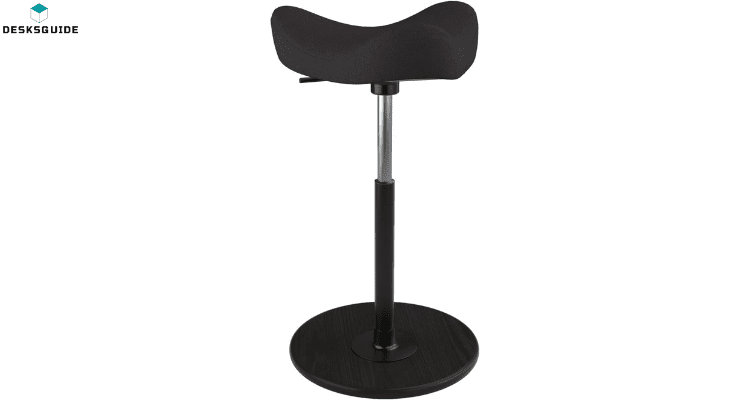 This stylish stool makes use of premium design and construction. Whereas many wobbling stools are ergonomic, the Varier Move Tilting Saddle Stool is unique in that it has been evaluated by the Mayo Clinic and awarded a Neat certification. A product must be able to add more than 10% to the productivity rates in order to receive this distinction.
The Varier Move is designed to accommodate a multitude of workstations due to its easily adjustable height range of 22 inches to 32.35 inches. The seat's saddle-shaped form adds to its comfort and support for improved posture in natural spine position.
8. Sun-Flex Ergonomic Height Adjustable Balance Foot Stool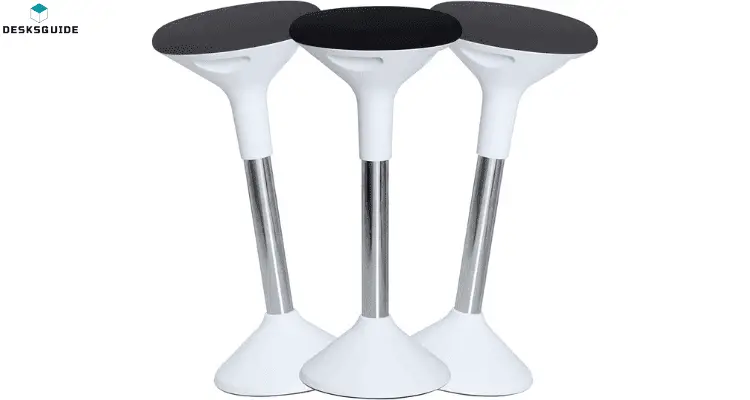 The Sun-Flex Ergonomic Height Adjustable Balance Foot Stool comes with a maximum weight capacity of 264 lbs. Its anti-skid base on this standing desk chair keeps it from sliding around when you lean back in it or scratching the floor.
Although the seat can rotate a complete 360 degrees, it does not have a tilt option. Using a simple lever that is within easy reach, the stool's height can be adjusted from 24.5 inches to 27.9 inches.
9. Songmics Standing Desk Chair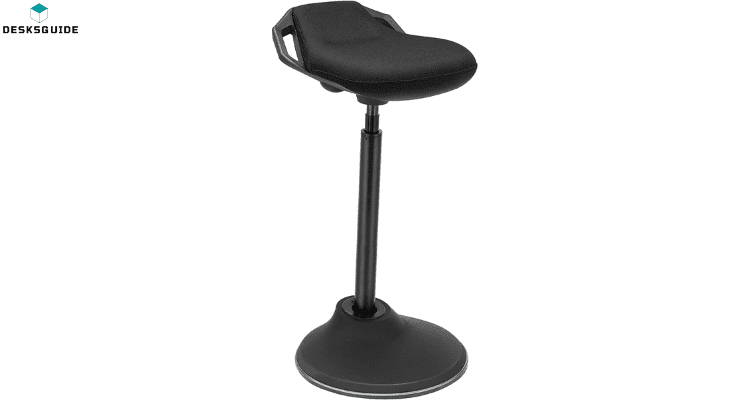 With a three-inch-thick ergonomic cushion, the Songmics Standing Desk Chair provides a pleasant place to sit. The stool facilitates active sitting and optimal posture support without running the danger of slipping or falling. The highest height of this wobbling stool type is 33.3 inches, which is higher than the maximum height of many other best-selling ergonomic stools on the market.
This wobbling stool provides more body mobility options than many competitors thanks to its cushioned seat's eight-degree tilting capability. Moreover, the seat provides good airflow due to its foam-based upholstery, which helps to avoid heat buildup.
Chair Vs. Stool – Which Is Best For Posture?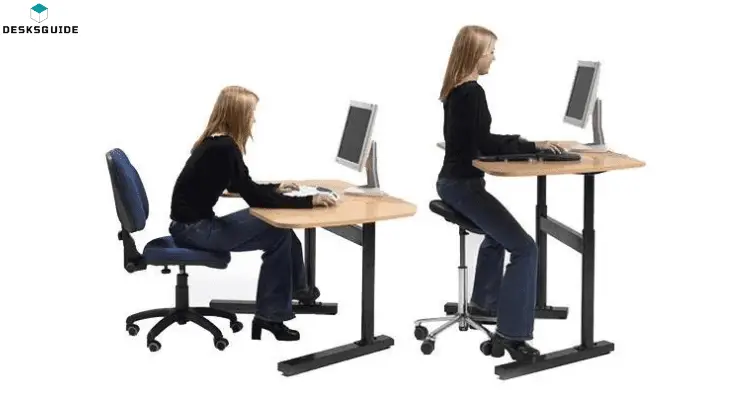 Leaning on the back of a chair for an extended period of time can cause back discomfort. This is because the chair frame's abnormal positioning of the spine puts tension on it and eventually leads to discomfort like sciatica.
Additionally, it also promotes lethargy which stunts your focus and productivity rate. On the other hand, stools urge your muscles and lower back to remain at a more natural position and curvature, which is one of the main reasons they are ergonomically better than chairs.
So it definitely would not be incorrect to conclude that a stool is much better for your posture than a standard office chair.
For more information on the topic, you can check out a detailed guide here.
Video Recommendations: Are Stools Better for your Back?
Frequently Asked Questions
Q. Are bar-stools good for posture?
A. Bar stools promote active sitting, improving bad posture and eliminating backache.
Q. Is sitting on a stool ergonomic?
A. Yes, sitting on a stool is ergonomic as it helps strengthen your back muscles and core. Moreover, by improving overall comfort and inducing alertness, it promotes productivity in the office.
Q. How long should you sit on a stool?
A. Most experts recommend using a stool for 20 minutes and then taking a break to walk around and stretch before returning to work.
Q. Are saddle stools good for your back?
A. A saddle stool places the hip joint in its neutral position, which reduces pain and other hip-related problems while strengthening the core muscles, preserving excellent posture, and enhancing functional capacity.
Q. Why does my back hurt when I sit on a stool?
A. Sitting on a stool for a prolonged period can cause backache especially if your posture is incorrect.
Final Verdict – Are Stools Better For Your Back?
Final thoughts finally, the functional design of a stool allows your back to remain at its natural curvature.
This promotes better posture and hence, prevents backaches and muscle soreness. Apart from being better for our backs and spinal health, stools help us remain alert which boosts our productivity and the quality of our work.
For more latest articles, visit Desksguide.com