In today's world, finding reliable advice about improving your health and well-being can be challenging. Thankfully, many chiropractors have weighed in on the matter of standing desks.
Generally speaking, chiropractors recommend standing desks as an ergonomic tool to help improve posture and reduce the risk of back pain. But there's more to know!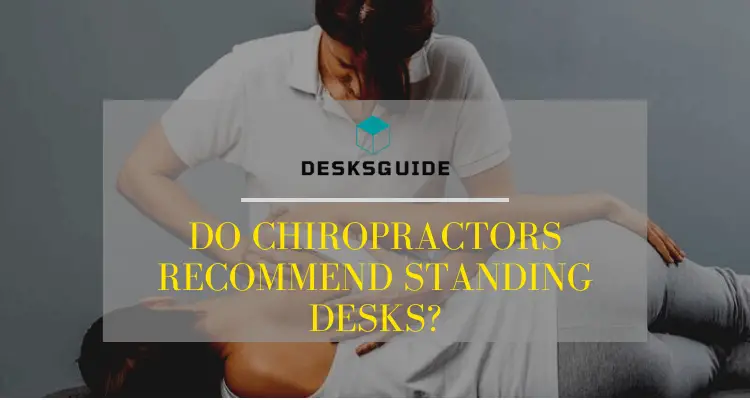 Our team of experts has spoken to dozens of chiropractors, and they all agree that standing desks can be an effective way to improve posture, reduce back issues and discomfort, and even help prevent more serious chronic pains from developing.
So let's take a deeper look at chiropractors' views on standing desks. Plus, our compilation of a complete guide includes necessary points related to the adverse effects of sitting, the importance of standing, tips for proper standing desks usage, and more.
Do Chiropractors Recommend Standing Desks? 
Chiropractors are a valuable source of knowledge regarding promoting proper posture and preventing back pain. In response to a question about standing desks, chiropractors typically agree that standing desks can benefit many people.
They often recommend investing in a quality desk that is the right size and height for an individual's body. The reason is that standing 5-15 minutes out of every hour with a standing desk is recommended by ergonomic experts and chiropractors. Another study also found that it is best to move, stand, and take breaks from sitting for two to three hours a day in an eight-hour workday.
Chiropractors also advise that you take other preventative steps too, such as ensuring your standing desk is set at the correct height and your standing posture is perfect, as well as you are taking regular breaks from sitting. In addition, taking a few minutes throughout the day to stand up, stretch and take a walk is essential to help prevent any negative effects and reap the full benefits of a standing desk.
Experts Resources Related To Standing Desk Benefits
What is the Opinion of Dr. James Levine, M.D., Ph.D.?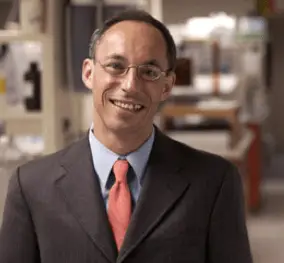 A study Dr. James Levine conducted in a school where traditional sitting desks were replaced with standing desks provides evidence that "Your health is destroyed by desk jobs." 
According to the study, "…students who use standing desks are twice as active as those in traditional schools." Also, he found that students who use standing desks have healthier hormone levels." [source]
What Is The Opinion of Dr. Seth Hosmer, D.C.?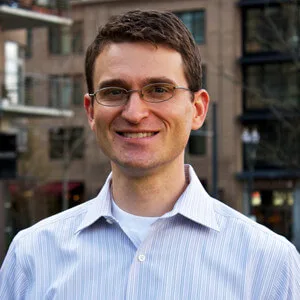 Dr. Hosmer, a chiropractor from Portland's Hosmer Chiropractic Health, recommends standing desks to patients and uses them in his clinic. According to him, using a standing desk improves metabolism, core activation, torso support, and productivity through better blood flow and alertness. Hosmer also writes, "Standing can provide dramatic benefits compared to sitting." [source]
Chiropractic Benefits of Standing Desks (Top 05 Benefits)
Now that you know what the experts have to say about standing desks, let's take a look at some of the health benefits that chiropractors commonly cite:
1. Better Blood Circulation
Being on your feet has circulation benefits and can help with:
Swelling
Tiredness
Headaches
Muscle tension. 
High Blood Pressure
According to CvgCare, "Standing desks are an excellent way to prevent some of the negative effects of sitting, such as an increase in circulation, blood flow, and a reduction in blood clots. Furthermore, they recommend standing for at least two hours a day."
So, if you're looking for a way to improve your general health, increase productivity, and reduce discomfort from sitting all day in the office, investing in a standing desk is a great option. Moreover, Standing Desk helps reduce blood pressure too. If you want to check out how it reduces blood pressure then check out our detailed research here.
2. Better Posture
Standing desks can also help improve posture, which can prevent back and neck problems over time. When standing, you are more likely to be in a neutral position, meaning your spine is aligned and your shoulders, head, and neck are in proper positions.
Not only that, but standing desks can help to reduce the appearance of slouching and hunching, which are common signs of poor posture.
3. Strong Core Muscles
These days, most of us use online and digital technology, which causes us to sit for prolonged periods. Because of this, our core muscles can become weak over time. Fortunately, standing desks can help alleviate some of these problems by strengthening your core muscles. In addition, when you stand up straight, your body has to engage more muscles to support you–thus providing a workout for different muscle groups.
4. Better Spinal Health
Chiropractors suggest that standing helps to improve your spinal health. By using a standing desk, you have the opportunity to practice proper posture and reduce the occurrence of back pain. This is because standing encourages you to keep your spine in a neutral position so that it's not curved or twisted in any way.
Plus, as the transition between sitting and standing is made easier with adjustable desks, you can switch between sitting and standing more efficiently during the day. This means that your spine will be better supported throughout the day, reducing the chances of developing chronic back pain.
5. Overall Less Pain
Coupled with better spinal health, standing desks can also help to reduce the pain you experience throughout your body. By providing you with an ergonomic workspace, you can reduce your pain and maintain a comfortable working environment.
As mentioned above, Dr. Seth Hosmer, D.C., uses a standing desk in his clinic for other physical therapists and recommends it to patients to improve their health. He believes that standing desks can provide "dramatic benefits compared to sitting."
There are multiple other benefits of standing desks too, you can check them out here.
Is a Standing Desk Healthier Than Sitting?
Many studies have found that prolonged sitting can increase the risk of many health problems, such as:
Neck pain
Back pain
Poor posture
High blood pressure
Diabetes
excess body fat around the waist
A standing desk is a great way to combat the adverse effects of sitting for long periods of time. It provides the opportunity to move more often and take regular, short breaks throughout the day, which can help to reduce the risks associated with extended periods of sitting.
The ergonomic design of many standing desks can help in good posture, reduce pain related to back and neck areas, and improve circulation. Additionally, it can increase focus and productivity as well.
But how does a standing desk increase focus? Standing desks reduce fatigue caused by prolonged sitting, leading to increased concentration and productivity. Moreover, an adjustable sit-stand desk has enough room to accommodate all your gadgets in a more organized way – whether that's a laptop, monitor or tablet!
How Important is Standing?
Standing is important for both physical and mental health. Often, people overlook the importance of standing because it doesn't require much energy or effort. However, if you spend most of your day sitting in a chair, you may miss out on some of the health benefits of standing.
For example, standing is associated with increased energy levels and better circulation. This can lead to more productive days and improved mental clarity and focus. In a workspace full of standing desks, employees may be more productive and creative than in one where everyone is sitting for long periods.
Please Note: It's important to remember that standing is only beneficial when done in moderation. Prolonged periods of standing can also cause fatigue and strain on the body, so it's important to take frequent breaks and move around throughout the day.
Ideal Way Of Standing
As we discussed above, the importance of standing at a desk. It's important to note that there are correct ergonomic ways of standing to enhance your comfort and productivity further while using an adjustable standup desk.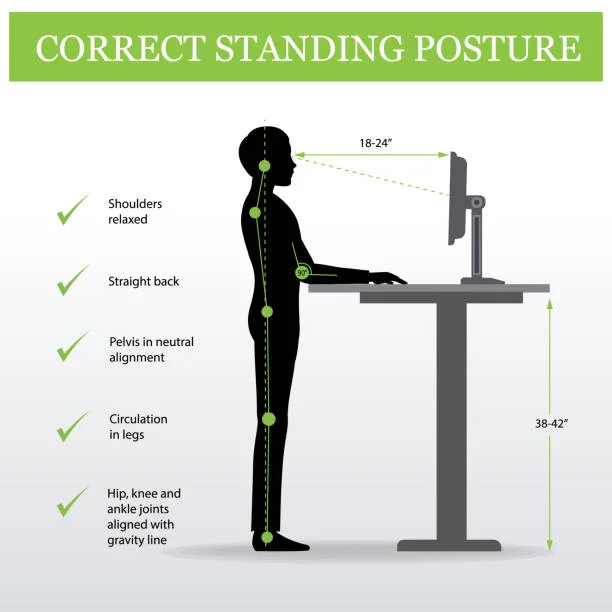 Stand with a straight posture. When standing at your desk, be sure to keep a straight posture in order to maintain good ergonomics. Ideally, stand straight and tall with your arms relaxed at your sides.
Your neck position should be neutral–meaning don't strain it by having your chin too tucked or too forward; instead, let it sit in a comfortable middle ground where you aren't tilting your head up or down excessively. 
Shoulders also need to remain relaxed; again, not hunched nor strained upwards towards your ears unnecessarily. Let them fall into a natural and comfortable position away from the body itself  
Your hips should be aligned with your head, and your feet should be shoulder-width apart.
Lastly, optimize your desk for standing. To do so, raise or lower the surface of your desk until it reaches a level where your elbows form 90-degree angles when typing and using a mouse. Additionally, the top of your monitor should be at eye level. Moreover, you need to set the height of your desk perfectly according to your height. You can check out our guide here for calculating the perfect desk height.
Video Recommendations: Do Chiropractors Recommend Standing Desks?
Frequently Asked Questions
What Is Chiropractic Treatment?
Chiropractic treatment specifically diagnoses and treats skeletal system disorders, mainly those of the spine. In chiropractic care, spinal manipulation, manual therapies, lifestyle changes, and dietary changes are the main methods used to improve patient wellness. Additionally, blood circulation and nerve conduction have shown improvement through chiropractic methods in some cases which ultimately eases muscle spasms.
Who Is A Chiropractor?
A chiropractor is a health professional specializing in diagnosing, treating, and preventing mechanical disorders of the musculoskeletal system. In addition, they have manipulative techniques to treat musculoskeletal disorders, such as spinal manipulation, trigger point therapy, and other soft tissue therapies. Chiropractors also offer advice on lifestyle and dietary modifications, exercise programs, and other wellness activities to improve overall spinal health problems.
Is Chiropractic Therapy Safe?
Yes, chiropractic therapy is generally considered to be a safe and effective form of treatment. You should discuss potential risks with your chiropractor before you begin treatment. A chiropractor often recommends chiropractic treatment for certain back and neck problems since it is often a less invasive treatment than surgery or medication. 
Conclusion
In conclusion, chiropractors do indeed recommend standing desks as a form of treatment. The adjustable desk can help to improve posture, reduce stress on the body, and improve energy levels which keeps the overall human body healthy.
In addition, many people find that working at a standing desk can make them more productive, and it is often recommended as part of an overall health and wellness program.
Investing in a good quality standing desk, or using a standing desk converter, can go a long way towards improving your overall health, and your chiropractor can help you to make the most of it.
By following the tips listed above, you can create a healthier workstation and reap the benefits of adjustable standing desks.
For more latest articles, visit Desksguide.com