Are you a great programmer? but wait there is something that is pulling your productivity and efficiency down. Yes, and you have identified correctly that it is your workspace, which is inappropriate for long hours of programming. As per Pareto's Law, 80% of the effect is caused by 20% of the things. The same applies here too, your desk setup is that 20% which is causing that 80% effect. But you certainly need not worry, as we have got you covered in this blog post.
The Best desk setup for programming is not just focused on looks, it also focuses on the programmer's comfort and productivity as it is very important for eliminating discomfort and pain from long hours spent coding.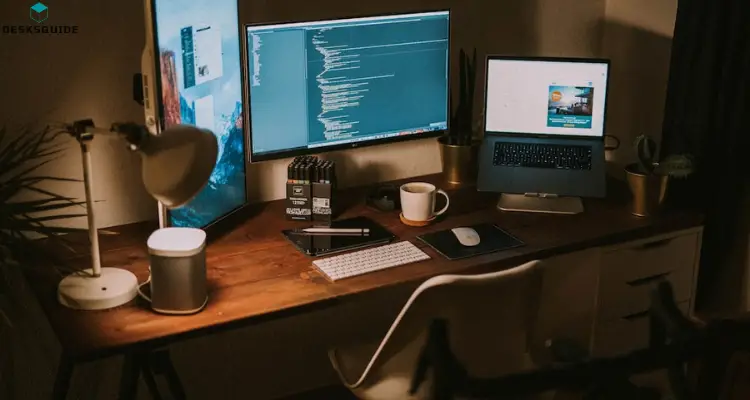 Without a doubt, not every programmer will have the same preferences when it comes to setting up their desk but a general rule of thumb is that a clean desk leads to a crystal clear mind and increased productivity so don't let a messy workspace obstruct your workflow, thus leading to frustration.
The whole idea of having the best programmer desk setup is to make sure that you have a clutter-free and smooth working environment with enhanced productivity in the least amount of changes to your existing setup.
In order to achieve that, the following sections will guide you on how to organize your desk, what type of technical accessories is necessary for programming, and the importance of having an ergonomic and cool desk setup for yourself.
Steps to Make your Desk Setup Good for Programming
Step 1: Clean all Unnecessary Things for Better Productivity
To have a good desk setup for programming, start by decluttering your working space. Obviously, a desk covered in paper piles, coffee cups, and other messy objects is not going to help boost your productivity levels.
Remove any non-essential items from your desk and keep only the things you need to complete your work. This might include a laptop, some notebooks, a pen holder, and perhaps a picture frame or two.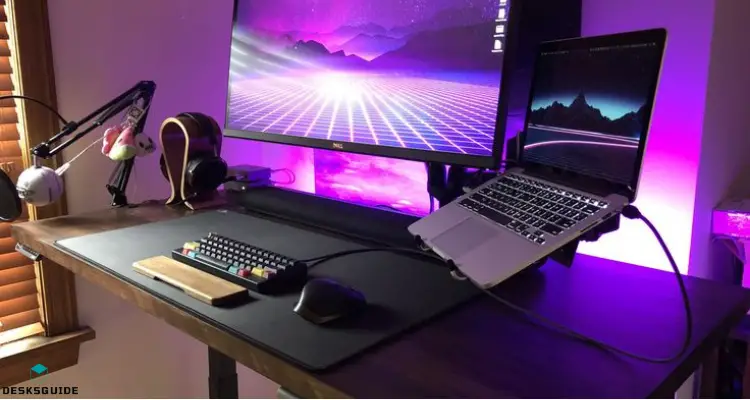 Step 2: Desk Organization for Ergonomic Desk Setup
When creating a productive work environment, it is important to have an ergonomically correct desk setup. A programmer's desk should be set up in a way that allows him to work comfortably and efficiently. Everything should have its place, so you're not wasting time looking for things.
An excellent way to organize your desk is to use a desk organizer or tray system. This will help you keep your desk tidy and prevent items from getting lost. Another good tip is to keep your cords and cables organized. Label them, so you know which one goes where. This will save you time and frustration in the future. We have a detailed guide on how to organize a desk.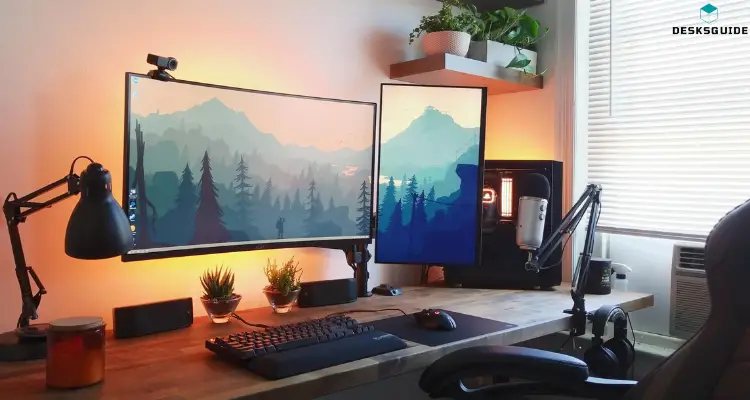 Step 3: Good Lighting for Eyecare
As a programmer, I understand the allure of dim lighting, but it will not do your eyesight any favors in the long run. Optimizing your desk setup with good lighting would reduce eye strain and fatigue.
The ideal light situation for a software developer's desk would be a combination of natural and artificial light. Good lighting helps to regulate our sleep-wake cycle, improve our mood, and help in boosting.
You can also buy a quality desk lamp for your desk. Be sure it's adjustable so you can tailor the light to fit your needs perfectly.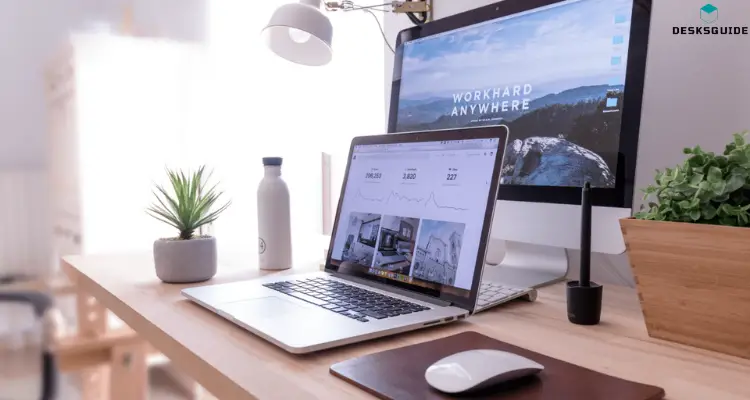 Important Things to Consider while Designing Your Programming Workspace
The best desk programmer desk setup requires the right tools and equipment for coding and multitasking needs. Below we will discuss 5 essentials for every programming workspace. These are those few essential accessories that have a great impact on the overall theme of the desk. After that, we will discuss setup peripherals to enhance your productivity to the next level.
1. Dual Monitors – Productivity Booster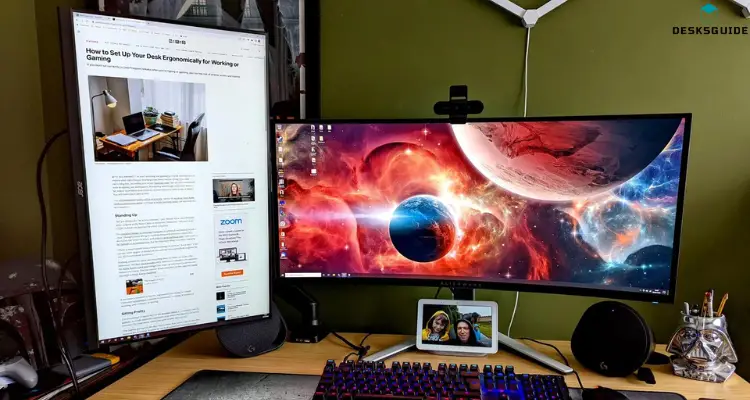 From my experience, anyone who has written code knows that a dual monitor setup is vital for efficiency. With one screen, you can only have one window open at a time, making it hard to reference other materials while working. But having two screens side-by-side allows you to monitor your progress better. In the long term, this will save you loads of time! So when considering what type of desk setup would be best for your development skills, prioritize a dual monitor above all else.
I strongly suggest the LG 25UM58-P 25″ Ultrawide LED IPS Monitor for anyone seeking one of the best programming monitors available today. The resolution is impeccable, the colors are accurately reproduced, and it's built sturdily.
LG 25UM58-P UltraWide Monitor 25" FHD IPS DISPLAY
21:9 ultra wide IPS display

SRGB over 99 percent

PIP mode in screen split; Response time 5ms (High); Brightness (cd/m2) 250(Typ), 200(min) cd/m2

Game Mode; Black Stabilizer; Compatibility Windows 10; Set the color to 24 bit

Without Stand (WxHxD) 24 x 2.2 x 11.3 inches; With Stand (WxHxD) 24 x 7.4 x 15.1 inches
2. Noise Cancelling Head Phones – Perfect for Focus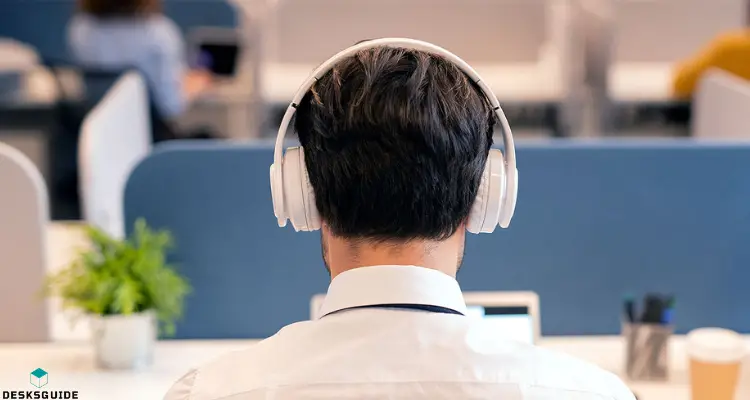 Any programmer will tell you that a desk is only complete with a good pair of noise-cancelling headphones. It cannot be easy to stay focused and productive while staring at your laptop screen when your colleagues are constantly talking nearby.
I use the Bose QuietComfort 45 Wireless Noise Cancelling Headphones, which work like a charm. They're also super comfortable so that you can wear them for hours without issue.
Bose QuietComfort 45 Bluetooth Wireless Noise Cancelling Headphones – Triple Black
Noise cancelling wireless headphones – The perfect balance of quiet, comfort, and sound. Bose uses tiny mics to measure, compare, and react to outside noise, cancelling it with opposite signals. Bluetooth range-up to 9 m (30 feet). Compatible App-Bose Music app

High-fidelity audio – The TriPort acoustic architecture offers depth and fullness. Volume-optimized Active EQ maintains balanced performance at any volume, so bass stays consistent when turned down and the music remains clear when turned up.

Quiet and Aware Modes – Choose Quiet Mode for full noise cancelling, or Aware Mode to bring the outside into the around ear headphones and hear your environment and your music at the same time.

Personalize your audio. Adjustable EQ allows you to set the bass, mid-range, and treble levels to your personal preferences or select one of several preset options.

Up to 24 hours battery life – Enjoy 24 hours of battery life from a single charge. A quick 15-minute charge offers 3 hours when you're on the go, or plug in the included audio cable to listen for even longer in wired mode.
3. Ergonomic Wireless Keyboard – Essential for Comfortable Typing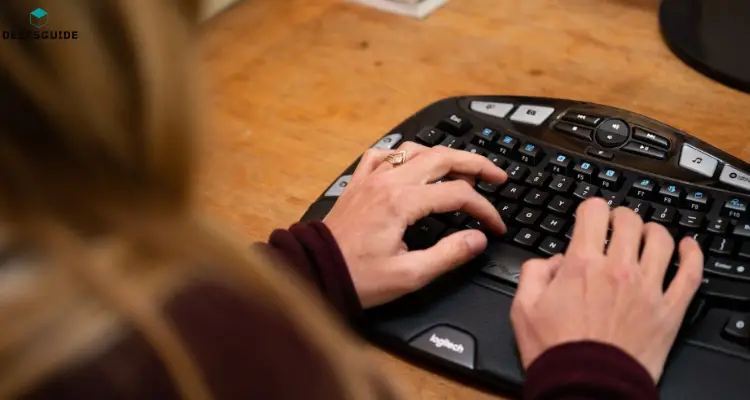 Understanding the importance of an ergonomic external keyboard is key for any desk setup, but especially for programmers. Why? Because software developers spend a larger portion of their day typing in code. This puts a lot of pressure and strain on your wrists, hands, and fingers, which can cause considerable discomfort.
To avoid tiredness and pain, it's crucial to have a mechanical keyboard like Razer BlackWidow V3 Pro that is comfortable to type on with switches that feel light and responsive, with features like macro-programmable keys.
Razer BlackWidow V3 Pro Mechanical Wireless Gaming Keyboard
3 Modes of Connection: HyperSpeed Wireless for lag-free performance when gaming, Bluetooth for efficient power consumption with ability to connect up to 3 devices, and detachable USB-C for charging during use.1000 Hz Ultrapolling

Razer Yellow Mechanical Switches: Built for speed with an actuation point of just 1.2mm, these smooth switches have no tactile feedback and include sound dampeners to reduce its already low sound profile even further.

Brighter Than Ever Transparent Switch Housing: A completely clear design allows for intense lighting for better immersion in integrated games and lighting setups

Doubleshot ABS Keycaps: Using a doubleshot molding process to ensure the labelling never wears off, the keycaps also have extra-thick walls for toughness

Ergonomic Wrist Rest: Made of plush leatherette that perfectly aligns to the keyboard to relieve wrist pressure and maximize comfort over extended gaming sessions

Durable Construction: Supports up to 80 million clicks; made of military-grade metal top
4. Ergonomic Wireless Mouse – Strain Free Hands and Wrist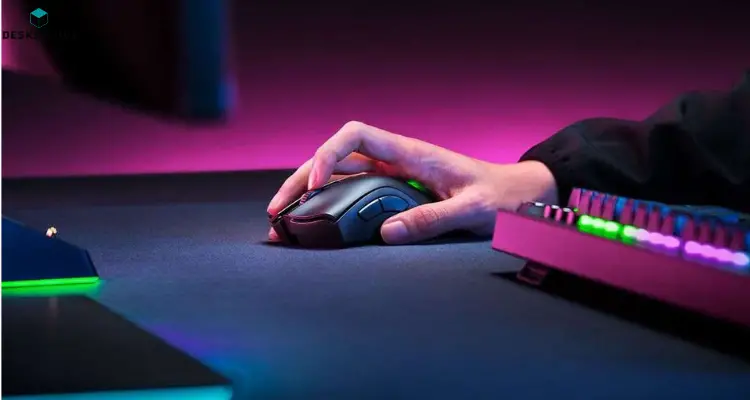 Did you think we would miss the ergonomic mouse on our best desk setup for programming guide? A regular mouse will suffice, but an ergonomic one is explicitly designed to reduce strain on your hand and wrist, which is something you'll appreciate after using it for hours every day.
The Logitech MX Master 3 is one of the best ergonomic mice available. It is comfortable to use, has an overwhelming amount of features, and is constructed exceptionally well which gives high-quality mouse experience.
Logitech MX Master 3
Designed for Mac: Compatible with Apple MacBook Pro, MacBook Air, iMac & iPad models.

ULTRAFAST MAGSPEED SCROLLING - remarkable speed, precision, and silence of MagSpeed Wheel - up to 90% faster, 87% more precise, and ultra quiet.

COMFORT SHAPE AND INTUITIVE CONTROLS - Work comfortably with perfectly sculpted shape and ideally placed thumb wheel and controls.

MULTIPLE COMPUTERS, ONE FLOW - Control multiple Mac computers and effortlessly transfer text, images, and files between them.

MAGIC OF GESTURES, POWER OF MX – Hold the gesture button and move the mouse to switch desktops, open Mission Control, and display Launchpad.

APP-SPECIFIC CUSTOMIZATIONS – Speed up your workflow with predefined macOS and app-specific profiles – with numerous customization options.

TRACK ANYWHERE – Tack on any surface, even glass, with Darkfield 4000 DPI sensor. Faster and 5x more precise than the basic mouse
5. Wireless Charging Station – keep your Devices charged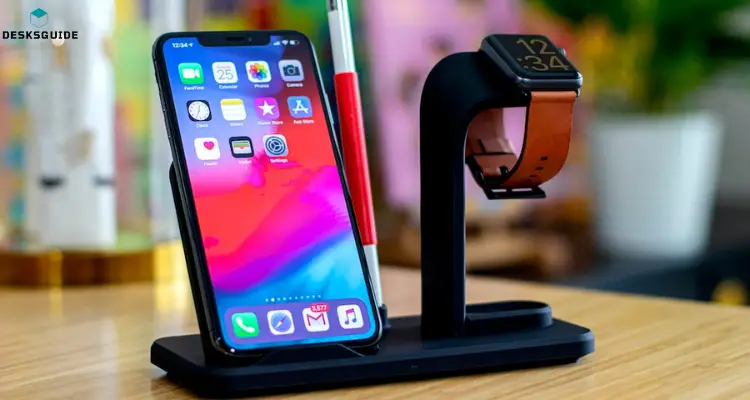 As a programmer, you probably use multiple devices throughout the day, including your Apple Watch, AirPods, and smartphone. And if you're like me, you're always be running out of battery! That's why a wireless charger is an essential piece of equipment for the cool desk setup for software developers.
I use the Belkin MagSafe 3-in-1 Wireless Charger 15W Max for iPhone 14 Pro Max, AppleWatch, and AirPods. It has premium connectivity ports including type c cable ports.
Belkin MagSafe 3-in-1 Wireless Charger & MagSafe 2-in-1 Wireless Charger
Reimagine how you charge your new iPhone 13 or 12 with MagSafe alignment and a 3-in-1 charging solution for iPhone plus Apple Watch plus AirPods

Fast wireless charging up to 15-watts for iPhone 12 and 13 series. Only compatible with MagSafe enabled cases for MagSafe attachment to charge wirelessly.

Charge in any orientation so you can FaceTime in portrait or easily switch to landscape to watch videos

Works with iPhone 14, 13, 12, 11, Pro, Pro Max, Mini, Apple Watch Series 6, Series 5, Series 4, Series 3, Series 2, Series 1, AirPods 2, AirPods Pro
Setup Peripherals for Enhanced Productivity
Now that we've gone over the programming workstation essentials, let's talk about some setup peripherals that will further increase your productivity.
1. Ergonomic Office Chair – for Improved Posture and Comfort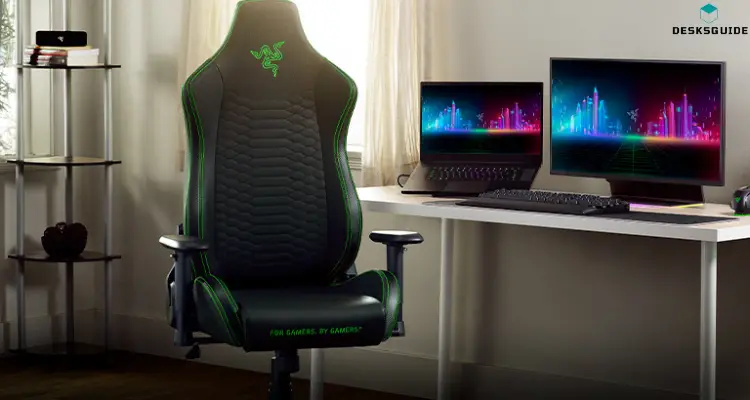 An ergonomic office chair should not be overlooked by anyone who spends a lot of time working at a desk, and this is especially true for programmers. Software developers often have to sit in front of screens for hours at a time while they try to debug code, so programmers must have a good chair that is adjustable and comfortable enough to avoid back pain or discomfort from sitting too long.
The Herman Miller Aeron Ergonomic Chair is perfect for programmers because it provides exceptional comfort and support. Given how much time you spend sitting, this chair is definitely worth the investment to create the best programming desk setup possible.
Herman Miller Aeron Ergonomic Chair
Chair dimensions: 41 H x 27 W x 16.75 D. Seat heights: 16"-20.5".

Tilt Limiter lets you set the recline range at one of three postures. Tension control lets you adjust the amount of effort needed to recline comfortably. Seat Angle Adjustment changes seat angle from neutral to engaged

Try the Adjustable PostureFit Sacral/Lumbar support. Two individual pads flex independently and can be adjust to fit the curve of your spine

Fully Adjustable Arms adjust from a height of 6.8" above the seat to 10.8 inches above the seat, slide backward and forward over a range of 2.5 inches, pivot 15 degrees outward and 17.5 degrees inward
2. Adjustable Standing Office Desk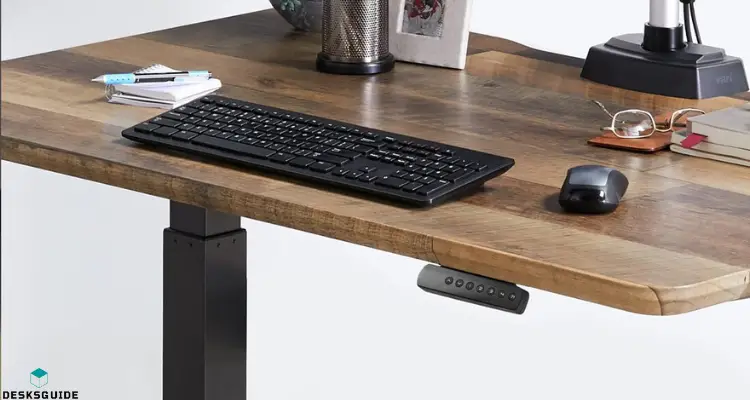 Do you want to achieve the ultimate level of productivity? Consider getting an automatic adjustable standing desk. The beauty of a standing office desk is that it takes only seconds to change your position from sitting to standing with the push of a button.
Standing desks have been shown to improve posture, increase energy levels, and boost productivity. So a standing desk is an excellent option if you're looking for ways to take your programming setup to the next level. We recommend considering FLEXISPOT EN1 Height Adjustable Desk. But if you need to check out other options then you can read our detailed guide on how much do computer desks cost?
FLEXISPOT EN1 Height Adjustable Electric Standing Desk
COZY & ERGONOMIC WHOLE-PIECE WORKSPACE: Spacious 48" x 30" eco-friendly whole-piece desktop offers a roomy setup for 2 monitors and a laptop so you can spread out and calmly take on the challenges of the work day. Please allow a slight 0 to1-inch difference in desktop size due to manual measurement.

ELECTRIC HEIGHT ADJUSTABLE LIFT SYSTEM: The motor lift mechanism offers smoother height adjustments, from 28 to 47.6 (without 1 thickness of table top included), at a speed of 1/second with low noise(under 50 dB) while running.

BUILT FOR WORK FROM HOME: The perfect standing desk to allow independent and remote workers to stay active, healthy, and productive while working from home. Precisely adjust your desk to your height and insert healthy movement into your day. An industrial-grade steel frame combined with a solid desktop allows for a 154 lbs.

LED MEMORY CONTROL PANEL: A 6-button controller with 4 programmable memory presets lets you set 4 desired desk heights for convenient switching from sitting to standing throughout the day.
3. Dual Monitors Stand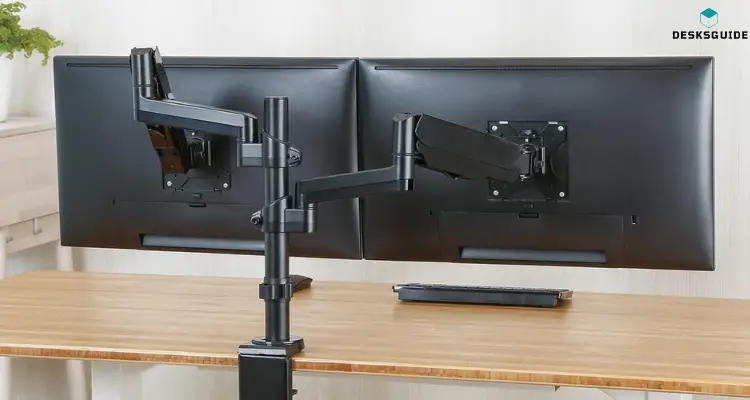 If you want to get the most out of a two-monitor setup for programming, investing in a dual-monitor stand is your best bet. Using a monitor arm allows you to adjust both monitors to the perfect position, ensuring maximum flexibility, regardless of your approach.
For example, the WALI Dual Monitor stand easily lets you adjust the monitors to the perfect position.
WALI Dual Monitor Stand
Compatibility: Fit most LCD, LED flat screen TVs and monitors up to 27 inches, and support weight up to 22 lbs. per arm. Compatible with VESA 75x75mm or 100x100mm. The plates are detachable and height adjustable. The free-standing V-Base can stably fit any desk.

Double Benefits: Double efficiency and productivity to make working or relaxing that much more comfortable. Increasing more usable desktop space can help provide your displays with a new range of adaptive position. Arms extend and retract, tilt to change reading angles, and rotate from landscape to portrait mode.

Sturdy Construction: The high-grade material ensures a strong and stable connection with your monitor screen. The elegant engineering keeps your work space looking modern and sleek.

Dynamic: Our monitor arm is easily adjustable, allowing you to work in a more comfortable, ergonomically correct position to reduce neck and eye strain. The contemporary design will surely assimilate into nearly any environment, it is ideal for homes, dorms, schools, businesses, offices, IT networks, manufacturing plants, etc.
4. Cable Organizer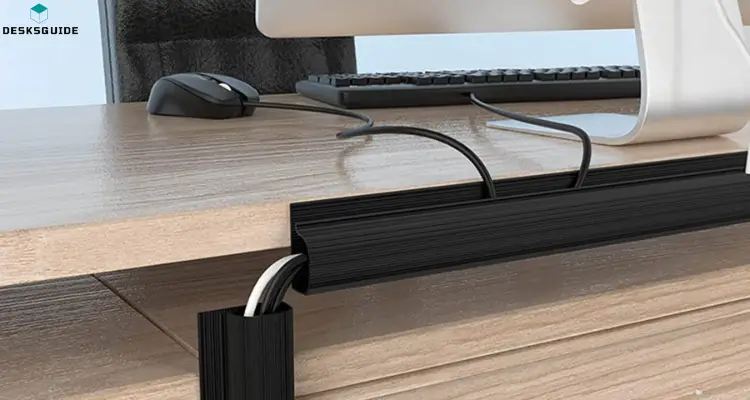 A messy desk is an unproductive desk. That's why keeping your cords and cables organized with a cable organizer is important. A superb desk setup for programmers is only complete with a way to keep those pesky cords tidy and out of the way. Multiple devices can quickly turn into a tangled mess of cords, but a good cable organizer will keep your desk looking clean and clutter-free.
We recommend EVEO Cable Management Kit for this purpose.
EVEO Cable Management Kit
Cable management - Your days of seeing unruly and messy cords, wires or cables are now over because the EVEO Glossy J Channel Cable Raceway is now here

Easy to install - EVEO desk cable management with the strong adhesive tape provides you a super easy solution for cable management under desk that will make your workspace looks neat! With EVEO unique structure design.

Easy to use - Non-Locking Cable Organizer: Unlike traditional cable raceway kits, this cable management tool is specially made in a one-piece non-locking J design for the ultimate convenience.

J channel Cable Raceway - Perfect for Multiple Applications: Our 96-inch J Channel Cable Raceway is divided into 6 pieces of 16-inch cable organizers to provide you with functionality & versatility.
5. Greenery/Artificial Plants – For Relaxing Over-Stimulated Minds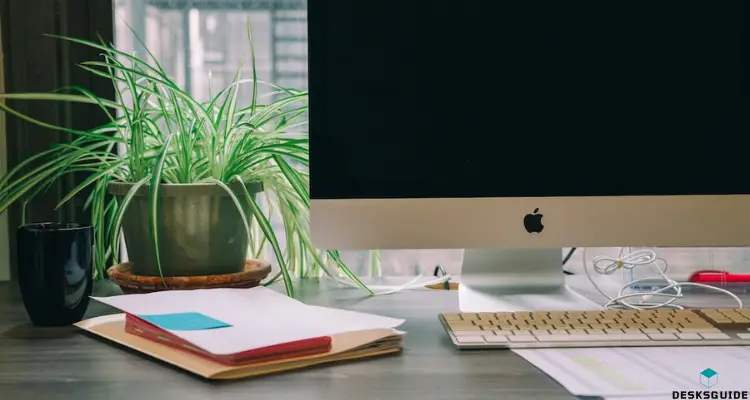 Introducing some greenery or artificial plants into your programming desk setup is a great way to relax your mind and help you stay focused. Studies have proven that having plants around you can lead to an improved mood, higher productivity, and less stress. 
If maintaining natural plants isn't your thing or you don't have the space for it, plenty of fake plant options are available that look just as good as the real deal! The goal is to create a green area in your programming workstation to assist with de-stressing and remaining concentrated while working. By doing so, you will experience more positive psychological health effects. You can check out a good choice below:-
ME 2 YOU Artificial Succulents in Pot
REALISTIC ARTIFICAL SUCCULENT POT - Why go through the hassle of keeping real plants when you can have succulents? These gorgeous plants are realistic replicas of everyones favorite succulents - Perfect for making a faux succulent arrangement for you living room shelf or office desk

PLEASANT ODOR ELIMINATING SCENT - Each faux succulent in pot comes with two Refillable Fragrance Gels, Peach and Lavender, that provide a refreshing and lasting scent for up to 25 days. Leaving behind only light fragrance that is not overpowering in 60 sq ft area, each gel bead container will leave your home smelling great!

IDEAL SIZE FOR OFFICE TABLE DECOR - The faux succulents with pot measures 4.3x4.3x6.7 in size. The pot is made of ceramic, making them perfect table, shelf and desk accessory or decor for your office or home.

NO STYLING REQUIRED - The artificial succulent plant in pot for decor will add instant texture and color to your space. The premium packaging ensures that they are in perfect condition when delivered, so you can simply display them right out of the box!

EASY CARE WITH NO UPKEEP - This faux plant in pot is perfect for those of us who don't have the time or energy to maintain an actual plant. A great way to make any room feel more welcoming with their natural beauty that requires no watering or sunlight
These are the most important accessories required for preparing your desk for programming purposes. But if you still want to check out more peripherals, then read our detailed guide on 25 cool desk accessories.
How to Arrange a Programming Desk Setup?
The best way to arrange your desk for programming is to have everything you need within easy reach. This includes all of your primary computer hardware, like your multiple monitors, wired keyboard and mouse. Having all of your equipment within easy reach will help you stay focused and avoid distractions. Main factors include:
1. Choose a Serene Setup Environment
Creating a productive work environment for programming begins with your desk. It should be in a calm and relaxed setting, with plenty of space to move around, good lighting, and comfortable furniture. The goal is to have an environment that supports concentration and productivity.
If you are working somewhere noisy, consider using noise-cancelling headphones or earplugs, so constant interruptions don't lead to frustration and decreased efficiency. Ideally, your desk should be located in a room with a door, so you can have some privacy while working.
2. No compromise on Functionality over Aesthetics
A dreary workspace can bring you down, so enliven your workroom with a few of your favorite things. This might incorporate images of family and friends, potted plants, or any other items that put a smile on your face. Just be sure to stay moderate and add only a few personal items, as this can become distracting.
The most important thing is to create a functional and comfortable desk setup that meets your needs. Don't sacrifice functionality for aesthetics or vice versa. Find a balance that works for you and stick with it.
Video Recommendations: Best Desk Setup for Programming
FAQs: Best Desk Setup for Programming
Is it expensive to set up a programming desk setup?
The advantages of being a computer programmer are many, including an average yearly salary of $65,142. With such a well-paying job, you can easily invest in a desk space that is both comfortable and productive for you. We're not saying to go out and spend excessive money on top-of-the-line gear; focus on your needs and purchase the desk that will help increase your efficiency while working.
Is it difficult to set up a programming setup?
No, it is not difficult to set up a programming desk. You don't need to be an expert in carpentry or design; a few minutes of research and some elbow grease are all you need. Take the time to figure out what works best for you and your workflow, and don't be afraid to experiment. The most important thing is to have fun and enjoy the process!
What equipment does a programmer need?
The best gadgets that will help programmers and developers make their jobs easier are a comfortable chair, an adjustable desk, two external monitors, and a set of noise-cancelling headphones. While these items are not essential, they can make a world of difference in terms of comfort and productivity.
What type of computer is needed for Programming?
The specific type of computer you need to learn programming depends on the language you want to use. However, these are the minimum requirements: an Intel Core i5 or i7 processor; Full High Definition (1920×1080) resolution; 8 gigabytes (GB) of Random Access Memory(RAM); and 256 GB storage. Lastly, your Windows should be 10 or later.
Conclusion
Remember, there is no magic formula for the perfect desk setup. What really matters is finding what works best for you and makes you more productive. With that being said, the tips and advice in this article will assist any programmer or software developer in creating a work desk that optimizes their workflow!
Finally, we've arrived at the end of this article. We hope it has clarified what the best desk setup for programming looks like. But more importantly, we hope that it inspired you to create your own productive and beautiful desk setup.
For more informational articles and buying guides, check out here on Desksguide.com