Are you considering investing in your workspace in order to enhance your productivity? and you are opting for a standing desk, but do standing desks help productivity?
Standing desks are quickly becoming a popular office staple, providing employees with an ergonomic alternative to sitting all day. A standing desk can help reduce strain on your neck and back, improve posture, and increase blood flow to your body, which can help boost energy levels and productivity, thus preventing significant health risks.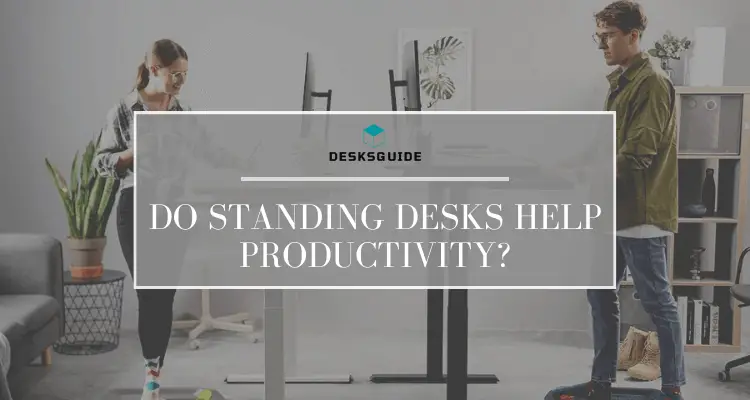 Research has also found that standing desks can help improve focus and concentration. Standing can help you to stay more alert and better able to handle the demands of an often hectic workday. Plus, when you're on your feet, you're likely to move around more, creating a break from sitting for long periods of time.
Let's look at the top 5 reasons why a stand capable desks may help in improved mental focus, productivity and executive function.
Do Standing Desks Improve Focus and Productivity? (Top 05 Reasons)
1. Reduces Back and Neck Pain caused by Prolonged Sitting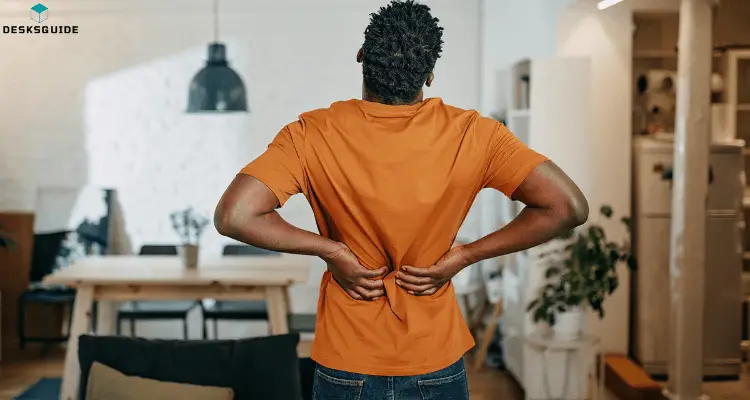 Prolonged sitting can cause back and neck pain. Standing up while working helps keep your spine in the natural 'S' curve and prevents discomfort. In addition, the posture that comes from standing helps reduce strain on muscles in your neck and back. Ultimately, standing desks boost productivity.
In order to get the best results for yourself or public health, you need to ensure your standing desk is at the right height and your monitor is positioned correctly. Also, when you sit, make sure you use a chair that is ergonomically designed to provide support for your spine.
2. Improves Focus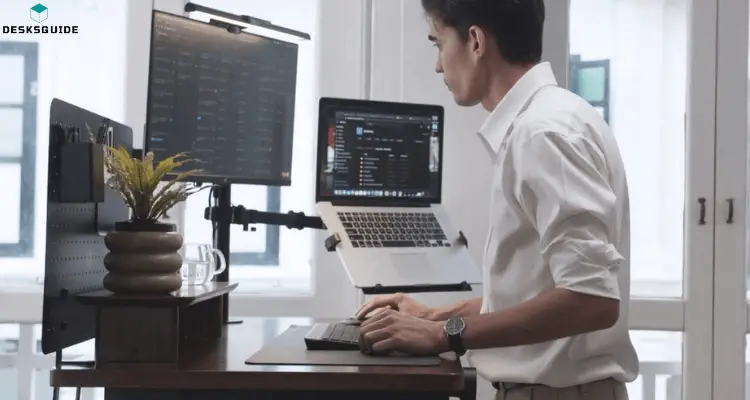 When you stand, your body is active and alert. This can help keep you more focused on the task at hand. In fact, one study found that employees who used standing desks were 45% more productive throughout the day than those who remained seated for all of their work.
Just think yourself. When you sit all day, how often does your mind wander off? And how many times do you find yourself checking emails or scrolling through social media? It is more likely that your mind or workers health and mind will stay focused when you transition between sitting and standing.
3. Better Blood Circulation
How many times have you felt lethargic or sleepy in the middle of a workday? A lack of blood circulation can cause this. Standing up helps to improve the flow of oxygen and other nutrients to our cells, which can help keep us alert and focused.
Doctors and physiotherapists also recommend standing up during breaks to improve circulation and reduce the risk of deep vein thrombosis caused by sitting in one position for too long. So, standing up every hour or so can be beneficial for productivity.
4. More Energized and Active
Standing helps us become more energetic and alert. It gives us the energy we need to get through our tasks for the day so that we can stay focused throughout. This is especially helpful for those who work in jobs requiring much concentration, like desk-sitting jobs. 
A standing desk will help keep office workers from getting sluggish; staying active with your body and mind will help improve your productivity.
5. Improves mood and energy
If you have a desk job, you're probably aware of the struggles of remaining energetic and focused while sitting in an uncomfortable chair for extended periods. Poor posture from lack of movement can lead to not only fatigue but also depression.
A standing desk combats these issues by giving you a chance to move around more frequently throughout the day. This small change in your routine can result in more energy levels, productivity, and motivation, helping reduce tension headaches caused by staring at a computer screen all day long.
There is a bundle of other advantage of standing desks as well, you can check out here.
How to concentrate while using a standing desk?
Learning the advantages of sit stand desks is one thing, but correctly utilizing a standing desk makes it even more beneficial. Here are some tips to keep in mind when using your new standing desk so that you can concentrate and get the most out of it:
Make sure your desk is at the right height.
Take regular breaks to move around and stretch.
Alternate between standing and sitting
Focus on your posture throughout the day.
Make sure your computer monitor is at the right height and angle. 
Change positions often to keep your body engaged.
Drink plenty of water to stay hydrated and energized.
Listen to music or podcasts while working to keep your mind focused.
By following these tips, you can ensure that you are getting the full benefit of using a standing desk and will be able to concentrate more effectively throughout the day.
Standing Desk Productivity Hacks
In addition to the tips above, there are some other productivity hacks that you can use while using a sit to stand desks. Here are some of the most effective ones that I have personally used and found helpful:
Organize Your Stand-up Desk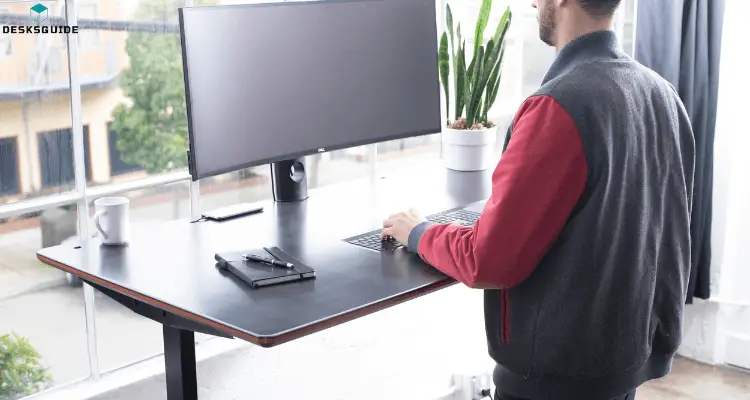 Organizing your workspace is key to staying focused and productive. Having a designated area for your laptop, papers, and other items can help keep you organized and prevent distractions.
Researchers from Harvard University, their environmental and occupational health department, discovered that a disorganized desk can make people less persistent, less efficient, wearier, and more frustrated compared to those who keep their desks neat and organized.
A simple hack to help with this is investing in cable management systems and desk organizers, like pen holders and trays, which will help you keep your workspace tidy.
In order to perfectly organise your desk, we have a detailed guide on how to organize your desk, do check out here.
Adjust your desk height properly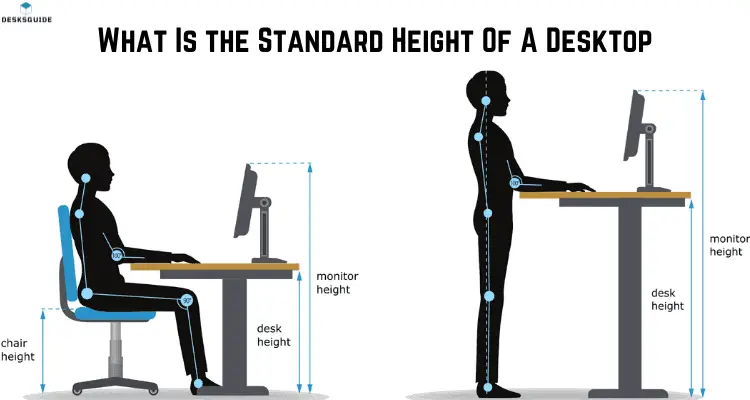 Having the wrong desk height can lead to neck and shoulder pain, as well as a decrease in productivity. To get the most out of your standing desk, make sure that it is appropriately adjusted and comfortable for you to use.
The best way to test your desk's height is to position your elbows at a 90-degree angle while typing. If you are able to accomplish this comfortably, your desk is at the right height. For your eyes to be less strained, make sure that your monitor is at the right height and angle.
In order to ascertain the exact height of desktop recommended as per your height, you can check out our detailed guide here.
Keep Distractions Away
It's important to limit distractions while you are working at a height adjustable desk. This means turning off any music or videos and closing down any unnecessary tabs on your browser. If you are having trouble staying focused, try using a timer to structure your work and keep yourself on track.
You can also use a noise-cancelling headset to help block out the ambient noise in your office or home and create a more focused environment. This can be especially helpful when working in a busy office or open-plan workspace.
Set Goals and Track Your Progress
Setting goals and tracking your progress throughout the day can be a great way to stay motivated and productive when using a standing desk. Keeping track of your progress can help you stay focused and on task, making it easier to complete your tasks and reach your goals.
You can also use this tracking system to set a goal for yourself, such as standing for a certain amount of time each day or even setting a timer and challenging yourself to work without any distractions. Doing this can help you stay on top of your work and stay productive throughout the day.
Avoid Gloomy Workplace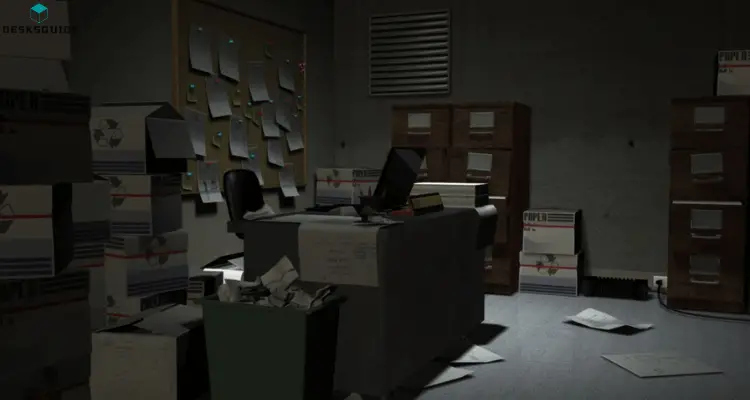 A gloomy workplace can be a significant distraction and make it challenging to stay focused and productive. To combat this, try to keep your workspace bright and cheerful. For example, add some plants and artwork, or use different colors to make your workspace more inviting and inspiring.
If possible, you can also try adding some natural light to your workspace. Researchers have found that natural light can positively affect mood and productivity levels, so it's worth considering if you want to improve your concentration.
Take breaks
Taking regular breaks while working at a standing desk is essential. It can help you avoid fatigue and stay focused throughout the day. In addition, taking short, five-minute breaks every hour or so can help your body and mind to recharge, which will help you stay productive.
When taking a break, getting up and moving around can be helpful, or even just taking some deep breaths. This will allow your body to relax and recharge and help you stay productive for the rest of the day.
Following these productivity hacks can make the most out of your standing desk and boost productivity. It may take some time to get used to, but by sticking with it and putting in some effort, you can maximize your productivity while working at a standing desk.
Helpful Tip: Remember to listen to your body. Standing desks can be beneficial, but it's important to be mindful of your body. Take a break and adjust your workspace if you start to feel any pain or discomfort. By accepting these simple steps, you can get the most out of your standing desk and stay productive throughout the day. 
You can also read about the subject here.
Video Recommendations
Final Verdict
Standing desks can be a great way to boost productivity and stay focused while working. However, it is vital to make sure that your desk is adjusted to the correct height and angle to avoid strain on your body and to limit distractions while you are working.
Setting goals, tracking your progress, keeping your workspace bright, and taking regular breaks are great ways to make the most out of your height adjustable desks and stay productive. It may take some time to adjust, but with a little effort and dedication, you can improve your productivity while working at a standing desk.
Frequently Asked Questions
Can standing desk lower blood pressure?
Changing from sitting or lying to standing can suddenly cause blood pressure to drop. This happens because gravity causes blood to pool in your legs when standing up. The body's cardiovascular system will usually adjust within a few minutes, but if you stand for too long, it can decrease blood pressure. To avoid this, experts recommend starting by standing for short periods and gradually increasing the amount of time you spend on your feet. You can check out our detailed research on standing desks help blood pressure here.
Does standing desk help sciatica?
If you're looking for a way to relieve your sciatica pain, standing desks may be able to help. Because sitting for long periods of time can lead to back pain and fatigue, using a standing desk can help reduce these adverse effects. However, you must adjust the height of your desk correctly so that you don't strain yourself and take breaks regularly as well.
Are standing desks worth it?
Yes, standing desks are definitely worth it. It has been found that working at a standing desk can reduce fatigue, increase concentration, and improve productivity. Additionally, standing is beneficial for your posture since it helps reduce strain on the neck and back. So, all in all, investing in a standing desk is definitely worth the investment!
For more latest articles, visit Desksguide.com