Whether you are a gamer, web developer, musician, designer, or video editor, a large screen or dual monitor is a must to keep productivity high. Undoubtedly, the best desk for dual monitors is a godsend for multitaskers who need to run multiple apps side-by-side.
Of course, setting up your workspace on the dual monitor desk comes with challenges. The most nerve-racking task is to opt for the best home office desk for dual monitors that is lightweight, compact, and reliable in performance.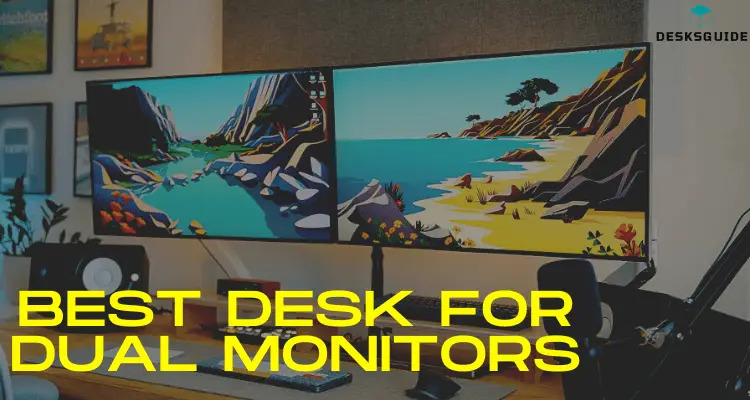 Choosing the right option is perplexing since multiple options are available in the marketplace – we have done the homework for you. The list below comprises of the Top 10 best dual monitor desks to make tasks easier for you.
Best Desk for Dual Monitors (Top 10 Picks)
Buying the best desk for dual monitors is a primary consideration since it will be worth investing in and defining your work experience. After investing hundreds of dollars, you surely don't want to feel your setup is cramped.
Here are the top-rated dual monitor desks you need to give a try in 2023:-
1. Ergonofis The Sway
Combining handmade engineering with modern design, Ergonofis The Sway is an incredible desk for dual monitors that marks quality performance every time. This work desk has solid wood finishes, including earthy-toned maple, cherry wood, and walnut.
The height adjustment lets you switch between standing and seating positions with one touch. With a slick inset touch screen on the side corner, you can adjust the height at one tap.
The sustainable surface is designed to keep the user experience in mind. The cherry on top is the superior anti-collision system that keeps you secure. The maximum lifting capacity of the desk is up to 360 pounds.
Besides designing the desk as functionally as possible, Ergonofis has added polished aesthetic add-ons to give it an aesthetic appeal. Advanced add-ons include a desk drawer, cable management options, and a desk shelf.
Ergonofis The Sway is available in three different size options, including 24 x 48, 30 x 60, and 30 x 72. If you are looking for a customized working desk with hot accessories, Ergonofis The Sway is excellent.
Pros
High lifting capacity upto 360 pounds
Best for seated / standing positions
Appealing aesthetics
High-quality polished design
2. Arozzi Arena Gaming Desk
If you are searching for the best gaming desk for dual monitors, you can't get a better deal than the Arozzi Arena Gaming Desk. The gaming desk provides enough area to place dual monitors, and you won't even feel the workspace is cramped.
The surface is also water-resistant, which is excellent if you get messy, so it'll be easier to clean up. If you're worried that assembling this will take ages, rest assured it's a straightforward and quick procedure. It is also quite strong so you won't waste any of your investment for long.
Arozzi Arena Ultrawide Curved Gaming Desk
The 160cm/5 3 Inches width allows for three large monitors to envelop you in the game environment

The 80 cm/2 7 ½ Inches depth gives you a huge field of play for your mouse, keyboard or other devices

Design of the custom mouse pad which has a microfiber cloth surface which is water-resistant

Arena is available in five attractive colors, red, blue, green, white and black

Arena is designed for easy transport since the desk top and frame are divided into three section

2 Year Manufacturer Warranty
The great thing about the Arozzi Arena gaming desk is its large size with curved edges. It allows you to get close to it without discomfort or bruises afterward due to the brutal ends.
You can have two monitors on one desk and not have to change your seat repeatedly to work or play games.
The mouse pad is made of microfiber, making it easy to use your mouse, and you'll notice how smoothly it glides. You can also choose a color that suits you from the options black, blue, green, white, and red.
Pros
Engineered wood is quite durable
Awesome Cable Management
Full Length Mouse Pad
Good amount of space
Water-resistant surface
Cons
The desk itself is heavy (90 Lbs.)
Slightly Wobbles (can be fixed)
Segmented Top (Three Pieces)
3. Turismo Stazzione Extra Wide
With advancements in the gaming industry and the introduction of next-gen gaming processors and setups, you need a sturdy and aesthetic gaming desk. There is a need for more than a powerful gaming computer for the added gaming experience, so why not invest in a quality desk? After all, a proper gaming setup cannot be complete without a desk that can fit at least two monitors, which this desk is excellent for.
If you are one of those video gamers who use multiple screens, it is better to invest in a wide area desk that can offer you plenty of space for your setup. Turismo Stazzione's dual monitor desk provides an extra-wide size that can easily accommodate up to three monitors.
Turismo Racing Gaming Desk – Stazzione Extra-Wide Smart Gaming Desk
TURISMO RACING STAZZIONE is the Largest Gaming Desk on the market, easily supporting three widescreen monitors

The desktop has a wireless charging pad that enables fast charging of phones compatible with QI charging, such as the iPhone 12 and Samsung Galaxy S20.

This gaming desk is unique as it includes cable raceways built into it, providing a secure way to conceal all cables and AC adapters for a sleek and inconspicuous appearance.

The STAZZIONE gaming desk boasts a solid steel chassis beneath its surface, which is made of a single piece of steel to eliminate any wobbling that is commonly experienced with other gaming desks.
With Stazzione, you can now manage your wires with the help of the metal loop placed under the table. It is beneficial, especially if you prefer something other than cables hanging around your setup.
For better control, Turismo gives you the whole surface area of the desk to be used as a mousepad, enhancing the movement of the mouse. For racing games, you can attach the steering wheel to the wooden shelf of Stazzione, and it gives you a firm feel while using it, unlike some other desks that make accessories wobble around while you are gaming.
Pros
Smooth Infinity Mousepad
Wireless charging pad
Sturdy design for steady experience
Cable management to look cleaner
Easy Assembly
4. Fully Jarvis Bamboo
Finding desks best suited for dual monitors has become difficult as they always seem to need more. However, the fully Jarvis bamboo desk has become popular as it provides ample space for dual monitors to use easily.
This monitor desk is reliable in performance and eco-friendly; made with bamboo wood and grown sustainably. The desk offers an industry-leading weight-lifting capacity of 350 pounds for easy placement of your dual monitors.
The design of the dual monitor desk goes well with most themes for your room. The added option of color choice gives you control over the look you want from your setup.
Whether you want to drink your weight loss smoothies or coffee, enjoy a cup of relaxation without worrying about spilling mess. The bamboo-crafted shelf is water coated. That means you won't have to worry about spillage over your standing next time.
It also has excellent ergonomic features that would simplify using dual monitors. For instance, the power and wire management allows you to eliminate the wires used for two monitors and make your desk look neater.
Jarvis' height controllability is a great feature that has been thought of, providing an electrical motor that can lift your table quickly. The engine is powerful enough to lift anything placed over the table quickly, so Jarvis Bamboo suits users of every height. Another great fact is that it detects if there is underneath it, and to avoid a collision, it makes it come back up again, which is a really cool feature.
Moreover, the messy wires that were hanging are now managed- thanks to the wire management system of Jarvis Bamboo.
Pros
Made from Pure Bamboo
Dual motors provide a powerful lift
Up to 15 years of warranty
Adjustable height range
Anti-Collision System
Water-resistant surface
Quite Silent when Adjusting
Height Memory Feature
Cons
It does not have a keyboard tray
5. CUBIKER Modern but Simple Desk
If you're searching for a desk that would be spacious enough for dual monitors, this is the right choice. It can fit two monitors and still be comfortable to use and offer a better deal because it is not pricey like other dual monitor desks.
The good thing about the CUBIKER desk is that it's sturdy. You don't have to stress about being delicate with it while engrossed in gaming because it won't move or shake. This desk will also be easy to assemble, so you'd save some time too.
Cubiker Computer Desk
Meet more needs:Storage bag is added based on the basic computer desk, help you better allocate desktop space

Use the diagonal brace to reinforce the frame, also equipped with adjustable foot pads

Multiple-choice:32/40/47/55/63 inch available for different purposes like a home office, study, writing

Materials:Melamine-faced board, Steel, Non-woven fabric
If you're into room aesthetics, then know that this is a modern designed desk that is slim and has an elegant look. It would not ruin the look of your room or other space.
The CUBIKER desk provides comfort throughout, providing plenty of leg and storage space. If you need to keep anything close to you for work or gaming, this desk has the optimum room in your arm's reach.
If you have kids in your house, they too can use this to work as it is stable and doesn't need to be handled with gentle hands. But this shows that the desk is multipurpose; whether you want to use it for gaming or work, you can.
Pros
Extremely Cheap
Sturdy build
Spacious leg space
Storage space
Modern and elegant design
Cons
It usually comes with missing screws and bolts
Assembly is little tricky
Needs more efforts in perfect alignment
6. FLEXISPOT: Electrical Adjustable Standing Desk
A FLEXISPOT Electrical Adjustable Standing Desk has many benefits, including improved lumbar posture, increased efficiency with great energy to work with, and reduced spinal issues.
Besides giving you health benefits, Flexispot Electrical Adjustable Standing Desk also lets you multitask and improve your overall working capacity with the ability to let you have two monitors on board.
The single panel gives more usable space than a traditionally joined two-panel one. The smoothness, regularity, and protective edges mean ample space for two monitors and more peripherals.
The electrical height-adjustment lift system lets you adjust height level at the speed of the blink of an eye. The motor lift mechanism takes one second to operate with less noise (under 50 dB).
FLEXISPOT Standing Desk
Spacious 48" x 30" eco-friendly desktop offers a roomy setup for 2 monitors and a laptop so you can spread out and calmly take on the challenges of the work day.

Electric Height Adjustable Lift System:The motor lift mechanism offers smoother height adjustments, from 28 to 47.6 with low noise (under 50 dB) while running.

An industrial-grade steel frame combined with a solid desktop allows for a 154 lbs weight capacity to support your ideal workspace setup.

Built For Work From Home:The perfect standing desk to allow independent and remote workers to stay active, healthy, and productive while working from home.
The steady feet and the durable framework keep the table from wobbling, giving you transcendent balance and a sturdy platform to work on.
The table height reaches an ergonomic length for playing its part as an excellent standing desk. The adjustments are easy to operate with many innovative features to alleviate potential level changes.
Pros
It can be exclusively customized
Highly Stable even at heights
Thick Sturdy leg columns
Cheaper
Cons
Installation is tricky, needs expert guidance
7. Need Computer Desk
Need Computer Desk is an ideal option for beginners stuck at assembling desks. The ample working space is what makes it the talk of the town.
This dual monitor desk not only lets you set up two monitors or laptops, but you can also put up your entire office with all the necessary elements – thanks to its ample desk space. No matter your preferred arrangement, this desk is excellent for multitasking with dual monitor settings and keeping things simple and organized.
Need Computer Desk
【Large Size】Overall Size: L63 x W23.6 x H29.5, large desk provides ample space for working, i.e. computers, printers and other devices.

【Firm Material】Panel is made of environmental E1 standard wood, its waterproof and has an anti-scratch surface; easy to clean.

【High Stability】A 1.2 mm thick metal frame (1.3 times thicker than ordinary 0.8 mm frames) better supports the desk.

【Advantage】1. Easily assembled, just install 4 legs with the hex key (takes about 5-10 mins); 2. Legs can be adjusted 1-2 cm in length, allowing stability under an uneven floor; 3. Our Need desk is certified with BIFMA, in accordance with US Office Furniture Standards
The most advantageous feature is the durability of the entire structure. The panel is made of E1 standard wood, so you get the best-engineered grade wood for your computer desk. The coated surface is scratch and waterproof with a high gloss finish for a nice look. It takes a single wipe to clean the surface.
The thick metal frame gives you a great foundation, so you can rely on the desk for hoarding or putting up heavy components. The supporting legs are more comprehensive than ordinary frames guaranteeing the sturdiness of frequent adjustment.
Overall it is a spacious desk with ample leg room. You can have it at home or in your office, as it's available in six colors and five-panel sizes with contrasting legs that blend well with all home and office decor.
Pros
Minimal assembly required
Spacious leg space
Adjustable leg pad height for uneven surfaces
Easy to clean
Mold and humid resistant
Cons
Slightly wobbles on uneven surface
8. COLESHOME: Sturdy Office Desk
The Coleshome office desk is a space-saving and affordable dual monitor desk that is easy to assemble and take apart. The parts are not heavy to extend the need for extra hands. It comes with instructions for easy assembly. It means you can assemble the desk in hardly a few minutes.
The desk provides a spacious writing area, so you can also easily set up two monitors or two laptops on it. There is significant room under the table, providing extra leg space. The desk comes with a 10-year guarantee with a Melamine veneer top which is scratch-proof and easy to maintain.
Coleshome Computer Desk
【Diversified Use of Scenes】6 top & 3 leg colors are offered to help you find the perfect color combination and can be your winning secret to having different style room.

【Small Desk Panel Dimension】63(L) x 24(W) x 29(H) . Large space for a computer desk, great choice for home office activity including writing work, offering plenty of leg room for rest and storage.

【Sturdy Enough for Use】Thick metal frames made of heavy-duty powder coated steel improve stability and safety in use.

【Easy & Fast Setup and Clean】All tools are prepared in the package, so just follow the clear instruction to assemble the desk effortlessly within 30mins! Melamine veneer tabletop is waterproof ,heat-resistant and dust free
The heavy-duty powder-coated thick metallic frame stabilizes this dual monitor desk to bear two monitors' weight without wobbling. This dual monitor desk is available in five different panel sizes ranging from 31, 39, 47, 55, and 63 inches.
Furthermore, the most exciting part is the availability of colors. The base legs are available in black, gold, and white and can be contrasted with the versatile colors available for the tabletop. Delicate wood colors and marble finishes are available to select and match your home or office decor.
Pros
Adjustable leg pads
Available in multiple sizes
Available in multiple colors
Quality Customer Service
9. UPLIFT Desk – V2 Walnut GREENGUARD Laminate Desktop Standing Desk
The UPLIFT Desk V2 is an innovative desk that can fully raise just with a touch. With 30+ contrasting color combinations and textures, this desk is ready to become a part of your daily routine.
It is a top-quality desk perfect for those who want to improve their posture and health. The desk is made of a durable laminate material that is painless to cleanse and maintain.
The industry-leading 15-year, all-inclusive warranty covers damage and defect, keeping you covered year after year. Two motors give you reliable power and perfect speed, so you don't have to wait.
Uplift Desk V2 Height Adjustable Standing Desk
Chosen Best Standing Desk by Wirecutter from 2019-2023

Laminate offers durability, symmetrical patterns, and consistent colors. All laminates are Greenguard-Gold Certified, ensuring that they meet strict chemical emissions standards for use in indoor spaces—perfect for homes, schools, healthcare environments, and commercial spaces.

355-lb lifting capacity with 3-stage legs; dual motors for faster, quieter, and smoother movement than other desks; frame includes a wire management tray

Advanced Keypad with one-touch height adjustment allows you to program various heights, lock your keypad, set max and min heights, and more

Industry-leading 15-year, all-inclusive warranty against damage or defect, with additional improved safety features to prevent accidents
Quieter engines and a unique laminate surface mean you can lift without disturbing nearby workmates. There are four height settings and four motor speeds. You can have the desk at your disposal while sitting or while standing.
The desk also has a wire management tray that keeps every cord and connector organized, excluding the mess. It enhances the user experience with the ability to withstand up to 355 pounds. Therefore, it is the best option for Best Desk for Dual Monitors but an expensive one.
Pros
High weight lifting capacity
Inclusive 15-year warranty
Greatly balanced
It comes with a wire management tray
Durable frame and panel
10. Mr. Ironstone L-Shaped Desk
Mr. Ironstone's L-Shaped Desk is spacious considering its shape and size. It is effortless to place the monitors at different angles for better viewing, especially while gaming. This desk has the perfect height for comfort and freedom of movement.
Despite the complex design, the metallic legs do not get in the way. The designed metal bar running along the back of the table also acts as a great footrest.
Mr IRONSTONE L Shaped Desk
★Easy to Assemble & Receive Early: Hassle free & Time Saving Installation for the gaming desk.

★Durable & Sturdy Construction: Constructed with thicken metal frame and P2 MDF board, this upgraded computer desk is much more durable and sturdier with a better load-capacity.

★Large Desktop & Ample Leg Room: This corner desk with 50.8L x 18.2W double desktops ensure your conversions around with ease while working/gaming.

★Space Saver & Easy Cleaning: This L shaped corner desk is what we call truly an ultimate space saver-big enough to hold your keyboards, mouse, writing stuff and any other accessory you need.
This desk's top has a reliable and sturdy MDF construction. The frame is metal, which will keep the desk feeling secure. It's not just the leg's support. The frame also comprises a metallic runner structure to stabilize the table.
The two significant advantages of owning a Mr. Ironstone are the remarkable customer service and the affordable price tag. Agents are available 24/7 to resolve your issue, in case you have any. And getting a reliable and convenient piece of furniture at such a reasonable price is irresistible.
Another plus point about Mr. Ironstone L-Shaped Desk is its high weightlifting capacity. The
X-shaped legs can withstand up to 500 pounds without wobbling. This desk for dual monitors is a viable option, thanks to its sturdy construction and ample working space.
Pros
Ample workspace
High weight lifting capacity
Sturdy structure
24/7 customer support
Great for viewing monitors
Personal Verdict (Which one to choose)
We have given detailed criteria (buying guide) which have been kept in mind while shortlisting the 10 best desks for dual monitors. However, each desk has its own pros and cons, so it is quite dependent upon one's preference and budget bracket. So, in order to ease up the process of evaluating the best one out of above mentioned 10 desks, I have crafted a table with the best advantage mentioned against each. In this way, you can easily finalize your selection among the above-mentioned desks.
Although we have mentioned a reason when to choose which desk among these ten, however, if you ask for the overall best one then we recommend going with FLEXISPOT: Electrical Adjustable Standing Desk as it is lying within the best budget range on the lower side with the most advanced modern electrical standing feature. Moreover, its design is also quite elegant, which can easily merge into any theme.
FLEXISPOT Standing Desk
Spacious 48" x 30" eco-friendly desktop offers a roomy setup for 2 monitors and a laptop so you can spread out and calmly take on the challenges of the work day.

Electric Height Adjustable Lift System:The motor lift mechanism offers smoother height adjustments, from 28 to 47.6 with low noise (under 50 dB) while running.

An industrial-grade steel frame combined with a solid desktop allows for a 154 lbs weight capacity to support your ideal workspace setup.

Built For Work From Home:The perfect standing desk to allow independent and remote workers to stay active, healthy, and productive while working from home.
Buying Guide: Important Factors to Consider While Choosing the Best Desk for Dual Monitors
Although we have done the homework by finalizing a list for Best Desk for Dual Monitors, you should be the final judge. When you check the sound quality, comfort, connectivity range, and noise-canceling technology while buying a Bluetooth speaker, the same equation applies to the desk for dual monitors as well.
Things you should check include the following:-
Desk Size and Shape
The standard size of a computer monitor from corner to corner is 19-34 inches. Two monitors will consume around 25 x 2= 50 inches. Please measure the size of the desk and ensure it is spacious enough for two monitors.
Besides size, another consideration is shaping. Rectangle-shaped dual monitor desks are the most standard type. However, consider having an L-shaped dual monitor desk as it is ideal for keeping tasks separate and manageable. Also, you will get enough space for a mouse and keyboard.
Desk Material and Construction
On average, computer monitors weigh 12-15 pounds, while large monitors weigh up to 20 pounds. Since you will place two monitors on a dual monitor desk, it will weigh around 35-45 pounds.
A low-quality material with a poor construction style will collapse, breaking the screen. On the other hand, high-quality material will stay intact without collapsing.
Consider having wooden or metallic desk panels over plastic. Wooden and metallic dual monitor desks are excellent for bearing heavy weights.
Another feature to look for is the anti-collapsing system. An anti-collapsing system ensures the legs don't wobble and stand still. Moreover, the weight-lifting capacity of the best desk for dual monitors should be at least 300 pounds.
Cable Management System
You need to connect 5-6 cords when assembling a computer monitor. In contrast, your task is doubled when connecting two monitors. A messy working desk is a hurdle in work. That is why we need a cable management system.
The cable management system is the art of organizing wires, ensuring they are nowhere to be seen. Pay extra attention to the cable management system. It gives a neat & clean look and adds sprinkles to the overall aesthetics.
Height Adjustability
Your one monitor might have a 20 inches screen size, while the other one has 24 inches. Height adjustment is crucial as it helps keep your eye level stable, so you don't have to strain your eyes to focus.
Desks for dual monitors with adjustable height features are a godsend. Whether 5′ tall or 5'10", you can easily adjust the viewing level with a height adjustment feature.
Height-adjustable working dual monitor desks are often pricey. Yet, the price is worth the investment. The average height range to prefer is 22.7-48 inches. 
Stability and Durability
As aforementioned, dual monitors are heavy, averaging 35-45 pounds. Look for stability and durability at the best desk for dual monitors since you don't want to damage the monitors.
Besides checking the panel construction material, check the supporting legs. The legs should be robust enough to bear the weight without shaking. Consider having metallic legs for a stable performance. Also, the legs should have adjustable pads for uneven surfaces.
Video Recommendations using Flexispot Desk
Conclusion
The best desk for dual monitors is a must to keep high productivity, whether gaming, editing, making music, or streaming. Before scrolling through the best options, be sure what space you have, the amount you can invest in, and what features you need. We hope you find something functional and valuable from the above list.
for more information check out here.
FAQs
How big of a desk should it be to fit two monitors?
It depends on the size of your monitors. However, the standard size you should opt for is 56 inches wide and 28 inches deep. Conversely, if you adjust three monitors, opt for a 66 inches wide and 32 inches-deep desk.
How do you ergonomically set up dual monitors?
The best practice is placing the monitor on the same level for stable eye movement. This way, your neck & shoulders won't hurt. Moreover, the top of the monitor should be below your eye level.
Is it better to have two monitors or one big one?
It is up to you. If you can't run multiple apps on one monitor, it is advisable to have two monitors. On the other hand, if you can manage various tasks, have one large monitor.
I hope you have picked up the Best Desk for Dual Monitors, for more latest blogs, check out Desksguide.com